Despite yesterday being a day where few leading stocks rose with volume, Synchronoss Technologies surged above its 50 day moving average with volume. Synchronoss Technologies, Inc. (NASDAQ:SNCR) is a provider of on-demand, multi-channel transaction management solutions to communications service providers [CSPs].
The Company has designed its solution to be flexible across communication services and channels (such as e-commerce, CSP stores and other retail outlets), allowing it to meet the changing and converging services offered by CSPs. Synchronoss targets complex and high-growth markets, including wireless, high-speed access (such as cable, digital subscriber line (NYSE:DSL) and Wi-Max), voice over Internet protocol (VoIP), video and also target CSPG's bundling of these services (double, triple and quadruple plays) and their intersection (video over wireless, Internet protocol television (OTC:IPTV), content activation).
The Company's ActivationNow platform automates, synchronizes and simplifies electronic order management, activation and provisioning of these services.
FUNDAMENTALS:

Synchronoss is a company that grew rapidly at the beginning of the 21st century but didn't turn its first profitable year until 2005 when it earned .31/share. The company hit a brief rough patch in the middle of '06 when it posted 2 consecutive quarters of negative growth.
However, over the past year, the company has begun firing on all cylinders and has posted accelerating earnings and sales growth in each of the past 4 quarters. That kind of growth has led to '07 estimates of more than a doubling of profits over '06. With net margins around 20%, ROE around 20% and management ownership hovering around 35%, SNCR has ALL of the components of a Self Investors leading company.

TECHNICAL:

SNCR is a bit early in the formation process. The stock spent most of October and November digesting gains after a long run up in which the stock soared more than 500% in just over a year. A remarkable run. This is the first significant base for the stock since going public in the summer of 2006, so there is quite a bit of room left to run.
Currently, it's carving out a cup base with the bottom of the base finding support right at the 200 day moving average. Sell volume has begun to dry up and buyers are beginning to exert some control again. Yesterday, it was up more than 10% at one point before it sold off after the Fed rate cut, leading to a high volume reversal on the daily chart.
This kind of action typically indicates the stock will need to, at the very least, spend some time sideways and at worst retest the lows of the base. Either way, you want to see the stock carve out a nice looking handle formation with quiet volume, then result in a big breakout above today's high (42.58). It's probably at least a week or two away from attempting a breakout, but SNCR is without a doubt one leading stock you'll want to put at the top of your watch list.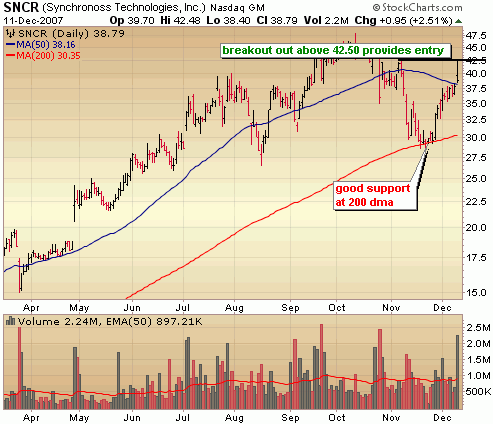 Full Disclosure/Disclaimer: I currently do not own a position in Synchronoss Technologies (SNCR).