LinkedIn (NYSE:LNKD) posted another very solid quarter, demonstrating that the company is disrupting the recruiting industry by providing a unique platform that offers an unparalleled density of professionals looking for a job and recruiters looking for qualified employees. This past quarter also gave a glimpse of the earnings power in this amazing business model. While valuation is rich, we think it's deserved.
Note: All data comes from the company's 10-Q, 10-K, and Quarterly Press Releases.
First, let's look at all the key metrics: Members, Unique Visitors, and Customers. Assessing the health of these metrics provides valuable insight into the strength of the business. From the graph below, we see that all metrics posted solid growth.
Total revenue of $189M, +101% year over year, handily beat Wall Street expectations. Importantly, revenue exceeded the high-end of management's guidance by almost 8%. Investors love this.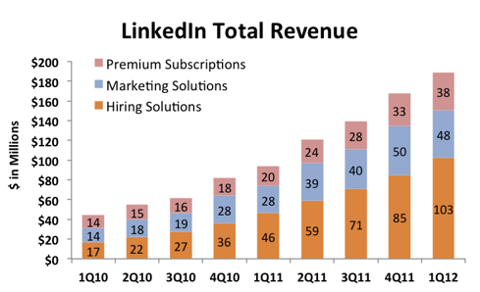 Q1 was the 7th consecutive quarter of 100%+ revenue growth, implying that the company has found a business model in which both recruiters and job-seekers find tremendous value.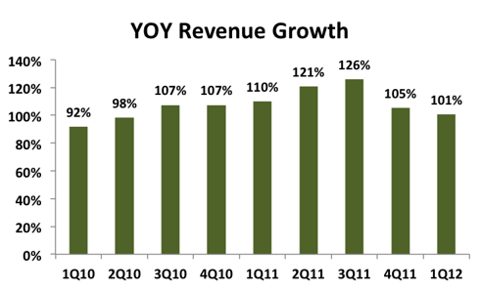 Taking a deeper dive into revenue by segment illustrates a strong quarter across the board. The Hiring Solutions business has clearly hit an inflection point, and Premium Services continues to gain traction. Marketing Solutions had a down quarter due to a slowdown in Europe.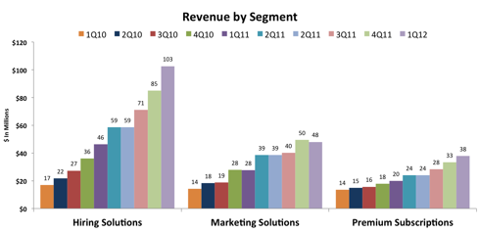 Revenue per customer was flat sequentially as more small-to-medium sized businesses entered the customer base. The SMB customer has a lower revenue per user profile and doesn't ramp as quickly as the enterprise customer. Overtime, this metric should tick meaningfully higher as the customer base matures. However, this is a risk to the bull thesis -- LinkedIn needs to prove that this plateau is only temporary.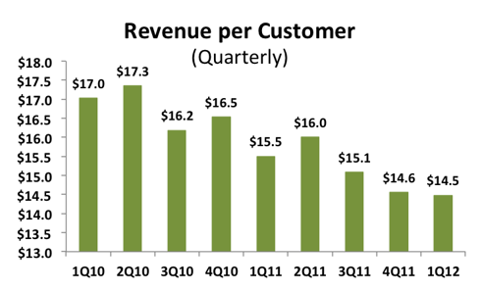 However, let's make sure a rapidly growing customer count appears to be a reasonable explanation for flat ARPU. We need to be sure that customers are still flocking to the LinkedIn platform, otherwise, our revenue growth assumptions are too high.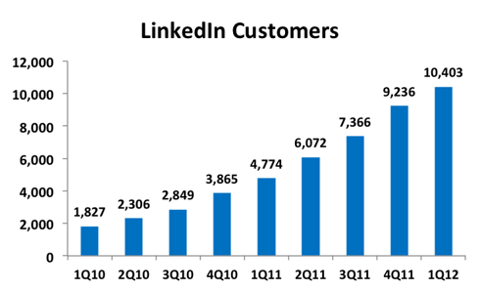 The trajectory of customers is impressive. Below is the yoy % change, also confirming that new customers are coming on board at a healthy rate.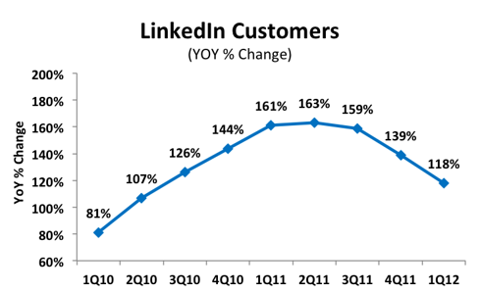 So now that we've analyzed the top line, let's assess the profitability of that revenue. LinkedIn has created a very attractive business model that will, at maturity, approach a 35% EBITDA margin.
Gross margin increased to 87.1% in the quarter from 82.3% last year as the business benefits from scale and passing along sales tax to customers.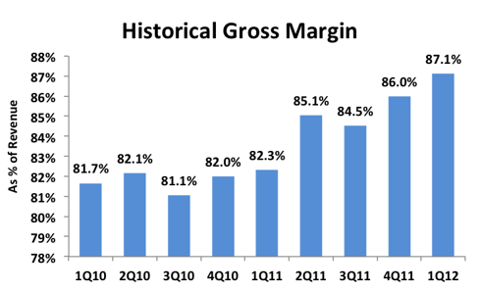 EBITDA margin also demonstrated substantial improvement even in the face of heavy investment spending. EBITDA margin rose 620bps to 20.3% from 14.1%. Next, we'll look at incremental margin, which will help us understand why the margin profile of the company is getting better, and will continue to expand for several years until it approaches management's goal of 30%+ EBITDA margins.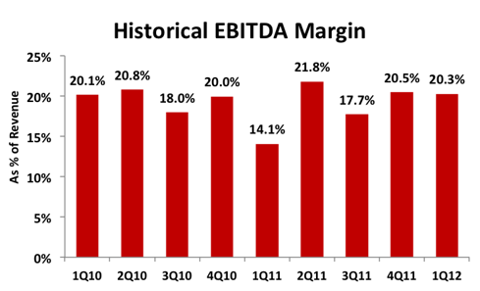 A key element that is often overlooked by investors is the concept of incremental margin, or the amount of money the company keeps for every new dollar of revenue.
Based on the chart below, LinkedIn keeps 92 cents of every new dollar in revenue. This is amazing. It also reflects the beauty of web-based businesses -- low distribution costs. This profitability profile means that LinkedIn has a lot of money left over to spend aggressively on software developers (R&D) to improve the user interface and database intelligence, as well as the sales force (SG&A) to get in front of potential customers.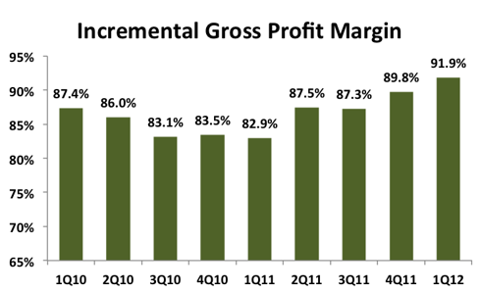 Equally as important is incremental EBITDA margin. This metric shows how much money the company keeps from every new dollar of revenue after subtracting out costs for making and selling the product.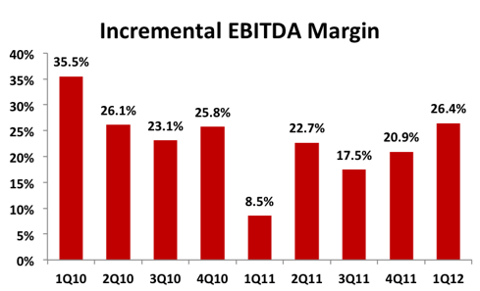 In Q1, the company retained 26.5 cents of every dollar of new revenue, up meaningfully from the 8.5 cents rate last year. There are a few things going on here. First, the business is benefiting from scale, as most do. Secondly, they are seeing the benefit of 2011 being a very heavy year for investing in the business in terms of people and marketing. In 2012, the financial profile of the business will improve as they harvest these investments.
Overtime, the relative low-cost nature of web-based / software-as-a-service business enables a well run company to achieve 30%+ EBITDA margins. Notice that the company was at this run rate in 1Q 2010, indicating that the business model is capable of this level of profitability once it moves beyond the "heavy investment" stage.
As you can see in the following chart, we expect the business to expand its margin profile for years to come.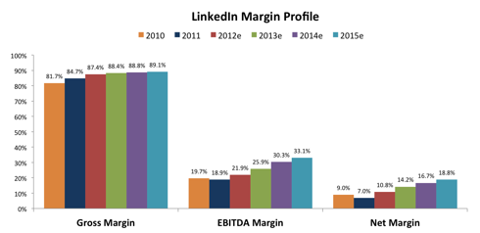 Now that we have outlined the earnings power of the business, let's assess cash flow to confirm this is a good business. As the chart below indicates, Q1 was the first sign of just how money cash this business model will generate. Again, the high value to customers combined with a low-cost distribution platform creates an amazing business model. This is also a reason investors are willing to put such a premium valuation in the stock.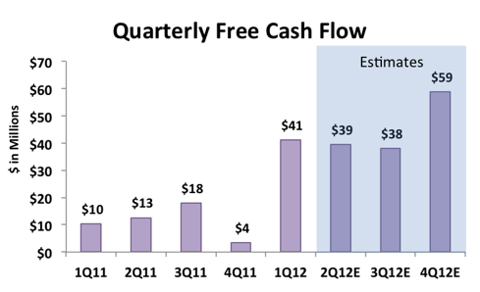 As free cash flow explodes over the next few years, LinkedIn will be able to use this cash to expand its competitive moat by acquiring new products/services via acquisition, or aggressively reinvesting money back into the business to enhance the product, build out the sales team, and swamp the competition with heavy marketing. The acquisition of SlideShare is an example.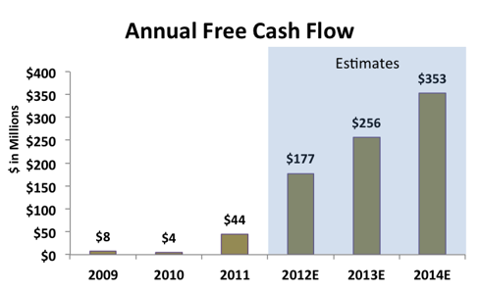 In terms of earnings quality, the company passes with flying colors. Because the income statement is loaded with non-cash expenses, we want to compare cash from operations relative to net income to make sure the business model is as good as we believe. The metric we use is CFO as % of Net Income. You want this number to be 100% or higher, indicating that the cash generation of the business exceeds net income, which is deceptive due to accounting rules.
As you can see, this is a very real business model.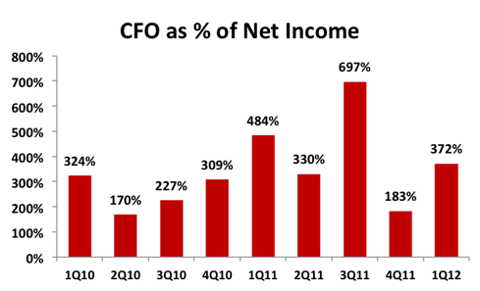 O.K. We've analyzed key metrics, revenue, profitability, and cash flow. It's all pointing toward a powerful business model and strong fundamentals. This leads us to the question of valuation -- is the stock worth $115? Or more?
Below is a summary of our financial model. As you'll notice, we are aggressive with our financial forecast because we believe that LinkedIn is a Best-in-Breed company with a truly disruptive business model.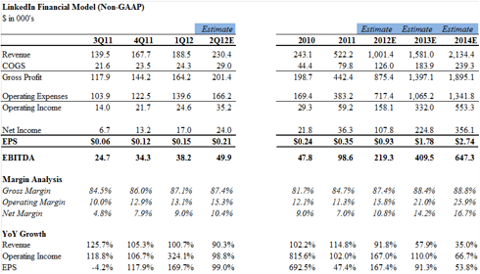 Below is our valuation worksheet. We wanted to look out several years to see where the stock should trade based on a more normalized P/E multiple. We know it's very hard for people to get their head around a 100 P/E, but it's important to understand that if the business can grow fast enough, that valuation isn't crazy.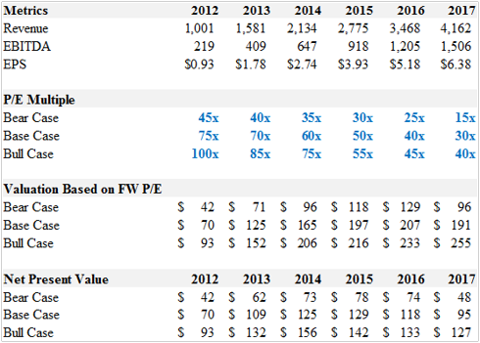 We believe that the Base Case analysis represents a reasonable assessment of how the stock will be valued over time -- assuming the business hits our performance targets. Here are our price targets for Bear Case, Bull Case and Base Case: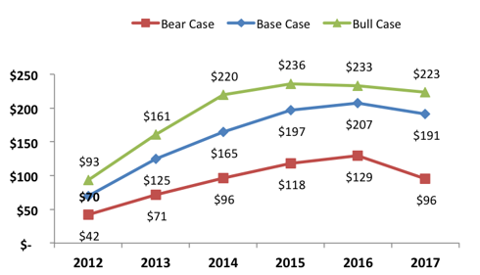 Of course, you need to decide for yourself: 1) if you believe in our financial model, and 2) what multiple are you willing to pay.
We believe that LinkedIn is a truly disruptive business model, and it is a Best-In-Breed company. Management is laser-liked focused on providing a valuable experience for the users -- both recruiters and job-seekers -- that is creating a powerful network effect. The ecosystem it is creating will make it very hard for a competitor to displace the company. Therefore, we think revenue and earnings growth over the next five years will be staggering.
Also, it's important to remember that LinkedIn is one of the rare ways to get exposure to the Chinese professional/consumer within the social networking industry. Neither Twitter or Facebook (NASDAQ:FB) can operate in China; LinkedIn can. These factors imply that the stock deserves a rich valuation. We'll leave it up to you to determine how rich.
Given that we are bullish on the company and stock, we'd be remiss not to outline the risks.
Risks to the thesis include
An inability to monetize mobile usage near levels of desktop usage. This is very important because mobile usage is 20% of all page views and growing extremely fast.
The company fails to drive revenue per customer higher. The earnings power of the company hinges upon getting recruiters to pay a lot of money for access to the job-seekers on the platform, as well as the information LNKD has on them. Therefore, the valuation of the business hinges upon this number. Our model assumes a very fast ramp in revenue per user over the next few years.
The company ruins the user experience by overloading the user interface with too many ads. This will lower engagement and potentially unwind the network effect that is currently in its favor.
The stock is discounting massive growth, so any hiccup will be met with a rapid price decline, so be prepared for volatility in the stock price.
Disclosure: I have no positions in any stocks mentioned, and no plans to initiate any positions within the next 72 hours.