The purpose of this article is to analyze technical and fundamental factors to estimate how low Apple Inc. (NASDAQ:AAPL) shares could go in a market downturn.
Clearly, Apple is a great company and it should continue to outperform the broader indices in the years to come. However, the price action has been almost parabolic over the past six months and investors should be cautious about adding to their position at current levels. Its important to note that our caution is driven by our technical fear that a broader market correction is imminent and not necessarily the current valuation of Apple stock.
Historical Prices and Corrections
Despite accounting for almost 5% of the S&P 500 index and 18% of the Nasdaq 100, Apple stock seems to be marching to the beat of its own drummer these days. Over the past five years, Apple is up over 440%, while major stock indices have struggled to match the annual returns of 10-year Treasurys.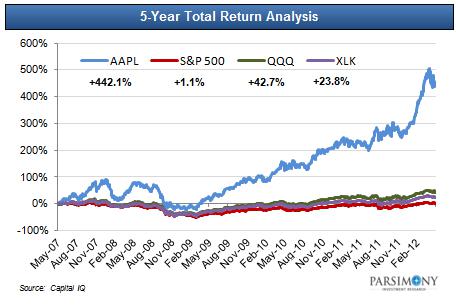 However, that is not to say that Apple hasn't had its fair share of healthy corrections over this time period. In fact, as shown in the table below, Apple had a larger maximum drawdown (peak-to-trough decline) during the 2008 recession than the S&P 500 (NYSEARCA:SPY), Nasdaq 100 (NASDAQ:QQQ) or Technology Sector SPDR (NYSEARCA:XLK).

That said, since the recession, the major indices have had two other meaningful corrections (15%-plus), yet Apple shares held up relatively well. As shown in the table below, Apple's average correction has only been about 80% of the broader market correction.

Valuation and Dividend Yield
Now let's look at the fundamentals. The analysis below calculates trailing EPS, forward EPS and dividend yield for a range of downside prices. The analysis also computes the cumulative percent decline from Apple's peak price ($644.00) for each downside price.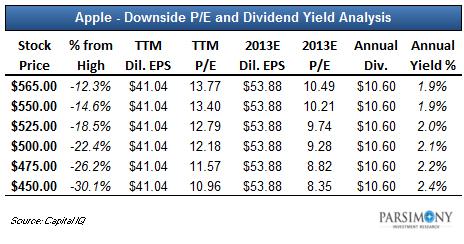 Conclusion
All else being equal, Apple is probably a "buy" at current levels based purely on fundamentals. But we all know that fundamentals sometimes take a back seat during a broader market correction. That said, we believe that there will be a downside floor on price based on valuation and dividend yield. For trailing P/E, we believe that the floor valuation is between 11.0x and 12.0x, which is the level at which we think institutions will strongly support the stock. In addition, we think that the 2.0%-2.5% dividend yield range will also be to hard to pass up for institutions. This equates to a downside price range of $450-$500 for the stock (see table above).
From a technical perspective, we think that the broader markets could correct 25%-30% by the end of the year. However, we think that Apple will hold up relatively better than the indices. Assuming Apple's 80% relative correction rate compared to the broader markets from the last two corrections, we think there could be 20%-24% of downside risk for Apple shares (from the most recent high of $644.00). This equates to a downside price range of $490-$515 for the stock.
Based on the fundamental and technical analysis above, our "buy zone" for Apple is $450-$515 and we will start accumulating shares aggressively when the stock enters this range.
Disclosure: I am long AAPL.