After several tumultuous years caused by the global financial crisis, it seems that skies have started to clear for Aflac (NYSE:AFL), a key provider of supplemental health and life insurance products in the U.S. and Japan. The company recently posted first-quarter earnings that beat the street consensus estimates and guided higher for the year. Relative to the past several years, the company is expected to accelerate earnings growth over the next five years. A favorably-priced company that has been increasing dividends for over 29 years, Aflac has now emerged as an attractive investment opportunity for growth and value investors.
Even with a long history of dividend hikes and a particularly attractive dividend yield, in recent years the company's stock has dropped out of favor among some investors due to Aflac's oversized exposure to investment instruments issued by financial institutions, particularly in Europe. Because of this exposure, the financial tsunami has left Aflac bruised from large losses in the insurer's investment portfolio. Still, as the European sovereign debt crisis and financial problems linger, Aflac's troubles in Europe persist due to the company's continuously large exposure to debt and perpetual securities issued, among others, by European financials and sovereigns. The problems stick despite the firm's tremendous efforts to deleverage its European investments.
On the other hand, a company which derives about 75% of its total revenues from Japan, Aflac is also substantially exposed to Japan's low-yielding senior debt, which accounts for about a third of the company's investment holdings. [These exposures to Japan make Aflac's financial performance especially susceptible to the changes in the yen/dollar exchange rates.] In parallel with efforts to trim down the European hybrid bond holdings, Aflac has been trying to reduce the substantial exposure to the Japanese government debt.
Operating in a challenging environment for some time, Aflac has seen its revenue grow modestly in 2011 from the year earlier, and its net income and earnings per share drop. However, due to the strength in the Japanese operations, the first-quarter 2012 data showed robust performance, with revenues rising 22% over the same quarter a year earlier and operating earnings per share expanding 7.4% from $1.62. Earnings including special items and investment gains/losses more than doubled from $0.83 per share year-over-year. While earnings are expected to increase fairly this year as a whole, they are estimated to grow by 5% in 2013 and, on average, by 10.6% annually over the following five years. The estimated, forward-looking five-year average growth in operating earnings per share is more than 47% higher than the average annual growth in earnings per share over the past five years.
Still, substantial risks to Aflac's growth prospects persist. Aflac's deleveraging of its investment portfolio will likely moderate earnings growth in the coming years. Given the slow global economic growth worldwide, a low interest-rate environment will prevail and low-yield market conditions will persist. This will keep the pressure on the company's spreads and operating margins. Indeed, in the words of Aflac's Chairman and CEO, Dan Amos, in 2010 Year in Review (annual report), "the low interest rate environment, especially in Japan-and how to invest [our] huge cash flows to achieve strong investment returns while maintaining a high credit quality investment portfolio" is the management's biggest near-term challenge. This consideration evokes continued risks to the overall performance from the adverse developments in the European (and Japanese) investment instruments.
While accelerating growth is appealing, it is the company's dividend growth and valuation that should make it a boon for income and value investors. Aflac is currently paying $1.32 in dividends, nearly six times more than in 2002. Dividends at Aflac have been growing 23.5% annually over the past decade, and, given the company's ample cash and near-cash holdings of $2.3 billion at the end of 2011, they are likely to continue rising in the foreseeable future.
The insurer is presently yielding 3.04%, which is 60 basis points higher than the industry's average yield of 2.40% and a full percentage point above the yield on the S&P500 index. Aflac's peers, such as Delphi Financial Group (NYSE:DFG) and Unum Group (NYSE:UNM), yield 1.1% and 1.9%, respectively. [Tokio Marine Holdings (OTCPK:TKOMY), a Japanese life and non-life insurance provider with operations in the U.S. and Japan, has recently received the approval from Delphi Financial Group's shareholders to acquire this U.S. insurance provider for $2.7 billion and a special dividend.] A much smaller CNO Financial Group (NYSE:CNO) is not paying any dividends. In Japan, Aflac competes with closely-held companies like Asahi Mutual Life Insurance Company and Nippon Life Insurance Company.
In addition to attractive, rising dividends, Aflac boasts appealing valuations. Currently, based on the trailing-twelve-month earnings, the price-earnings ratio for the company is at a low 8.6x, nearly half the ratio value between 2002 and 2008. This compares to the industry's average of 9.2x, and competitors' ratios of 29x for Unum Group, 14.3x for Delphi Financial Group, and 5.2x for CNO Financial Group. The price-earnings ratio of Unum Group is elevated due to a major earnings plunge in the fourth quarter of 2011. The ratio averaged 8.7x in the four quarters before the earnings' drop. The broad market, measured by the S&P500 index, has a price-earnings ratio of 16x trailing-twelve month earnings.
Aflac's one-year forward price-earnings ratio of 6.6x is even more attractive. It compares to a one-year forward earnings ratio of 6.4x for Unum Group, 11.4x for Delphi Financial Group, and 9.0x for CNO Financial Group. The S&P500 index has a forward price-earnings ratio double that of Aflac. It should also be noted that Aflac has the ratios of price to free cash flow and debt to equity lower than the industry's averages, while it has much higher returns on equity (ROE) and investment (ROI) and net profit margins than its peers on average.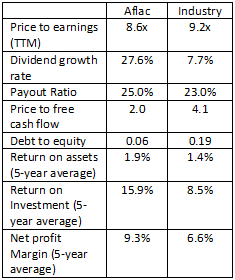 While a few clouds remain over this insurance provider, most notably represented by the company's exposure to some of the weaker links among Europe's sovereigns and financials, brighter days are on the horizon. Resumption of growth and appealing valuations suggest that investors should look to capitalize on the investment in Aflac's stock.
Disclosure: I have no positions in any stocks mentioned, and no plans to initiate any positions within the next 72 hours.