Asian markets fell sharply Thursday after Mitsubishi UFJ Financial Group (NYSE:MTU) saw its share price tumble almost 8%, its biggest drop in over three years, re-igniting fears of U.S. subprime mortgage and its overseas fallout after Bank of America (NYSE:BAC) and Wachovia (NASDAQ:WB) warned of substantial Q4 writedowns (full story). "Bank shares were sold on the news about Bank of America," Shinkin's Tomomi Yamashita said.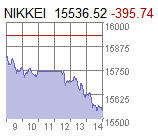 The Nikkei fell 2.48%. Mizuho (NYSE:MFG) fell 5.3%, Yahoo Japan (NASDAQ:YHOO) dropped 4.9%, Nomura (NYSE:NMR) was off 4.3%. Sony (NYSE:SNE) was one of the few gainers, up 1%.
The Hang Seng fell 2.72%. Losers included China Petroleum (NYSE:SNP), down 5.5%, China Mobile (CHL -3.9%), China Life (LFC -3.8%) and HSBC (HBC -1%).
Shanghai's composite index fell 2.7%.
Seeking Alpha's news briefs are combined into a pre-market summary called Wall Street Breakfast. Get Wall Street Breakfast by email -- it's free and takes only seconds to sign up.