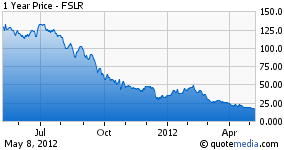 For now, I would say that it is still too early to decide the fate of First Solar (NASDAQ:FSLR) for the remainder of 2012's second quarter. In essence, if you hold the stock, it may be a wise idea to hold on to it in order to see how the latest developments will work out. One of the latest developments is the appointment of James Hughes as the chief executive officer.
James Hughes, who was previously the chief commercial officer of First Solar, has been appointed to succeed Mike Ahearn, First Solar's founder and chairman. James seems to be the logical choice because his presence in First Solar has been impactful and it's expected that he will be able to lead the company to sustainable growth and development through his visionary abilities.
First Solar lost about $490 million last quarter, due to reconstruction and a rearrangement of its operations. This same reconstruction sent some 3,000 workers home in Germany in order to reduce overhead costs and give investors reasonable returns on their investment. However, sending 3,000 workers home is no simple feat and it will surely bring some negative publicity for First Solar, unless it can provide the workers with a satisfactory severance pay.
The company, though, does not really have a better option than to lay workers off, because the German company has not been profitable. Thus, this move may actually favor shareholders because it would lead to future profitability. According to MJ Shiao of GM, "it doesn't just make sense to keep the German facility."
First Solar is in a tight battle for survival because its rivals, which manufacture silicon solar panels in the industry, are delivering very strong competition. In the past, the success of First Solar was tied to its ability to make thin chips solar panels that were cheaper to produce, although a little less efficient than the solar panels made from silicon cells. Interestingly, customers were content to buy the thin panels, rather than the silicon cells, because, though less efficient, it was still cheaper. With more panels you can get the maximum output that you need at a cheaper price.
However, this may all be about to change, as the manufacturers of silicon cells are now able to sell their products at a lower price, roughly equaled to the price of the thin chips. In light of this development, I can say that customers may no longer be content with purchasing the less than efficient thin chip panels, when they could get the efficient silicon solar panels for roughly the same price. More so, the manufacturers of the thin chips have to contend with one another for an ever-shrinking market size. That glut in the market is due to the flooding of the market by cheaply produced thin chips from China.
Nonetheless, it may interest you to know that JA Solar (NASDAQ:JASO) is positioning itself for success by linking with the Shanghai Institute of Technical Physics of the Chinese Academy of Sciences to establish a Solar Efficiency Innovation Center. This move may help JA Solar to develop innovative products at a lower cost and the move will possibly give it a cutting edge over its competitors in the market.
In another development, SunPower (NASDAQ:SPWR) also offers stiff competition to First Solar. The company recently began the first Sun-powered Round World Voyage. This kind of voyage is a great publicity stunt and you can be sure that positive rave reviews that will be generated by the stunt will place SunPower in the top spot of solar companies at least for the next couple of months. If First Solar's image is maligned in the media for its layoffs, look for SunPower to coup some of the good press.
Another stock to watch is Suntech (NYSE:STP), which will surely fall with the recent announcement by China to reduce solar subsidies because of the declining costs of solar components. However, the management of Suntech has refused to be caught unaware and the move is being counterbalanced by an alliance between Suntech and Dupont (NYSE:DFT) to lobby for increased support and funding for solar energy deployment. If the lobby is successful, Suntech should keep on good course, if not, look for a drop in its profits.
Interestingly, despite the fact that LDK Solar (NYSE:LDK) has access to virtually unlimited credit in China, as well as access to cheap labor, some analysts still believe that the price of LDK will continue to plummet. This assertion is justified in lieu of the fact that LDK continues to run at a loss from last quarter. More so, LDK recently reduced its workforce by 12% to counterbalance the loss and has not yet seen helpful effects on its price.
Nonetheless, First Solar has a plan that will be used to lead the company to success in the next five years. The plan is to change into a power plant developer and builder, instead of being a company known for sales of solar panels. Another part of the plan is to move into new and emerging markets where there is no dependence on government subsidies for power generation.
All of the company's plans are still tentative and it would be easier to know if they are working or not when implemented, rather than sitting on the drawing board. It seems obvious that for a short-term investment, First Solar probably should not be your first choice. However, if you want to buy for the long term, the stock may have good prospects, if you have faith in the abilities of the new management. If Hughes is as visionary as the company hopes, First Solar should be locked in as a good buy for the road ahead.
Disclosure: I have no positions in any stocks mentioned, and no plans to initiate any positions within the next 72 hours.