U.S. MARKETS/HOUSING
Markets Jittery After Fed Action
Major indices finished with gains Wednesday despite a topsy-turvy session after the Fed took major steps to inject liquidity into frozen credit markets (full story).
The Dow Jones Industrial Average rose 41.3 points (+0.31%), Standard & Poor's 500 index increased 8.9 points (+0.61%), and the Nasdaq finished up 18.8 points (+0.71%). Volume was solid on the NYSE at 1.73 billion shares, and advancers beat decliners by a ratio of about 6:5. The financial sector (+0.1%) had only a small gain. All other sectors finished with gains except transportation (-0.28%), which was under pressure because crude jumped $4.37 to $94.39/barrel, a result of the Fed's announcement, and because Goldman Sachs increased its average price forecast for crude in 2008 to $95 from $85 (full story).
The PPI (8:30 AM), Retail Sales (8:30 AM), Jobless Claims (8:30 AM), and Business Inventories (10:00 AM) will all be released Thursday.

The Fed's Two-Prong Plan to Thaw Credit Markets
U.S. markets closed up after the Federal Reserve announced Wednesday "measures designed to address elevated pressures in short-term funding markets."
Actions include:
• The establishment of a temporary Term Auction Facility [TAF].
• The establishment of foreign exchange swap lines with the European Central Bank and the Swiss National Bank.
The TAF involves the Fed auctioning term funds to banks against a wide variety of collateral. Speculation is that banks will be more inclined to take loans through the new facility, which pits bank against bank in an auction process, than the 'stigmatized' discount window. The first TAF auction is scheduled for Monday. It will auction $20 billion for 28 days. A Thursday $20B auction will provide 35-day funds. "Experience gained under this temporary program will be helpful in assessing the potential usefulness of augmenting the Federal Reserve's current monetary policy tools--open market operations and the primary credit facility--with a permanent facility for auctioning term discount window credit," it said. The swap lines will provide up to $20 billion and $4 billion dollars to the ECB and Swiss National Bank, respectively, for use in their jurisdictions, for up to 6 months. Central banks of Canada and the ECB also chimed in with measures aimed at increasing unusually tight liquidity.
Initial reaction to the move was positive:
"In a very short-run, this is a very huge plus for riskier assets and it definitely explains why the Fed made no change to the discount rate yesterday. They had this plan up their sleeve and were waiting for today to make the announcement," Forex.com strategist Brian Dolan said. "I like the attempt of trying something a little different than just easing, which hasn't seemed to do the trick. Maybe going at it a different way will have better results," Wells Capital's Jim Paulsen said.
Some were critical of the timing:
"This looks a bit more comprehensive at first blush than people were expecting, though I still think we could have avoided a 300-point drop in the stock market and a huge amount of currency volatility if we had received this information yesterday. I don't quite understand the process of getting the information out," TD Securities currency strategist Shaun Osborne said.

WSB Sponsor
INTERNET
United Online Yanks Classmates IPO
Shares of United Online (NASDAQ:UNTD), formerly known as NetZero, fell 8.7% to $11.25 Wednesday after the company said it has cancelled the IPO of its Classmates Media property. The IPO was expected to raise over $120 million. The decision to withdraw, apparently due to lack of interest, will cost United $4.5-5.5 million in charges in Q4. "United Online has determined that proceeding with the initial public offering under current market conditions would not be in the best interests of its stockholders," the company said. Classmates Media includes Classmates.com, a social networking site that helps users find old college friends, and MyPoints.com, a shopping site.

Classmates.com predates MySpace and Facebook but has been eclipsed by both, primarily because of its insistence on charging for content. "[T]he Classmates IPO was starting to take on the stench of fraternity row after a night of blowout keggers," Motley Fool's Rick Aristotle Munarriz wrote. "I would have to say the interest [in networking sites] is there," said Sam Snyder of Renaissance Capital. "If this was Facebook and it couldn't get out the door, I'd say the market appetite for social networks was pretty poor. But Classmates.com certainly is not the crown beauty of the space."

Google Pulls Further Ahead in Search Market Share
November data for Internet search market share from web metrics firm Hitwise show Google (NASDAQ:GOOG) expanded its leading position to 65.1%, compared to 64.5% in Oct. and 61.8% last Nov., while Yahoo! (NASDAQ:YHOO) slipped to 21.2%, versus 21.7% in Oct. and 22.4% last year. Microsoft's (NASDAQ:MSFT) share fell to 7.1% against readings of 7.4% in Oct. and 9.8% last year. Fourth-ranked Ask.com (owned by IAC InterActive (IACI)) was up to 4.6% (vs. 4.2%) year-over-year, but was lower m/m from 4.8% in Oct. The remaining 46 search engines had a combined share of less than 2% of searches. Some industry analysts continue to call for consolidation, specifically referring to a merger between Microsoft and Yahoo!, both of which are struggling to grow search market share despite ongoing capital investments. Google and Yahoo! account for nearly 25% of the ETF FDN, in which IACI is a 4.4% component.

MEDIA
Tribune Reports Decrease in November Revenue
Chicago media company Tribune Co. (TRB) reported November consolidated revenue slipped 3.3% to $413 million compared to last year. Revenue from publishing fell 3.5% to $321 million, and advertising sales slumped 4.9%. The company, which said it expects to complete

it plans of going private by the end of its 2007 fiscal year, said Wednesday it will sell its ownership of the Chicago Cubs, Wrigley Field, associated real estate, and its stake in Comcast SportNet Chicago to pay off existing debt. It anticipates these transactions to take place in the first half of 2008. Tribune finished Tuesday up 0.3% to $31.54; it is expected to go private for $34/share.

RETAIL
Costco: Strong Q1 Growth Despite Sagging Economy
Warehouse retail giant Costco (NASDAQ:COST) posted Thursday FQ1 2008 net income and revenue that matched analyst estimates. Profits rose 11% despite a slowing U.S. economy. Net income rose to $262 million ($0.59/share) from $236.9 million ($0.51/share) a year earlier. Revenue increased 12% to $15.81 billion from $14.15 billion. Analysts polled by Thomson predicted EPS of $0.59 on revenue of $15.81

billion. Same-store sales were up 8% over the quarter. Costco said domestic sales grew 5% during Q1, while international sales jumped 17%. Much of that growth, however, may have been due to a weak dollar. Costco sells both bargain items and high-end merchandise, in contrast to competitors Sam's Club (NYSE:WMT) and BJ's (NYSE:BJ). Costco has lead the pack during the 2007 holiday season. "Clearly this is one of the few momentum stories in retail," Jefferies analyst Daniel Binder wrote in a recent note. "But we remain concerned that consumer weakness could hit the more affluent Costco customer in 2008," Costco Earnings Call Transcript (later today).

Office Depot Stung by Housing Weakness, Shares Down 11%
Retailer Office Depot (NYSE:ODP) said Wednesday the housing slump has resulted in "continued erosion" of the company's revenue and profits in the fourth quarter. The office retailer had already issued a warning, giving a conservative forecast for holiday sales and saying it expects to see weakness into 2008 (full story). The

company has also previously stated it has seen particularly challenging conditions in Florida and California, two of the hardest hits states by the housing slump, but it added Wednesday it is seeing this weakness spread to other regions, "creating more pressure on sales and margins." S&P analyst M. Souers told clients in a note, "We expect a rather lengthy recovery." S&P lowered its 2007 and 2008 operating EPS estimates to $1.65 and $1.73 from $1.72 and $1.95, respectively, but noted, "Despite the challenges facing ODP, we think the shares are appropriately discounted, trading at under 10X our 2008 EPS estimate." Office Depot finished down 11.5% to $15.06.

ENERGY/MATERIALS
Kuwait to Pay Dow $9.5B in Petrochemical JV
Dow Chemical Co. (NYSE:DOW) has agreed to create a joint petrochemicals venture together with Petrochemical Industries Co. of Kuwait [PCI] in exchange for $9.5 billion. The venture will be split 50/50 between the two companies and will be fully integrated. Andrew Liveris told CNBC's Squawk Box Thursday morning shortly after the deal was announced, "this is win-win-win: a win for [Dow], a win for [Dow] shareholders and a win for PCI." Despite the deal valuing Dow's petrochemicals unit at a total of $19 billion,

or nearly half of Dow's $39.4 billion market cap, Liveras insisted it only represented a third of Dow's total business, saying, "the global petrochemical and plastics business is highly undervalued – the NYSE has been discounting [Dow's] shares for some time now." The new venture will employ roughly 5,000 people to produce polyethylene and other materials, with expected pro forma annual revenues of $11 billion. Shares of Dow were last up 4.8% in Frankfurt trading.

Crude Spikes on CB Announcement, Report
Crude rallied more than $4/barrel Wednesday as a flurry of bullish news awoke buyers. In the morning, five of the largest central banks in the world said they would inject cash into money markets. The move should help ease the burden of the credit squeeze on the world economy, potentially leading to greater energy consumption. "The energy markets have been interconnected with the global capital markets for some time now," said John Kilduff, vice president of

risk management at MF Global. "The renewed outlook for energy demand has us back in rally mode; $100 is squarely back on the table and within reach before year end." In addition, crude inventories fell for the fourth straight week. The drop was less than expected however. Finally, Goldman Sachs (NYSE:GS) raised its forecast for oil in 2008 on concerns that perceptions of weaker demand will encourage oil suppliers to limit supply. Goldman sees intermediate crude oil averaging $95/barrel in 2008, a $10 increase from previous forecasts. January crude traded $4.37 higher to $94.02/barrel.

FINANCIAL
Security Capital Assurance Skids on Downgrade Threat
Fitch Ratings said Wednesday that it is placing Security Capital Assurance Ltd. (SCA) and its financial guaranty insurance subsidiaries on a negative rating watch, sending the AAA-rated bond insurer's shares plummeting 22% to close at $5.45. The ratings agency is considering the downgrade because of Security Capital's exposure to CDOs backed by subprime collateral and a possible capital shortfall of $2 billion. Fitch has given Security Capital four to six weeks to boost its capital adequacy.

"If SCA is unable to meet capital guidelines in the noted timeframe, Fitch would expect to downgrade SCA's ratings... to AA," Fitch said. SCA CEO Paul Giordano said the company is already working on finding ways to supplement its capital supply. "Our plan involves a range of options for increasing our capital position within the time period indicated by Fitch," he said. Other bond insurers, including MBIA Inc. (MBI -- full story), Ambac Financial (ABK), CIFG Guaranty and Financial Guaranty Insurance Co., are also threatened with downgrades.

BofA: More Writedowns, 'Disappointing' Q4 Earnings
Bank of America (NYSE:BAC) fell 2.7% Wednesday following a warning by CEO Ken Lewis in prepared remarks for a Goldman Sachs industry conference that writedowns of some debt securities will be more than the previously anticipated amount of $3B. Lewis said Q4 results, although they are expected to be

profitable, will be "quite disappointing." Also, the exact value of the writedowns are "unknowable" and won't be available until the close of Q4. Bank of America filed a Form 8-K with the SEC disclosing the prepared remarks of Mr. Lewis. Bank of America lost 4.3% to $44.65 on Tuesday, falling with the broader market in reaction to the Fed's 0.25% rate cut.

Euronet Confirms $1.65B Stock Acquisition Offer for MoneyGram
Euronet Worldwide (NASDAQ:EEFT) issued a statement early Thursday confirming it delivered an unsolicited all-stock acquisition offer to the Board of Directors of MoneyGram International (NYSE:MGI) on Dec. 4. The proposed transaction would be tax-free and based on a fixed exchange ratio of 0.6179 shares per MoneyGram share, which using Euronet's closing price on Dec. 4, values MoneyGram at approximately $1.65B, or $20.00/share -- a premium of around 43% to MoneyGram's same-day close. Euronet's letter to MoneyGram emphasized "substantial immediate and long-term value for shareholders of both companies."


Specifically, Euronet sees enhanced competitiveness, expanded global reach, growth opportunities in key emerging markets and the ability to generate double-digit accretion and delivery significant synergies. Despite the 40-plus percent premium, the offer is well below MoneyGram's 52-week high of $32.24. MoneyGram's shares are off by around 50% since summer, because of the company's ill-timed expansion into mortgage-backed securities. Shares of Euronet gained 3.1% to $32.57 on Wednesday. MoneyGram rose 0.1% to $14.90. Western Union (NYSE:WU), +0.7% to $23.27, is the dominant player in global money transfer services with 16% market share, compared to Euronet/MoneyGram's combined market share of only 6%. Shares of all three were untraded as of 07:20.

Wachovia Doubles Q4 Loan Loss Provision
Wachovia Corp. (NASDAQ:WB) submitted a filing with the SEC Wednesday in which it forecast a loan loss provision in Q4 of about $1 billion beyond charge-offs. It had earlier forecast that figure in the $500-600 million range (full story). Wachovia shares dropped 3.4% to $40.53 Wednesday, adding to its 5.7% fall Tuesday -- the shares' worst two-day performance in five years. Writedowns for October and November on securities backed by subprime mortgages already total the $1.34 billion pretax loss posted for the whole quarter. "None of us know what inning we are in," said CEO Kennedy Thompson. "We know that 2008 is going to be challenging for us and the entire industry, but we think that we are prepared for it and we think we will do just fine."

Some analysts believe more writedowns are still to come at Wachovia. "I don't think anyone can say with any confidence that this is it," said Kevin Fitzsimmons of Sandler O'Neill & Partners. "Rarely do companies get it right at the first swipe when it comes to credit." Wachovia still expects to be able to pay its $0.64 per share dividend. In related news, Bank of America (BAC) and PNC Financial Services Group (NYSE:PNC) said their losses will be greater than anticipated (full story). "You certainly can assume [quarterly] results will again be quite disappointing," said BofA CEO Kenneth Lewis. "The credit markets "have turned down again and will probably remain challenging into next year."

Sallie Mae Lowers Outlook, Says Buyer Is Out
Shares of Sallie Mae (NYSE:SLM) dropped more than 14% Wednesday on news the company lowered its 2008 profit forecast, and after negotiations between the would-be buyers of the lender failed. An investor group led by J.C. Flowers had originally agreed to pay $60/share for the company, but because of the crisis in credit markets the group backed off, saying the economic environment had taken a "material adverse affect" on Sallie Mae's financial condition. Sallie Mae and the investor group attempted to

renegotiate a price, but SLM announced Wednesday the consortium "does not wish to pursue" any new negotiation opportunities. SLM will now contend in court that it should receive a $900 million break-up fee from the investor group, which was part of the initial agreement. Sallie Mae also lowered its 2008 estimate of core earnings, excluding items, to $2.60-$2.80/share from $3.25/share. Analysts were projecting the company would earn $3.22/share. SLM also said it has received "indications of interest" from 10 banks about new warehouse funding totaling more than $30 billion. Shares of the company fell the most in 14 years Wednesday.

HEALTHCARE/BIOTECH
Novartis Announces Further Job Cuts
Swiss pharmaceutical Novartis AG (NYSE:NVS) said Thursday it will slash 2,500 jobs around the world, or 2.5% of its workforce, as part of a broader restructuring. "We have taken the opportunity given the short-term down-cycle in our pharmaceuticals business to initiate this project," said CEO Daniel Vasella. "This will simplify our organization and redesign the way we operate." Novartis will take a restructuring charge of $450 million in Q4, but the cutback is expected to result in annual savings of $1.6 billion by 2010. Three months ago, the company said it was cutting 1,200 marketing and sales posts in the U.S. (full story).

The new job cuts will be in management, research and sales positions. Novartis has had to contend with a delay in its diabetes drug Galvus, the withdrawal of irritable bowel treatment Zelnorm, and the failure of the Prexige painkiller to win regulatory approval. Generics, meanwhile, are eroding sales of heart treatment Lotrel and antifungal drug Lamisil. "In general, now is not a good time in big pharma," said Denise Anderson of Landsbanki Kepler. "Sales and profitability are slowing, and the company doesn't see it as a short-term thing." AstraZeneca (NYSE:AZN), Pfizer (NYSE:PFE) and GlaxoSmithKline (NYSE:GSK) are also cutting jobs in an effort to save money in the face of product delays, sales slowdowns and rising competition.

Biogen Abandons Search for Buyer; Shares Plunge
Biogen Idec Inc. (NASDAQ:BIIB) announced late Wednesday it is abandoning its search for a suitor, sending its shares tumbling 27% to $55.51 in AH trading. The drop wiped out $6 billion in market value, or nine months of gains. The biotech company, which manufactures Avonex and Tysabri for multiple sclerosis and Rituxan for cancer and rheumatoid arthritis, put itself on the block in October. Earlier in the year, activist investor Carl Icahn took a 3% stake. The company began hunting for a buyer at the urging of Icahn, who said he might pay in the "high 70s to low 80s" per share for the company himself -- though he ultimately withdrew his expression of interest.

Had Biogen sold, it could have been the biggest biotech takeover ever, but the surge in stock price on buyout speculation priced the company out of the market. In October, Caroline Stewart of Piper Jaffray was quoted in Fortune as saying the stock price, which had soared into the mid-$80s, made no sense. "It's crazy to suddenly say the stock is worth $20 more just because Carl Icahn says it is," she said. The interest of prospective buyers might also have been dampened by heightened regulatory scrutiny of Tysabri, which has been linked to a brain disorder. "[Biogen] didn't really have a choice except to be as a standalone," Stewart said.

GLOBAL MARKETS
Asian Markets Drop Sharply Thursday
Asian markets fell sharply Thursday after Mitsubishi UFJ Financial Group (NYSE:MTU) saw its share price tumble almost 8%, its biggest drop in over three years, re-igniting fears of U.S. subprime mortgage and its overseas fallout after Bank of America (BAC) and Wachovia (WB) warned of substantial Q4 writedowns (full story). "Bank shares were sold on the news about Bank of America," Shinkin's Tomomi Yamashita said.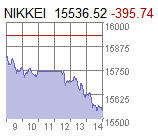 The Nikkei fell 2.48%. Mizuho (NYSE:MFG) fell 5.3%, Yahoo Japan (YHOO) dropped 4.9%, Nomura (NYSE:NMR) was off 4.3%. Sony (NYSE:SNE) was one of the few gainers, up 1%. The Hang Seng fell 2.72%. Losers included China Petroleum (NYSE:SNP), down 5.5%, China Mobile (CHL -3.9%), China Life (LFC -3.8%) and HSBC (HBC -1%). Shanghai's composite index fell 2.7%.

European Markets Down on Credit Jitters
European indexes were all down in Thursday morning trading. France's CAC 40 lead the way, down 1.68%. Alcatel-Lucent (ALU) fell 3.9%. AXA (AXA) was off 3.4%. BNP Paribas (OTCQX:BNPQY) fell 3.2%. London's FTSE 100 was off 1.43%. Rentokil Initial plc (OTCPK:RTOKY) plunged 22.1%. Royal Bank of Scotland (NYSE:RBS) and Barclays (NYSE:BCS) fell again, down 5.2% and 4.6% respectively. Glaxosmithkline (GSK) gained 1%. The Dax was down 0.93% as of 5:15 a.m. ET. DaimlerChrysler (DAI) dropped 3.2%. Infineon (IFX) was down 2.5%. Siemens (SI) fell 1.8%. Merck Kgaa was up 1%, the index's leader. One analyst said market pressure was due to investors doubting a plan initiated Wednesday by the U.S. Federal Reserve and other central banks would do enough to inject long-term liquidity back into the credit markets. "If you look at actual longer-term money rates they haven't moved. People are concerned that this might be a very nice short-term easing but is it going to restore trust and confidence so that when we get to four, five, six months ... banks are in any greater sense of willingness to lend to one another," said Cantor Fitzgerald's Steven Pope.

Yuan Hits New High as U.S./China Meetings End
Treasury Secretary Henry Paulson and his delegation have finished the latest round of Strategic Economic Dialogue meetings in China. Overall, Paulson seems pleased with the progress made, but says there is still much work to be done. Regarding yuan appreciation, Paulson acknowledged the pace has increased in the past year, but said the two sides have agreed to the principle of appreciation, rather than talking about "how fast is fast." The yuan rose to its highest level, 7.3692, since ending its peg with the dollar in July 2005. Separately, it was announced China will allow qualified companies to sell yuan-denominated shares and locally incorporated foreign banks to sell yuan-bonds. However, this may have a counter effect, because: "If a foreign company doesn't need to bring a billion dollars through foreign direct investment, but can raise that money onshore, then you don't have to bring in that capital," explained Stephen Green, senior economist at Standard Chartered Bank in Shanghai. HSBC (HBC), Coca-Cola (NYSE:KO) and Siemens (SI) are said to be considering a Shanghai Exchange listing. Among other developments, China said it will study foreign investment in domestic brokerages, something it halted last year, although there was a recent report of Credit Suisse (NYSE:CS) and Morgan Stanley (NYSE:MS) forming joint ventures (full story). Stocks fell sharply across Asia, including a 2.7% drop in Shanghai to fall below 5,000 again (full story). ETFs FXI, GXC and PGJ, as well as closed-end fund CAF, all offer U.S. investors broad exposure to Chinese equities.

SEEKING ALPHA MUST-READS
Have Wall Street Breakfast emailed to you every morning before the market opens.