One of the features that an Exchange Traded Fund [ETF] has is the elimination, or almost elimination, of single company risk. An ETF generally holds hundreds of stocks. That is the reason why I started applying the Rocket Science Methodology [RSI] for the selection of investment opportunities in the arena of ETFs. Granted, ETFs can take a dive when market forces cause investors to sell off the stocks or commodities in the fund's underlying index. But this cannot compare to what can happen to a stock when a company announces bad news.
Such is the situation that happened to Biogen Idec Inc. (NASDAQ:BIIB). At the close yesterday, Biogen came out with some bad news that resulted in a 28% hit to the stock price in after hours trading. That is a huge hit and it points out the risk of owning individual stocks. This is something that doesn't happen to an ETF.
Unfortunately, Tuesday's RSI had only two selections and one was BIIB. With the large market selloff BIIB showed some strength, and with excellent fundamentals it was natural that it was picked by the RSI methodology.
I'm sure that stock traders/investors are well aware of the risks of individual stocks as well as the potential rewards that are possible. Academic studies have shown that a diversified portfolio of at least 20 stocks afford a measure of insulation from company risk. With a single stock representing 5% of the value of the total portfolio, if it drops 28% the total portfolio takes a 1.4% hit. I know of investors who hold far fewer than 20 stocks and thus they are dealing with a higher degree of risk.
Returning to Biogen, if you did your homework on BIIB, you would have discovered news releases describing Biogen's efforts to put the company up for sale and would have concluded that the recent price appreciation was due to the speculation that a company sale would be successful and investors would be rewarded. A couple of days ago, Mad Money reported that an analyst expected Biogen to be taken out between $85 and $90, pretty good for a $75 stock. Let's face it....we're talking crap shoot here. And just maybe there is a sale in the future???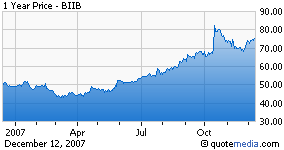 Disclosure: none