Together with Madonna, Sting and Prince, Vikram Pandit, my old boss at Morgan Stanley (NYSE:MS), has acheived rockstar status. He's the only CEO I know of in the world who is referred to only by his first name.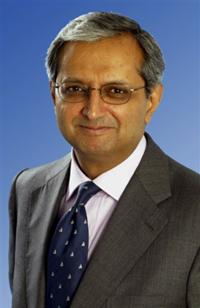 I've been seeing a lot on CNBC and in media dissing the Citigroup Board for choosing Vikram Pandit as the Citigroup (NYSE:C) ($31.53) CEO. I used to work quite closely with Vikram at Morgan Stanley and I found him to be a thoughtful, insightful, extremely level-headed and intelligent manager. He's one of the few managers I ever had who would understand every screw-ball idea I would throw at him. And believe me, I would dream up a lot of crazy derivative products.
He has a conservative management style and considers every area of a decision before moving forward. I could almost see him going through his checklist on every decision, Profit Potential, Legal, Employee Morale, Reputation Risk, Credit Risk, Shareholders, Credit Rating, Sovereign Risk. I can see him thinking the same way going forward at Citigroup. Virkam was head of the Equity Division as we openned our Brazil office. He aksed good questions but unlike several other divisions at Morgan Stanley was not so risk averse that we walked away from the potential.
So, I'm hanging on to my Citigroup. If you've been watching my Citigroup stock purchases you know that I'm underwater on the position. But I think the market's harsh treatment of Vikram right now is a symptom of a "beat up Citigroup" crowd mentality. If you can stand the painfully long pre-roll commercial (60 seconds) at the beginning of the video watch my friend Joe Capone's bullish opinion on Citigroup, a breakup and Vikram on video at TheStreet.com.
Something I'm watching right now is Citigroup's Preferred stock (C-prS - $20.17 , C-prW - $21.09). It's been beat up and has a decent yield of around 7.5%. The equity may face pressure from further dillution if Citigroup needs to raise capital but the Preferred actually becomes more credit worthy and has a very safe dividend. As a matter of fact, a dividend cut on the common stock of Citigroup would actually raise the price of the preferred.
As for Morgan Stanley's recent rating on Citigroup as the best short of 2008. When the stock was nearly double its current price as $59 Morgan had an overweight rating on Citi. I don't have much confidence in them.
Disclosure: I am long Citigroup. I have owned the stock since 1990. I have purchased Citigroup in the past year several times. I am short December 2007, 30 strike puts ($0.50). I own Morgan Stanley (MS) stock. I am a participant in Morgan Stanley's executive compensation and pension. I have traded MS in the past year several times.