I have a headache. I get lots of headaches. Lots of people get lots of headaches I suppose, but mine are worse. (Well I don't know that for sure but they really feel like that to me.) If they were migraines I could get a prescription, but no, they are just plain old nagging noggin needles.
Over the last 25 years, I have tried just about everything to get rid of the headaches, but only one thing ever worked consistently for me: Excedrin.
I know plenty of folks who get relief from regular aspirin like Bayer, or from Tylenol, or maybe Advil. They are the lucky ones. Because Excedrin is made by Novartis (NYSE:NVS) and for the last 5 months my headaches and I have been out of luck - Excedrin, and all forms of it, was pulled from the shelves in January. Believe it or not, bottles of Excedrin are selling on eBay (NASDAQ:EBAY) for more than $50 bucks per bottle! (I have a bid on Excedrin Extra Strength, but I doubt if I will get it.)
Until this, I never even knew Novartis was the company that owned the company who actually makes Excedrin. (Novartis acquired Bristol-Myers Squibb's (NYSE:BMY) North American over-the-counter portfolio in mid-2005.) At first, it wasn't a big issue because I thought that it was a temporary recall and I could go to my "standby" drug of choice, Bufferin. And guess what? Strike two, folks. Bufferin is also made by Novartis. My remedies are down to ice packs and scotch - and I don't drink.
The Impact On Novartis
When I found out that Novartis was the manufacturer I decided to take a look at the company and to actually see what the heck was going on.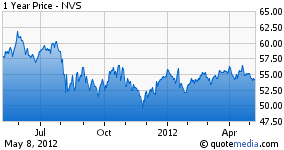 As you can see from this one year chart, Novartis has gone down from $62.50/share roughly to under $54.00/share as of today (5/8/2012).
This last quarter, Novartis missed the street estimates mainly because of looming patent expiration of some of their best-selling prescription drugs, most notably Diovan (valsartan).
In their conference call on April 24th, Novartis touched on the impact of generic competition;
"..... we estimated the total impacts in 2012 for Pharma would be around $2.6 billion in lower sales."
That is not chump change and the figures are running just about dead on.
Also from the call:
"It's clear from this that the third and fourth quarters of this year bears a bigger weight of generics than in the first half, obviously, largely due to U.S. Diovan. Although the patent is lost at the end of the third quarter, there's a supply chain impact that occurs in quarter 3 as inventories start to run down. The Diovan impact will peak in quarters 1 and 2 next year and then quickly decline. So that by the time we get to the second half of next year, the impact of -- the generics will lessen."
Well, there you have it in a nutshell, from my point of view. The wonderful operating margins, the strong pipeline of products, and the sheer size of Novartis itself took a backseat at that point.
Which brings me to Excedrin. What has gone virtually unnoticed by the average consumer, but probably NOT by some savvy analysts out there, Novartis had to close an entire plant in Lincoln, Nebraska due to the issues with many of their over the counter products.
Here is one of the original stories written back in January. In it, it states:
"Novartis AG said it's voluntarily recalling some over-the-counter products in the U.S., including its Excedrin headache pills and NoDoz medication, because they may contain broken or stray tablets from other products.

Novartis has temporarily suspended operations at the Lincoln, Nebraska, plant where the products were made, the company said in a statement today. The recall also affects its Bufferin and Gas-X Prevention brands."
The combination of these and other over the counter drugs equals roughly $120 million in pre tax profits which is roughly 2% of all of Novartis' profits.
It might not seem like a lot, but I recall another incident a few decades ago that impacted Johnson & Johnson (NYSE:JNJ) when Tylenol was recalled because they found poison in tampered pills. Nothing like that has happened here, but just the "reminder" of what happened back then obviously could impact anyone who remembers that period of time, or JNJ's "landslide of recalls" in 2009. Both those events put Johnson & Johnson on sale also with a cheap share price. Take a moment to read this article showing some similarities.
The power of the brand works in some odd ways at times. Johnson & Johnson had a bigger brand image than Tylenol back then. Whereas to consumers, Excedrin IS the brand and Novartis is secondary, so the consumer driven lingering effects should be minimal, from the company's standpoint.
It remains to be seen if Excedrin will make a comeback.Truth be told there ARE some off-brand alternatives that carry the same ingredients (drug store brands, etc.), as mentioned in this article.
The company has said the Lincoln plant will be back in operation by the end of this year, hopefully, after saying it would sooner as this article details. Meanwhile, some of the company's new products should launch, and the initial impact of the loss of patents might diminish.
Why would anyone want to buy shares of Novartis in 2012? That is the point, folks, the price of shares is on sale! We can save about 15% from a recent high (not an all time high) and pocket a very sweet dividend yield of 4.65% while we wait for the price to rebound.
While this does NOT mean the stock will shoot up in the very near term, it could mean that we are buying a quality company with an outstanding balance sheet and a terrific dividend.
I'm still bummed that I can't buy my old standby, Excedrin. But I can take some solace knowing that if I do decide to buy shares of Novartis, I am getting it "on sale". That, and some really good scotch should do the trick.
Disclosure: I have no positions in any stocks mentioned, and no plans to initiate any positions within the next 72 hours.