In Part 11 we made a subjective selection of 6 dividend paying pipeline MLPs from the top 20 in the Alerian MLP index, and compared their performance to the S&P 500. In this article we created three equal weighted portfolios of MLPs based on simple selection rules, and compared their performance to each other.
One portfolio consisted of an equal weighting of the 6 MLPs with the lowest risk adjusted returns, based on 3 years of history and their return in calendar 2008. Another portfolio consisted an equal weighting of the 6 MLPs with the highest indicated yields. The third portfolio consisted of an equal weighting of the full list of the top 20 dividend paying pipeline constituents of the Alerian MLP index.
The top 20 MLPs:
| | |
| --- | --- |
| Enterprise Products Partners LP | EPD |
| Kinder Morgan Energy Partners LP | KMP |
| Plains All American Pipeline LP | PAA |
| Energy Transfer Partners LP | ETP |
| Magellan Midstream Partners LP | MMP |
| ONEOK Partners LP | OKS |
| Energy Transfer Equity LP | ETE |
| Enbridge Energy Partners LP | EEP |
| MarkWest Energy Partners LP | MWE |
| Williams Partners LP | WPZ |
| Buckeye Partners LP | BPL |
| El Paso Pipeline Partners LP | EPB |
| NuStar Energy LP | NS |
| Regency Energy Partners LP | RGP |
| Targa Resources Partners LP | NGLS |
| Sunoco Logistics Partners LP | SXL |
| Copano Energy LLC | CPNO |
| Boardwalk Pipeline Partners LP | BWP |
| Western Gas Partners LP | WES |
| Genesis Energy LP | GEL |
You can read a summary business description for each at our blog, which also provides a link to the MLP websites.
Figure 1:
Figure 1 shows the indicated yield, 3-year dividend growth 1-year and 3-year total return, 3-year standard deviation, and the calendar-year total returns for 2007, 2008, 2009, 2010, and 2011 for each of the top 20 MLPs.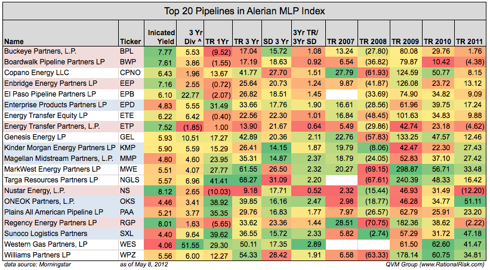 The blue shaded names are the low risk selections, and the pink shaded names are the high yield selections.
We ran a 10 year backtest of the three equal weighted portfolios with monthly rebalancing (based on 03/30/2012 data).
Figure 2:
You Can Have Anything You Want, But Not Everything You Want.
Figure 2 compares the backtest result for the three MLP portfolios with each other and also with three common benchmarks using Vanguard mutual funds. The benchmarks are the S&P 500, the U.S. Aggregate Bond index, and a 60/40 balanced fund of U.S. stocks and bonds.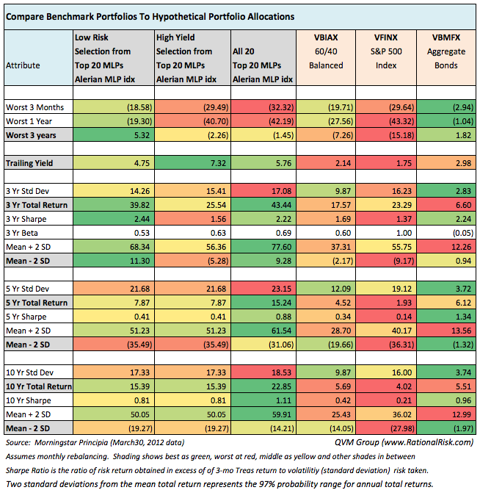 A few things stand out.
The low risk group had the least terrifying worst periods, and the entire list had the most terrifying worst periods.
The indicated yield spreads are significant.
Over multi-year periods, the full list outperformed both the low risk and high yield portfolios
The low risk portfolio had better worst periods than the 60/40 stock bond mutual fund, much better than stocks alone, but as would be expected worse than bonds.
Yields beat stocks and bonds hands down
All three MLP portfolios generally beat the 60/40 stock bonds and the stocks only funds over multi-year periods
All three MLP portfolios outperformed bonds for total return for multi-year periods, but with higher volatility and a lower risk adjusted return.
It looks to us that owning the basket is a better choice than these two selection approaches (low risk or high yield).
What do you think for your own purposes?
In our case we have tended to prefer a basket investment product for MLPs.
Disclosure: QVM has no positions in any mentioned security as of the creation date of this article (May 9, 2012).
General Disclaimer: This article provides opinions and information, but does not contain recommendations or personal investment advice to any specific person for any particular purpose. Do your own research or obtain suitable personal advice. You are responsible for your own investment decisions. This article is presented subject to our full disclaimer found on the QVM site available here.