WebMD Health Corp. (NASDAQ:WBMD) is a familiar home to anyone who has ever searched the Internet for a cure to bad food, a sprained ankle, the difference between a pulled muscle and torn hamstring, or between schizophrenia and schizoaffective disorder.
I covered the company's business concept at length in an earlier comparison article on health websites I wrote in mid-2007, and also predicted that the company still had huge growth ahead. Currently, WebMD is the leading provider of Internet-based health information services. Healtheon owns 80% of its shares, and recently, there is speculation around a WBMD+HLTH merger.
WebMD announced Q3 earnings on November 7, 2007. Q3 was a profitable quarter with a reported revenue of $87.2 million versus $66.6 million in 2006, an increase of 31% YoY. The Online Services segment totaled $79.6 million versus $58.9 million, an 35% YoY increase. Advertising and sponsorship revenue increased 36% to $59.1 million, and private portal licensing revenue increased 37% to $20.0 million. Its net income for Q3 was $11.5 million or $0.19 per share compared to $490,000 or $0.01 per share last year.
However, there was no Q3 praise. October guidance was revised to the above numbers, and in response, the Street punished WebMD's share value for missing earlier targets (dropping from $60 to $50). However, this is not unique to WebMD. The Summer and Fall months have shown dozens of examples of investor pettiness in brutally punishing good, performing companies for missing overzealous targets. However, WebMD hasn't learned the above lesson of being overly optimistic (at least in public): Q4 revenue guidance provided by WebMD is $94 to $98 million. This is the same level of future guidance it was punished for in Q3. The Net income guidance of $15 to $18 million is an increase of approximately 150% to 200% YoY. Yikes! WebMD management also provided preliminary guidance for 2008 revenues of $420 to $435 million.
Given that WebMD does not advertise on search engines, the company's success is in brand awareness. It is synonymous with being where every person goes on the Internet to search an injury or illness. Ask any new mothers' group, and the majority will agree that one of their first three Internet reference tools is WebMD. This is due to the scope and breadth of its information, as well as how easy it is to search. Plus, because of its long-standing presence on the Internet, WebMD's organic search result based traffic is very significant, eliminating the need for search engine advertising.
The second strength is its community tools. Message boards, live discussions or forums, weekly opinion polls and question-answer sections all contribute to building a stable user population for the website, and ultimately its revenue source: advertising. In the U.S. there are 8 million searches every day that looking for medical information, this compounded by hospitals and doctors spending less time per patient under HMO scrutiny, is evidence that WebMD's product is right on target.
click to enlarge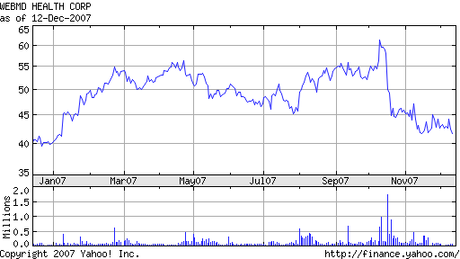 WebMD shares are currently priced in the mid-$40s (a 52-week range of $37-$63) with a market cap of $2.44 billion and 57.4 million shares outstanding. The long-term future continues to show strong promise as baby-boomers age with expanded medical needs. How WebMD leverages this current market growth will be critical, and increased alliances with all the contact points of medical care (hospitals, doctors, pharmacies, insurance companies) will significantly add to WebMD's utilization by consumers. The current $41-43/share price could be seen as an entry point for going long on this company. It is also a very interesting acquisition target for a player such as Yahoo (NASDAQ:YHOO). My only caveat is that the WebMD management needs a few lessons in IR and how to communicate with the Street.