A few weeks ago I wrote an article about Ford (NYSE:F) and an options play that went along with the current trading range. Well, needless to say, that plan totally failed. However, in trading there are the winners and then there are the losers, and one of the most important things in trading is risk management, which means cutting the losers early.
The plan was to get long, but the trade broke down once Ford began to break support, then around $12, and started trending down. Since they reported earnings, the sell off has accelerated and as of the close on Monday shares of Ford were valued at $10.66.
Now I feel like many keep talking about how Ford is the "deal of the decade" and how Ford is such a great bargain right now. Well, I guess I'm going to have to be the bearer of bad news; Ford's future is dimmer than many hope.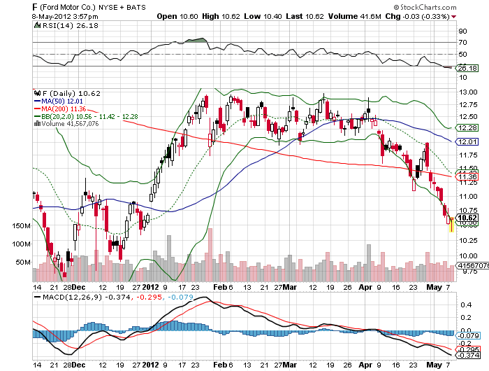 Above: 6-month chart of Ford (click to enlarge).
I want to first say that if your account is built around the next decade of domestic growth, then yes, Ford may be a "bargain" here around $10, especially if you have a low cost basis. If I were going to build a long term position, the $10 handle is where I'd be looking to nibble at a few shares. I suppose the good news is that one should not have to worry about another total financial collapse (at least in America), and the worry of the automaker's bankruptcy is off the table.
Ford does have a miraculous rebound story, one that fought off bankruptcy just a few years back and whose share price rallied many times over. And a company who was able to re-establish a cash dividend (even if it is only $.05) while still trading with a P/E ratio of just 2.4, does not mean there is fast money to be made, at least in 2012.
Now for the bad news. Over the last several years Ford has been trying to become more and more present in regions such as China and Europe. Sales in North America have boded well for the automaker, but they just do not have any traction in foreign sales. Every quarter the numbers come out and show good growth and sales in the States, but a lackluster result for the other regions. This usually results in posting losses for those areas, something that shareholders have become more and more frustrated with as time goes on. Though Ford posted their first earnings beat in six quarters, it's clear that the stagnant global growth is weighing on the top and bottom lines for the automaker.
Many investors and traders are thinking the bottom is in, is near, or has already past and Ford is deeply oversold. Well, it may be that they are deeply oversold, but with good reason. Ford's poor results are clearly the main catalyst behind the less than stellar price performance of its shares. Ford has too much global exposure, which isn't necessarily a bad thing. When times are good, you can bet times will be good for Ford, and thus for Ford shareholders.
The daunting, and unfortunate truth however, is that the global economic picture looks rather bleak at best and the "Euro-mess" is just beginning to heat up. China is looking brighter and better each day, but growth must pick up extensively for Ford to see "good" results, an interpretation that will be up to the shareholders. Europe is a huge mess, and will likely remain a mess for some time. Should a recession hit (and god forbid a "worse-than-expected" recession), we will see Ford's foreign sales stall even further. At least for the time being, sales in Europe not getting worse can be the most optimistic outlook.
Essentially, what I am getting at here is that Ford is doing great at home; domestic sales are stellar, they are making a positive move into the high mpg vehicle classes, and have really turned this sunken ship around. However, until the picture across the pond and beyond begins to clear up, low sales and poor international numbers are really going to hinder Ford going forward. Once or if Europe can figure out their mess, Ford will begin to see better results, as spending increases abroad. Basically, I just want to inform those investors and traders out there that even though Ford seems cheap, unless you're buying for the long term, I would recommend avoiding it.
Is Ford the deal of a decade? No, Ford was the deal of the decade when shares traded at $1.01 in late 2008. I also won't say that it will five-fold in the next five to ten years. I will say that if one is investing for the next decade or so, Ford has a nice story, will grow over time, and has a small dividend to boot. That being said, I would expect shares to sputter at or below $10 for the next 6-9 months, perhaps longer, all pending on how the European situations effect the US equity markets.
Note: There will be an annual shareholders meeting on Thursday, May 10th, at 8:30am EST. This link will provide further information for those who would like to listen.
Disclosure: I have no positions in any stocks mentioned, and no plans to initiate any positions within the next 72 hours.