The Bakken players have had mixed results in the first quarter, much of which has been clouded by mark to market derivative losses. The most pressing worry has been a marked increase in DD&A. Northern Oil and Gas (NYSEMKT:NOG), Oasis (NYSE:OAS) and Kodiak (NYSE:KOG) all reported this.
These companies have stated these increases are due to increased future costs, which could be taken a few different ways. The first is the ever increasing number of stages used by producers. Each stage increases costs, but also increases revenue through production. It could also be attributed by increased infrastructure for the purpose of salt water disposals.
These costs may impact the balance sheet at this time, but will save a significant cost down the road through the decrease of trucking water to disposal wells. One thing is certain, and that is Bakken producers are willing to spend in an environment where oil prices are at or around $100/barrel. In the short term, there is a chance WTI prices will pull back, but the Bakken producers may see the price of Bakken crude increase with the completion of the Seaway pipeline reversal, which should provide 150,000 barrels/day of capacity sometime in the second quarter of this year.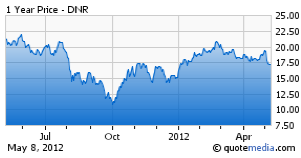 Denbury (NYSE:DNR) had a great first quarter, earning 41 cents/share versus the Street's estimate of 38 cents. It also beat on the top line with revenues of $645.1 million versus the Street's estimate of $634.4 million. It has beat EPS estimates for four straight quarters. Known as an EOR producer, it also has a large acreage position in the Williston Basin. It had record Bakken sales volumes for the quarter at 15114 Boe/d, which is a 29% increase from the fourth quarter of 2011. It increased 2012 capex by $150 million with $80 million going towards the Bakken.
One issue of note is Denbury plans to decrease its rig count to 4 from a high of 7 in 2011. This could be due to several Bakken issues. Lower Bakken crude prices and higher costs could both be reasons, as Denbury has always done a very good job with its EOR projects, in keeping costs down and hitting production numbers. This is a variable we will need to monitor in upcoming quarters.
Denbury has stated it has reduced the number of rigs it has had under contract because it would like to only use efficient flex drilling rigs. These rigs are very efficient in pad drilling, which is why it only will need four as it progresses into an aggressive pad drilling program.
Tertiary production increased 8% year over year from the first quarter of 2011, while Bakken production increased 164% over the same time frame. What continues to be important for Denbury is Light Louisiana Sweet pricing which had a positive differential of $12.55/Bbl, versus Bakken crude which had a negative differential of $16.96/Bbl on average for the first quarter. By the end of the March, both of these differentials had improved from the average. Denbury did a nice job of keeping costs in check for the quarter. Even DD&A only saw a slight increase from $14.61/Boe in the first quarter of 2011 to $16.71 for this quarter. All of this increase was from its Bakken acreage on finding costs and upward revisions to estimated future development costs.
Denbury estimates 2012 total production to average 68625 to 73625 Boe/d. Bakken production will average 14350 to 16350 Boe/d in 2012. Total average production estimates for 2012 remain unchanged, while Bakken estimates are increased by 1600 Boe/d. This increase has to do with better production achieved from recent wells. Its Cherry Prospect continues to have the best production, in northeast McKenzie County. Many of these wells have IP rates of 2000+ Boe/d and 90-day IP rates in the high 600 Boe/d range. Denbury recently completed an upper Three Forks well in the Cherry Prospect which also had an IP rate of 2000+ Boe/d.
It has been sticking with long laterals with 26 frac stages. Its Charlson and Bear Creek prospects also should have very good production located to the east and south of Cherry. It is my opinion that Denbury has one of the better total acreage in the Bakken, with 200,000 net acres located in northeast McKenzie and northwest Dunn counties. We should have Murphy Creek results soon in Murphy Creek. This will help to identify how good its Dunn acreage is to the south of Bear Creek.
Average well costs were $10.8 million in the first quarter, but Denbury believes it can decrease this cost below $10 million with pad drilling and optimized drilling and completion practices. I would like to see an increase in stages, but given Denbury's very careful posture with respect to increasing expenses, we may not see this anytime soon.
In summary, Denbury is more of a play on EOR than the Williston Basin. That said, it is using the Bakken to produce a growth metric it does not have with tertiary recovery. Denbury continues to benefit from its exposure to LLS, and it would seem it will continue at least through 2012. Denbury is a buy here, and I would add to this position on pullbacks.
Disclosure: I am long OAS, KOG.
Additional disclosure: This is not a buy recommendation.