It has been a really really bad year for shareholders of beleaguered Jaguar Mining (JAG). Since the share price made its euphoric peak of $8.18 back in November of last year, it has been all downhill. Following a failed buyout, poor quarterly results, and management shakeup -- to mention just some of the company's problems, shares have taken an 83% whacking and hit an all-time low of $1.40 in Tuesday's frenzied trading.
Now, I understand the risk of going out on a limb and calling a bottom for Jaguar. In fact, I am the fourth author on Seeking Alpha to suggest this is the time to trade Jaguar on the long side since the slide began. While all three previous attempts made a valiant effort to justify the bullish case for Jaguar, they simply underestimated how much worse things could get. I could be making the same mistake, but with shares available under $1.50/share, I couldn't resist taking a speculative long position.
In the interest of full disclosure, I should note that I have always been a fan of Jaguar. In fact, my first article for Seeking Alpha back in 2008 was an article suggesting a long trade in Jaguar. The company is in a good mining district (Southern Brazil) and has several different seemingly good mine assets. Surely, I thought, management would be able to produce good results from some or all of the company's various mines.
While I escaped my 2008 trade profitably, clearly my long-term vision of Jaguar's future was misguided. The company has been done in by a variety of problems. The most obvious would be the company's consistently ambitious production targets -- the company for at least the past 3 years has never produced as much gold during a year as it had forecast for the year. Similarly, cash cost of production has almost without fail come in well above company guidance, quarter after quarter, and year after year.
Besides obviously reducing the company's cash generation and EPS, this steady string of underdelivering on expectations has worn down the Jaguar shareholder base's resolve. During a raging gold bull market, shareholders will only put up with a gold mining equity going sideways (or worse) for so long before throwing in the towel.
Enter Shangdong Gold. This Chinese entity made an offer for 100% of Jaguar Mining at $9.30/share in cash. Long suffering Jaguar shareholders finally appeared to have a white knight to put a happy ending to Jaguar's difficult story. But Shandong's offer was light on details and the market reacted with skepticism. Jaguar only traded up to $8.18 -- well short of the $9.30 offer -- and then sold off.
Shares began a long unrelenting slide, and in fact fell as low as $4, which put them significantly below the original price Jaguar had been trading at ($5.39) prior to the Shangdong offer. On April 10th, Jaguar shares rebounded as much as 20% following rumors of Shandong's renewed interest in taking over the company. The next day, shares tanked 24% to $3.50 following Shangdong failing to bid for Jaguar.
Since then, Jaguar has continued its freefall, hitting a post-financial crisis low of $2.22 on Monday. Tuesday, Jaguar finally put an end to the whole agonizing M&A drama, revealing that it had been unable to find a buyer for the company. From Jaguar's already depressed share price, the market sliced another 36% off, leaving the company at $1.40/share. Now Jaguar's market cap is well under $150 million -- almost laughably far from the $1 billion Shangdong offered six months ago.
(click to enlarge) (image courtesy of Thinkorswim)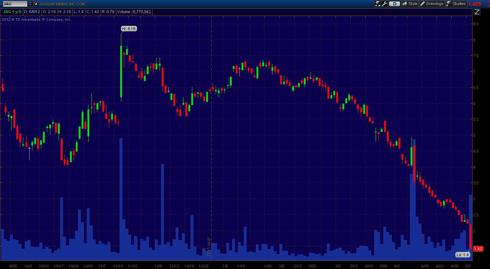 While it is always dangerous to try to catch falling knives, I believe this is the time to consider taking a long position in Jaguar. As I mentioned previously, Jaguar shareholders had already had a bitter experience with the company even prior to the failed buyout. Jaguar was worth $14/share in early 2008 when gold traded at $800/oz.
Since then gold has doubled and Jaguar had lost 2/3rds of its value prior to Shangdong. It is down 90% off its '08 peak now. It is only natural that shareholders would capitulate now, with any hopes of a merger seemingly dashed. However, all is not lost for Jaguar. Here are several reasons I took a punt on Jaguar Tuesday.
Bankruptcy Talk is Silly
There is lots of chatter going around that Jaguar is heading to zero or will be filing for bankruptcy. Certainly, looking at the chart posted above, you certainly can't be faulted for thinking a trend that powerfully southbound is going to end up anywhere other than 0. However, the company's balance sheet is quite sound. The company has nearly half its market cap in cash ($50 million according to Tuesday's conference call).
The company's operations generate positive cash flow before Capex, and even factoring in investments, and financing charges, Jaguar is not rapidly burning cash. The company should have no trouble paying interest on its ~$300 million of outstanding debt. The company's debt is longer-term debt with no significant principal repayments on deck until 2014. The company still has a good deal of wiggle room to come up with cash before it must meet creditors' demands for repayment 2 years from now. Jaguar is not under any circumstances a going concern, nor will it be shuttering its mines anytime soon.
Company's Asset Value > $1.50/share
Jaguar has 3 currently operating mines (Paciencia, Caete, and Turmalina) in Southern Brazil that have 4 million oz of Measured + Indicated gold. Jaguar has, for whatever reason, not been able to consistently mine these deposits profitably. However, there appears to be nothing geologically wrong with the deposits, and under better management, one has to think these 4 million oz would have significant value to some shrewd operator.
In addition, Jaguar has its Gurupi Project in Northern Brazil that has an additional 2.5 million oz of gold. Unfortunately, this is a lower-grade ore body than what Jaguar has in the South (given Jaguar's inability to mine higher-grade ore profitably, one must wonder how it will do with Gurupi.) That said, analysts had been assigning a good deal of value to Gurupi to Jaguar prior to the last few months when Jaguar's market price diverged sharply for analyst expectations.
All told, the market is assigning Jaguar's equity only $20/oz of value for each of Jaguar's 6.5 million ounces. Despite all the company's myriad problems, that is still a seemingly ridiculous valuation. You aren't going to find many other gold miners producing 150,000/oz a year with 27 years of mine life left trading at $20/oz for gold in the ground.
M&A Activity Still Possible
Given the above calculations, it is easy to see that Jaguar is still an intriguing M&A target, despite its inability to sell itself thus far. One option would be Jaguar unloading just one of its properties, particularly Gurupi. If the spigots reopen in the precious metals M&A sector flow, it is easy to see someone spending a decent chunk of coin on Gurupi. For majors looking to replace reserves, Gurupi's 2.5 million ounces ready to enter production within the next two years could be an appealing target. If Jaguar divests Gurupi, that will leave it in a tenable position to meet its 2014 debt obligations.
Of course, the option remains on the table to sell the whole company as well. After Shangdong pulled out, rumors abounded of other producers being interested. Jaguar clarified these Tuesday, stating that:
Ultimately, one party, a North American based mining company, expressed a serious intention to pursue an acquisition of the outstanding shares of Jaguar, though others expressed interest in acquiring assets of the company. In early February, that party provided a preliminary proposal respecting the acquisition of Jaguar at a price of between $8.20 and $9.45 per share, conditional upon, among other things, the completion of a diligence investigation of Jaguar.
While it could be that Jaguar's assets failed to live up to the suitors' expectations, it is also quite possible that the deal was scuttled due to difficult market conditions, as Jaguar's management team suggested in its conference call Tuesday.
The junior gold mining sector (NYSEARCA:GDXJ) has fallen 30% since Jaguar's suitor thought about offering $8.20-$9.45/share. Given the problems that gold mining juniors have been facing in general, the soft prices for gold and silver recently, and in particular the consistently downward movement in Jaguar's share price, it makes sense that a potential acquirer would have second thoughts about an offer up at $9/share. I still think the likely deal-killer here was price, not asset quality.
In particular, there was lots of market chatter that Iamgold (NYSE:IAG) was an interested party for Jaguar. An Iamgold spokesperson confirmed that they had indeed looked at Jaguar, along with numerous other companies, as potential M&A targets recently. Iamgold followed this by taking out Canadian gold explorer Trelawney (TSX Venture: TRR) for an enterprise value of $505 million. Trelawney has a similar amount of gold as Jaguar, though most of Trelawney's gold is inferred rather than measured + indicated as is Jaguar's.
If Iamgold is in the mood for another deal, it can get a similar amount of gold from Jaguar at a much later stage in development at a much cheaper price. If Iamgold was the party offering $9/share previously, it certainly has to be salivating at the idea of offering $3-4 share for Jaguar now. (A comment on Jaguar's Tuesday conference call supports the idea that Iamgold is the rumored suitor; Jaguar noted that the unnamed North American suitor was offering a stock deal, and that their stock had fallen more sharply than the gold index. Iamgold's stock has fallen sharply since February, and would meet this criteria.)
Jaguar is certainly a highly speculative long play at this point. The market's confidence in the company is utterly shattered, and short of throwing out the whole Board of Directors, this is unlikely to change. Sentiment in the gold mining space is strongly negative. Jaguar is not likely to be significantly profitable until (at least) 2013 according to projections offered in Tuesday's conference call. There is a lot that could still go wrong. But at $1.44/share the risk/reward is exceedingly good for risk seeking speculators. Jaguar isn't going bankrupt anytime soon, and there are a lot of catalysts that could launch the stock back up over $2.50/share in a heartbeat.
Disclosure: I am long JAG.