In a previous article posted on March 1, 2012, a bull-put credit spread was considered for membership warehouse company Costco (NASDAQ:COST). A bull-put credit spread may be entered for a net credit by selling one put option and purchasing a second put option further out-of-the-money with the goal of the options expiring worthless and keeping the initial net credit as profit.
The bull-put spread entered was a 2012 April 75/80 entered for a credit of $0.25, which represented a return of 5.3% (37.7% annualized). At options expiration in April of 2012, the price of Costco's stock closed at $87.58 which was above the $80 sold put option's strike price of $80, so the put options for the bull-put credit spread expired worthless and the 5.3% return was realized.
Recently Costco's stock price has retreated and is near its previous support level in the $83 range as shown below: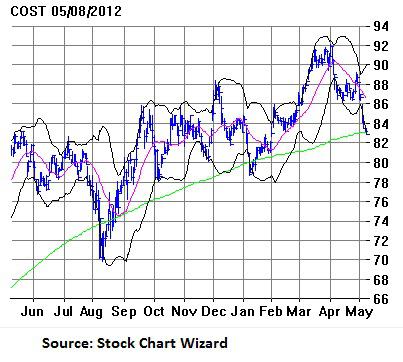 Not much news lately as to why Costco's stock price might be languishing, but the company is planning on expanding its online presence, which sounds positive, but maybe Wall Street doesn't think so.
With Costco's stock price retreat and its quarterly earning call in the rear-view mirror, consideration for entering another bull-put credit spread for the company will be considered. Using PowerOptions' Mid-Point Spread Chain tool, a bull-put credit spread is found for Costco with potential return of 6.2% (57.6% annualized) as shown below:

The specific put option to sell is the 2012 Jun 75 at $0.44 and the put option to purchase is the 2012 Jun 70 at $0.15. A profit/loss graph for one contract of the Costco bull-put credit spread is shown below: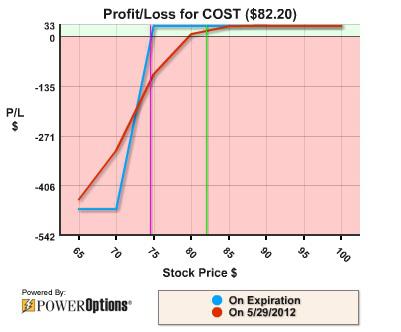 A management point of $80 is set for the Costco bull-put credit spread position. If the price of Costco's stock drops below $80, then the position should be managed for a roll or exit.
Some investors may not realize that Costco has some interesting products that it markets. For example, anyone in the market for a $330,000, 6½ carat diamond ring naturally thinks of Costco as their first port of call to check out what's available. Well, that seems to be what Costco would like them to believe, given the prominence of such items in the company's online store. And it's not just a clever advertising stunt from an organization not averse to attracting attention in order to boost sales. Funeral caskets, 15kw standby generators and telescopes able to observe the moons of Jupiter also seem unlikely to feature in your shopping cart as you pass through the checkout, but Costco has all these impulse buys covered, just in case, and in 2011 it really did sell over 100,000 carats of diamonds. That's a lot of bling in anyone's language.
The company's full name, Costco Wholesale Corporation, gives a clear indication of its stated aim 'to help small-to-medium-sized businesses reduce costs in purchasing for resale and for everyday business use', but individual consumers also flock to Costco in large numbers. This is especially true of the increasing number of visitors to Costco stores outside the U.S., in spite of the fact that everyone has to pay a recently increased annual membership fee. Three new warehouses in the Asian market in 2011 achieved some of the largest opening day sales and new member sign-ups in Costco's history.
In addition to the standard branded products available elsewhere, Costco earns 20% of its revenue from its private-label Kirkland Signature goods across a range of groceries, housewares, clothing and automotive products. This is expected to grow to 30% within the next few years. Its wholesale division is involved in the manufacture and distribution of some product categories. (Company profile)
Different membership levels and fees apply to business and personal shoppers. Executive members pay the highest fees but they can also buy a variety of low-cost financial and business services and qualify for a 2% annual reward on most purchases. At the end of calendar 2011, there were 600 Costco warehouses, including 22 in the U.K. and 31 in the Asia Pacific region. A net 20 new units were opened during FY2011, and the company's target is to reach 1,000 warehouses in the next 10-12 years. Costco has nearly 66 million cardholders and over 160,000 employees.
Costco's management believes that its ancillary services (around 18% of total revenue), including optical, hearing aid and low-priced pharmacies as well as gas stations, serve to set it apart from its competitors, adding to the great values, quality merchandise and treasure hunt atmosphere. The company maintains close relationships with merchandise suppliers, including recent additions Stanley Black & Decker (NYSE:SWK), Craftsman Tools owned by Sears (NASDAQ:SHLD), and soups co-branded with Campbell (NYSE:CPB). Fresh and packaged food and sundries (candy, snacks, beverages, cleaning, tobacco) together account for about 55% of Costco's sales.
The difficult macroeconomic environment and strong widespread competition for the consumer dollar are Costco's greatest challenges. The company competes with not only other warehouse clubs, like Wal-Mart's (NYSE:WMT) Sam's Club and BJ's Wholesale Club, but also with general merchandisers Target (NYSE:TGT) and Kohl's (NYSE:KSS) as well as narrow range stores like Lowe's (NYSE:LOW), Home Depot (NYSE:HD), Office Depot (NYSE:ODP), PetSmart (NASDAQ:PETM), Staples (NASDAQ:SPLS), Whole Foods (NASDAQ:WFM), Best Buy (NYSE:BBY) and Barnes & Noble (NYSE:BKS).
Business outside North America is an important and growing sector, reaching 11% of total revenue in FY 2011. (Costco's fiscal year ends on the Sunday closest to August 31.) The company makes a point of promptly disclosing the size of its monthly and year-to-date revenue in a press release only a few days after the close of each month. Total revenue has a 5-year compound annual growth rate of over 8%. In FY2011 it reached $89 billion, a year-on-year growth of 14%, including almost $2 billion in membership fees. Given that the operating margin is so low (a normal situation in a discounting operation dependent on volume) it is important that it does not begin to decline. Operating margin in 2011 was 2.74%, well up on 2010's 2.66%, producing operating income of $2.4 billion. Net income attributable to Costco was $1.46 billion ($3.30 per diluted share), an increase of 12% over 2010. Cash and equivalents stood at over $4 billion at year end, with borrowings of $2.2 billion.
Comparable store sales actually declined by 4% in FY2009, in line with prevailing economic conditions, but recovered strongly over two years to reach +10% in FY2011, when sales benefited from inflation in gasoline prices and stronger foreign exchange rates. Costco's 2011 results made it the third largest retailer in the U.S., after Wal-Mart and Kroger (NYSE:KR), and the seventh largest in the world. In 93 stores, annual sales reached $200 million, with four locations exceeding $300 million and one surpassing $400 million. The worldwide membership renewal rate was 85%, demonstrating a remarkable level of customer satisfaction. The growing North American business sector of e-commerce is expected to expand to international operations in the near future. (Annual report 2011(pdf))
Latest results are for the half year ended February 12 2012. Total revenue increased 11% to $45 billion, but operating margin fell slightly to 2.66% following a deliberate decision not to increase prices. Net income was $714 million (up 8%). (Q2 2012 earnings press release) CFO Richard Galanti (rather than newly-appointed CEO Craig Jelinek) advised, during the Q2 2012 earnings call, that 17 net new units will be opened during FY2012. Average transaction size and frequency of visits in existing stores continue to increase.
Costco has already found a model for success, and this low-margin business is now on track in three key factors for revenue-driven profit growth: Same store sales increases, new store openings in the appropriate markets and further expansion of product range and ancillary services to create a true one-stop shopping experience. With Costco's recent pull-back in stock price and quarterly earnings report taken care of, a bull-put credit spread for Costco looks attractive.
Disclosure: I have no positions in any stocks mentioned, and no plans to initiate any positions within the next 72 hours.