The IPO of Facebook (NASDAQ:FB), set for some time this month, is set to be one of the most important IPO's of any American company since Google's (NASDAQ:GOOG) 2004 debut. While retail investors will likely be unable to participate directly in the IPO, they can buy the shares once they begin trading on the NASDAQ. The question now is should they? Below we break down the bearish and bullish arguments surrounding Facebook [as a matter of disclosure, we currently own shares of Facebook via stakes in GSV Capital (NASDAQ:GSVC) and the Firsthand Technology Value Fund (NASDAQ:SVVC); we have not reached a decision as to whether or not we will buy Facebook shares outright]. This article is not meant to direct readers to buy or avoid Facebook shares. That is a decision we will leave to each investor. Rather, the purpose of this article is to allow readers to reach their own conclusions. We delve into the IPO below.
Valuation: "Cheap" or "Expensive" Is In the Eye of the Beholder
According to Facebook's most recent amendment S-1 filing, the company will be selling 337.4 million shares at a price between $28 and $35 per share, for a total company valuation of $96 billion. At a $96 billion valuation, Facebook would be valued at 25.869 times its 2011 revenue of $3.711 billion (derived from its amended S-1 filing). On a price-to-earnings basis, the company would be valued at 143.71 times 2011 earnings (based on 2011 net income of $668 million). On a trailing 12 month basis, Surely Facebook is wildly overvalued. No one in their right mind would ever pay almost 26 times revenue or 143 times earnings for any company, even one as ubiquitous as Facebook? Facebook does seem expensive on an absolute basis. And yet, from a historical perspective, there is nothing unique about Facebook's valuation.
When Apple (NASDAQ:AAPL) went public in 1980, the stock was valued at 25 times revenue, and 102 times earnings. And Google went public in 2004 at 218 times earnings. Amazon.com (NASDAQ:AMZN) went public while it was still unprofitable. Anyone who did not buy into these companies at the time of their IPO's because of concerns about valuation missed out on enormous gains. Overall, we believe that Facebook's valuation should be in the positive column for the shares, not because the company is "cheap" on an absolute basis, but because its valuation is not stretched when looked at through the historical perspective of other Silicon Valley and high-tech IPO's.
Deceleration in Revenues and Growth in Spending: A Dangerous Mix
Facebook's most recent S-1 amendment included its financial and operational results for the first quarter of 2012, and we break those down below, alongside the company's results for 2011 and 2010 as a whole.
Facebook Financials
| | | | | |
| --- | --- | --- | --- | --- |
| | Q1 2012 | Q1 2011 | 2011 | 2010 |
| Revenue | $1.058 Billion | $731 Million | $3.711 Billion | $1.974 Billion |
| Cost of Revenue | $277 Million | $167 Million | $860 Million | $493 Million |
| Marketing Expenses | $159 Million | $68 Million | $427 Million | $184 Million |
| Research & Development Expenses | $153 Million | $57 Million | $388 Million | $144 Million |
| SG&A | $88 Million | $51 Million | $280 Million | $121 Million |
| Income from Operations | $381 Million | $388 Million | $1.756 Billion | $1.032 Billion |
| Net Income | $205 Million | $233 Million | $1 Billion | $606 Million |
| Diluted EPS | $0.09 | $0.11 | $0.46 | $0.28 |
Facebook's results for the first quarter of 2012 highlight some trends that should be cause for concern for those who are bullish on Facebook. Revenue growth at Facebook is decelerating, and has slowed to "just" 45%, down from the previous quarter's 55% rate, and the 104% rate seen at this time in 2011.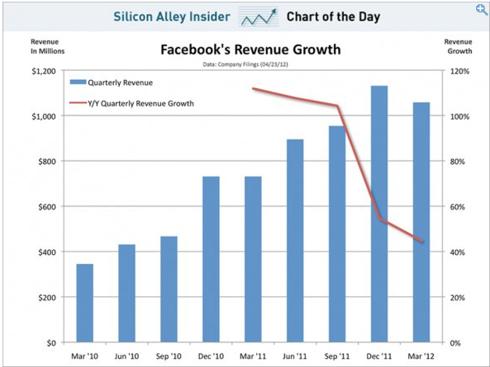 While Facebook's valuation is not outrageous based on historical Silicon Valley standards, that valuation is based on continued, and accelerating growth. Facebook's revenue growth has slowed, and that is not something that should be seen in a leading Silicon Valley company.
Furthermore, Facebook is contending with growing costs, which are rising alongside its user base, which is now at 901 million users. The financial data above shows the growth in Facebook's costs. Expenses jumped across all categories, most notably R&D, which saw a jump of over 168% in the last quarter. Facebook may be investing aggressively in its product offerings, but those expenses are having an impact on the company's profits, at least for the time being. This will be a long-term trend to watch. After Google went public in 2004, its expenses soared as the company was infused with cash. Facebook's expenses may soar as well, further pressuring profitability. Facebook has essentially admitted that it is severely understaffed, and with Mark Zuckerberg controlling 57% of the voting power at Facebook, he will likely not hesitate to ramp up spending if he thinks the company needs to invest more in its future. We now turn to the presence and role of Mark Zuckerberg himself.
The CEO-Entrepenuer & Corporate Governance
Mark Zuckerberg is continuing a long tradition of Silicon Valley & technology CEO's that ignore Wall Street in their management of their companies. He is part of a club of CEO's that includes Larry Page, Jeff Bezos, and Steve Jobs. There is constant debate over the benefits and negatives that this kind of CEO brings to a company.
On the one hand, such CEO's have extraordinary control over their companies. Larry Page, Sergey Brin, and Eric Schmidt control Google and therefore have a free hand in running the business. Amazon CEO Jeff Bezos may not have majority control of his company, but from the beginning, he has stated time and time again that he is running the company for the long term. Steve Jobs was legendary for his disdain for Wall Street, and left interactions with the financial community largely to his lieutenants. All 3 of these CEO's ignored Wall Street. And all three CEO's presided over companies that have delivered outstanding profits for their investors.
There is ample empirical evidence to support the theory that the most successful companies (in terms of price appreciation) are those that do not obsess over shareholders. Apple, Google, and Amazon are prime examples of this. By not obsessing over the bottom line, these companies have all allowed shareholders to thrive. Microsoft (NASDAQ:MSFT) stands in stark contrast to this. The company is obsessed with its bottom line, and it seems that every product the company releases is designed through an Excel spreadsheet of financial data. Microsoft's obsession with quarterly results prevents the company from creating truly innovative products, which is what is necessary to get the stock to rise.
Facebook CEO Mark Zuckerberg has always ignored the financial aspects of the business, and his 57% voting stake (he has a 28% direct stake and agreements in place with DST and Accell that give him control of the company) in the company (via Class B shares with 10 votes each) allows him to essentially run the company as he pleases. In addition, Facebook has several governance measures in place that cause a great deal of discomfort for corporate governance experts. Regular and institutional Facebook investors will have no control to change the company's evergreen equity incentive plan. Under that plan, the number of shares reserved for employee stock awards is set to rise by 2.5% every year until 2022. Furthermore, Facebook's bylaws also state that in the event that Class B investors lose majority control, the company's board will become staggered to give the company an extra layer of defense. Already, CalSTRS (California State Teacher's Retirement System), has criticized Facebook's corporate governance practices.
Investors will have to make up their own mind about how they feel about Mark Zuckerberg's control over Facebook. An investment in Facebook is an investment in Mark Zuckerberg's vision for the company. Visionary CEO's have historically produced outstanding returns for shareholders (Apple, Google, and Amazon). But such CEO's must be looked at on a case-by-case basis, and there is never an absolute guarantee that a CEO's vision will prove to be profitable for investors.
Mobile: Long-Term Opportunity or Long-Term Threat?
500 million users actively access Facebook through their mobile devices each month, and that trend presents both the biggest opportunity and biggest risk to Facebook going forward. In emerging markets, users often access Facebook exclusively through mobile devices.
Facebook currently derives essentially zero revenue from its mobile users, as there are no ads present in its mobile applications. This issue is one of the key risks that Facebook cites in its S-1 filing, as the company's ability to monetize its mobile business is unproven. Furthermore, Facebook has said that it expects growth in its mobile users to exceed its overall growth for the foreseeable future. Should users begin abandoning Facebook's desktop website for its mobile applications in large numbers, it could greatly hurt Facebook's financial performance. Once Facebook begins hosting earnings conference calls, its roadmap for mobile monetization will be among the most important things to watch, if not the most important thing. The company has stated that it expects to begin monetizing its mobile users by placing text ads into their mobile news feeds, and we expect more developments on this front in 2012.
The $1 billion purchase of Instagram also presents Facebook with a potential new source of mobile revenue. Although Instagram does not currently have any revenue, it is likely that Facebook will begin exploring ways to monetize Instagram. The company's amended S-1 filing states that for now, Facebook plans to maintain Instagram as an independent company. Facebook's goal is to enhance its mobile offerings over time by allowing for more "engagement and sharing." From a valuation standpoint, the Instagram acquisition is a positive for Facebook. Value per user is an important metric for many social companies. Based on Instagram's 33 million users at the time of the purchase, Facebook's $1 billion buyout valued the company at about $30 per user. Facebook itself is currently valued at about $106 per user, at the high end of its valuation ($96 billion valuation / 901 million users = $106.55 per user). Mobile represents both Facebook's biggest risk, as well as its biggest opportunity, and keeping users engaged when the company begins rolling out ads is essential. Instagram will help Facebook accomplish that delicate balancing act.
Other Notes of Interest
Though Facebook is not yet a public company, it has already attracted analyst coverage, a rare sight on Wall Street. Wedbush has initiated coverage with an Outperform rating and $44 price target. Wedbush argues that Facebook will be able to monetize its mobile business effectively, and that long-term revenue growth (from both advertising and payments) will drive earnings growth in 2013 and beyond. Sterne Agee is even more bullish, having set a Buy rating and $46 price target on Facebook. Sterne Agee argues that the company has yet to realize its potential in China, and that mobile advertising revenue is set to grow by 64% annually through 2015 as Facebook begins to monetize its mobile business.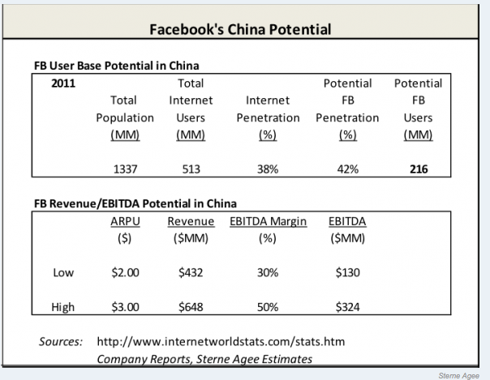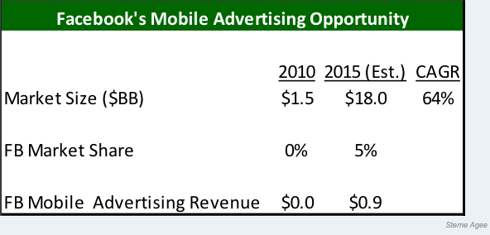 It is important to note that neither Wedbush or Sterne Agee are participating in the Facebook IPO process. Therefore, there research is free of that particular potential conflict of interest.
Unlike many of its social networking peers, such as LinkedIn (NYSE:LNKD), Groupon (NASDAQ:GRPN), or Pandora (NYSE:P), Facebook is not pursuing a low-float strategy, which is designed in part to drive share prices higher by limiting supply of the stock. Facebook is offering about 16% of its shares for sale, according to Bloomberg data. Such a move may be a sign of Facebook's confidence in the stock, as the company does not feel the need to artificially drive up its share price.
Conclusions
We hope that this article has allowed investors to gain an unbiased look at the Facebook IPO and come to a conclusion as to whether or not the stock is a buy. As a reminder, this article is not meant to drive investor opinion one way or another. We are still debating whether or not Facebook has a direct place in our portfolio (we own the stock via GSV Capital and the Firsthand Technology Value Fund).
Investors considering a purchase of Facebook stock must also look at their time horizon. Unless you are set to trade in and out of Facebook, it is important to approach this company with a long-term perspective. Buying the stock in the days or weeks after the IPO and expecting it to automatically rise is foolish. Inevitably, the euphoria over Facebook will fade and rationality will set in. The company will post quarterly results that are deemed to be underwhelming. And it will post quarterly results that are considered to be great. Investors who buy in after the IPO must be prepared to wait for their shares to earn a substantial profit. Investors who are uncomfortable with that fact are likely better of staying away from Facebook. We will revisit Facebook once it begins trading, and make a concrete recommendation on the shares once we see where they begin trading at.
Disclosure: I am long FB, GSVC, SVVC, P, GOOG, MSFT, GRPN.
Additional disclosure: We are long shares of FB and GRPN via GSV Capital and the Firsthand Technology Value Fund. We are long shares of GOOG via a mutual fund that gives the company a 2.24% weighting. We are long shares of MSFT via the SPDR Dow Jones Industrial Average ETF.