Beholding the dramatic ascendancy of Apple's (NASDAQ:AAPL) stock makes for great sport and Adam Penenberg wading in with a bearish view only to be countered by a posse of heavyweight commentators adds extra spice. The spotlight is locked on January's MacWorld convention, and Goldman Sachs has kindly let the cat out of the bag.
2008 - Can they do it again?
Goldman's celebrity analyst David Bailey said in a research note, cited in AppleInsider, that the next 12 months could see new iPhones, new-spec Macs, new Apple TV, and also speculated on a new, ultra mobile addition to the Mac family. One that intriguingly isn't the rumored Apple Tablet device.
A lot hinges on a strong winter retail campaign immediately being followed by the unveiling of some of these 'killer apps' at Steve Jobs bi-annual hype-fest, MacWorld 2008. Last year Jobs' keynote, where he unveiled the iPhone, sent stocks to what was an all-time high. Fund managers and fan boys across the globe hope for a similar result come Monday January 15th 2008.
Price and value
It's been a wonderful year for Apple, stocks up well over 120% and a big cash reserve ready to be tapped. But is the price momentum sustainable? The two camps have made their positions clear:
The Believers - Mac fanatics and half of Wall Street who buy into Jobs' vision and the consumer electronics market's longevity.
The Infidels - Statisticians and stock market historians saying the end is nigh, all trying to call the top.
To play devil's advocate, and in fairness to the skeptics, it is an inescapable fact Apple has an alarming P/E, up there with Google. However, it's more digestible looking at the forward ratio, around 15 points lower.
The skeptics would like Apple to follow business partner AT&T's lead and put some of that $15bn war chest to buy back some stock and boost earnings. Though questions over prudence and opportunity cost arise when a firm engages in a buyback at such a hefty (valuation-based) premium.
Personally, Apple's unique situation falls outside of any strategy I, as a low-risk mechanical investor, follow. I've previously worked researching and building fundamental and technical stock screens and interestingly Apple did not get through 12 of 16 filters. Not on value (obviously), volatility or yield. The humans vs. the robots stock picking argument can be saved for another post but in the current climate I'd rather be pre-emptive than reactive to major growth plays.
All the best to Apple stockholders and I hope you've reserved your tickets for the 15th January (Viewing suggestion - one screen on the keynote and one screen on the stock price). May you continue to reap the gains. Apple remains a hot stock to watch, but a little too rich for my blood.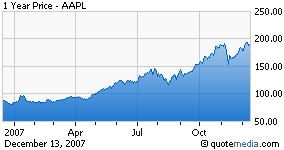 Disclosure: none