Inovio Biomedical (NYSEMKT:INO) is currently trading for less than two times its cash position of $0.65/share ($28.5 million) with no debt and a net loss (ttm) of $18.5 million. Three independent sets of interim data from first-in-man Phase 1/2 clinical studies targeting melanoma or prostate cancer using Inovio's electroporation-mediated DNA delivery for DNA-based immunotherapies have all demonstrated safety, tolerability, and objective cinical responses. The Company has key partnerships with the National Cancer Institute and International AIDS Vaccine Initiative focused on HIV DNA vaccines, in addition to license agreements with Merck (NYSE:MRK) and Wyeth (WYE) targeting cancer and infectious diseases. Wyeth has previously presented positive pre-clinical data in non-human primates from an HIV DNA vaccine using Inovio's delivery technology.
The Company is focused on the development of multiple DNA-based vaccines through its electroporation-based delivery technology with a link to its pipeline available here. This delivery technology can increase levels of gene expression by 100X or more to enhance the potency and effectiveness of DNA vaccines. Electroporation involves applying millisecond electrical pulses to cells in order to increase the permeability of their membranes and make them more open to receive the content of DNA vaccines. Inovio's current device delivers the agent (DNA vaccine content) and electrical pulses with the convenience of a single, integrated device.
Upcoming catalysts include data from multiple clinical trials and the potential for additional partnerships. For example, Vical (NASDAQ:VICL) is expected to report additional Phase 1/2 data for its immunotherapy (IL-2) in 1H08 using Inovio's MedPulser DNA EPT System. Additional data is also expected from the University of Southampton's DNA vaccine in 1H08 using Inovio's Elgen DNA Delivery System for the treatment of prostate cancer.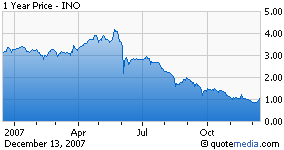 Disclosure: none