With shares of YM BioSciences (YMI) currently trading below $1.15 intraday, investors must be wondering why the Company is trading below its cash position of $1.25/share along with zero debt. A quick glance at YM Bio's financials reveals a net loss (ttm) of about $25 million on revenue (ttm) of $4.6 million and just under 56 million shares of common stock outstanding with an average trading volume of just under 150,000 shares per day and minimal short interest in the stock at just over 2 days worth of average volume to cover.
The Company is making progress on its lead cancer drug nimotuzumab, which is in the same class as ImClone's (OTCPK:IMCL) Erbitux, but has not been shown to cause a severe skin rash associated with these types of treatments. The lack of severe skin rash would otherwise be a clear advantage, but in this case the clinical effectiveness of EGFR inhibitors is thought to be linked with the occurrence of this side effect. Data from a Phase 2 trial initiated in July 2007 in colorectal cancer patients is expected by late 2008 and could provide important evidence supporting the observations to date that nimotuzumab can deliver efficacy without the debilitating side effects common to other EGFR-targeting drugs.
In August 2007, the Company received clearance from the FDA to initiate a 44 patient clinical trial in children with a specific type of inoperable, progressive brain cancer. Also, YM Bio's licensee in Europe, Oncoscience AG, recruited its first patients into a randomized Phase 3 trial in first line adult glioblastoma grade IV and a Phase 2b/3a randomized, placebo controlled trial in patients with advanced pancreatic cancer for which YM has received clearance to extend into Canada. The commercial rights for nimotuzumab have been licensed to Daiichi Sankyo for the Japanese market, who has completed its preliminary trials with the cancer drug candidate, permitting it to advance into more advanced trials in 2008.
The Company's other pipeline drug candidate is AeroLEF, which is an inhaled version of the opiate painkiller fentanyl. The Company previously announced that AeroLEF had met the primary endpoint in a randomized, placebo-controlled Phase 2b trial enrolling opioid-naive patients with post-op pain following orthopedic surgery with a statistically significant improvement in pain relief/intensity versus placebo. The Company has received FDA clearance to initiate a Phase 2 trial in the United States in opioid tolerant or naive patients and is set to conduct an end of Phase 2 meeting with the FDA before year-end to discuss Phase 3 trial design for AeroLEF.
Another wildcard for YM BioSciences is the recent M&A activity in the cancer biotech space, including buyouts of Pharmion (PHRM) and MGI Pharma (MOGN) by Celgene (NASDAQ:CELG) and Eisai, respectively. While lack of efficacy data from its experimental cancer drug tesmilifene earlier this year knocked the Company down and set the tone for a rough year, YM BioSciences still has two promising drug candidates in its pipeline, plenty of cash, and strong development partnerships that should provide a base for the stock to improve upon during 2008 as it awaits key clinical trial results for nimotuzumab and initiates Phase 3 trials for AeroLEF.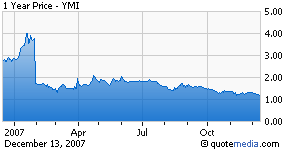 Disclosure: none