On the 24th of January next year, the FCC will open up the auction of the 700 mHz spectrum currently in use for the transmission of analog television signals. Come 2009 when TV broadcasters switch to digital transmissions, the 1,079 spectrum licences will become available for use by wireless carriers. The said auction has attracted a lot of attention owing to their potential to support a US-wide wireless broadband network. It is expected that the 700 mHz spectrum will change the way we use cell phones and accelerate the convergence of mass media and communication in a mobile device. Unlike previous spectrum auctions, the FCC has stipulated that the majority of the spectrum will be operated under the open-access rule. The rules stipulates that the wireless networks be accessible to any device and application.
Unlike the current wireless plans whereby consumers are restricted by the type of cell phone and applications that can be supported by their wireless providers, consumers will have a greater say as which hardware and/or software that they want. The new system will akin to the way consumers can choose any brand of computer and load it with softwares of their liking without having to worry about their Internet Service Provider. In addition, mobile phone users will be free to choose services from third party vendors not currently supported by their carriers.
These radical changes have brought a flurry of activities amongst the technological giants in a bid to position themselves to capture the hearts and wallets of the more than 160 million cell phone users in the US. Even before the bidding wars for the 700 mHz spectrum, the battle for consumers has already began in earnest.
First of the blocks, was Google's (NASDAQ:GOOG) announcement to support the development of a software stack for mobile phones that includes an operating system, middleware and key applications. The Android platform, named after Android Inc that Google acquired in August this year, is intended to create a complete, open, and free mobile platform.
Not wanting to be left behind, Verizon Wireless (NYSE:VZ) has also announced plans to open up it's network next year and will allow wireless devices, software and applications not offered by the company. This is despite the fact that Verizon is suing the FCC for the open-access stipulations of the 700 MHz spectrum auction.
While technological companies are busy squaring it and before the open access networks come into play, there could never be a better time for investors to position themselves in readiness for the paradigm shift that will forever change the way mobile phones are used in the US.
The first name that comes to mind is Microsoft Corporation (NASDAQ:MSFT). The personal computer and business software vendor stands to gain the most owing to their high penetration in the software business. For consumers already accustomed to their products, Microsoft applications are the natural choice for the next generation Smart-phone users. With Windows Mobile already in the market place, I expect Microsoft to form an alliance to counter Google's Open Handset Alliance if they are to maintain their lead in the software arena. Unlike Google, their core expertise is in softwares and operating systems and therefore this is one battle they can win. However, the big question how Microsoft intends to capture the social networking and multi-media software segments.
The hardware battle will be between Nokia (NYSE:NOK) and Apple (NASDAQ:AAPL). With both manufacturers using their proprietary operating systems, it remains to be seen how they will fare against the Open Handset Alliance and Microsoft's efforts. Apple's wow factor will definitely be a tall order for Nokia which runs some of Microsoft's applications on a few of it's cell phones. And should Google decide against building their own handsets, there is a likelihood that Apple will team up with Google against Microsoft and Nokia.
On the network front, the competition for cell phone users will be a battle between the two largest wireless carriers. With both ATT (NYSE:T) and Verizon positioning themselves as media companies in addition to providing telecommunication solutions, its going to be hard for either company to emerge as a clear winner. With Vodafone (NASDAQ:VOD) behind Verizon Wireless, you cannot ignore Verizon's reach beyond the US boundaries as the rest of the world continues to open up.
As Wall Street focuses on the technological giants, I believe investors who have their eyes on other over-looked small to mid-cap technology companies will benefit greatly as consumers will have additional choices outside this major companies.
One such company that stands to benefit from the opening up of the networks is Openwave Systems Inc (OPWV). The software and programing company is an independent provider of applications and services for the communication and media industries. Their products include multimedia messaging software, cell phone software and a host of other wireless tools. Unfortunately, save for the fiscal year ending 2006, the company has largely been unprofitable. Interestingly, the company which sells it's products through direct sales and third party alliances such as HP and Siemens, also supports an open developer network similar to the one run by Google.
Should Openwave Systems efforts bear fruit with the opening up of the cell phone industry, they stand to turn profitable should they capture a portion of the sofware market. As it stands, they are slowly gaining acceptance with the wireless carriers and cell phone manufacturers utilizing some of their products.
Openwave Systems' attempt to find a suitable partner earlier in the year have been a cropper though Microsoft recently acquired one of their subsidiary for $46 million. This amount is a far cry from the $121 million that Openwave paid in 2005 for Musiwave, a mobile phone music services provider. To add on to their woes, the company is currently trading at a 52-week low price and has a hold rating from 18 out of the 19 analysts who cover it.
Openwave remains a speculative play with the possibility of a high reward for investors willing to bet on their platform.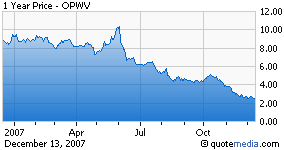 Disclosure: none