After a very quiet IPO pricing the last day in October, 012 Smile (SMLC) grabbed investors' attention Monday when two analysts issued initial reports. The Israeli telecommunications company was brought public by CIBC World Markets allowing the company to raise roughly $73 million which was put to work paying down some of the companies short-term debt. The stock did very little the first few weeks after pricing the IPO at $12.00. Now that a few analysts are covering the stock there should be more action as investors become more aware of the company and the potential for institutional buyers increases.
SMLC expects new product offerings to drive its competitive advantage. At this point, the company has exclusive licenses to implement both the WiMAX standard and the Voice over Broadband (VoB) technology. Management believes that the company's state as the first mover into this space will cement their position and given them a leg up on their future competition. Another potential line of business is the launch of IPTV. While there are currently no commercial licenses available for this kind of service, the company is expected to be a participant once the service is available. Historically, Israelis have been quick to adopt to new technology so this cultural trend should benefit SMLC as they roll out new services.
Israel has only recently allowed for competition within their telecommunications markets. Bezeq is the market leader when it comes to local wired lines as the company used to be State run and has only been privatized for two years. Bezeq holds 95% of fixed lines and has been told that it will not be granted licenses to participate in the VoB market until it sheds 15% of existing lines. This will likely cause Bezeq to sell the wired lines at a discount to some opportunistic player (SMLC maybe?) in order to clear up regulatory hurdles to enter the more profitable VoB market.
These new technologies should drive margins higher for all participants as the technology allows for lower network costs. The market has had a significant amount of consolidation in its brief history which leaves a few large players. This type of oligopoly typically has stable prices so it is unlikely that a bidding war for customers will ensue driving profitability lower. It appears that Bezeq would be best suited sticking with its current rates as customers are unlikely to switch quickly. This allows SMLC to slowly pick up wired customers at attractive rates by bundling services and selling wired lines to customers it already serves from a wireless or data relationship.
The company's wireless phone business is strong, but is expected to be even more attractive within the next few quarters. This growth will be driven by the number portability regulation which went into effect December 2. Customers can now switch wireless carriers and take their number to the new service provider. Since SMLC has one of the most widely recognized brand, and is able to offer bundled services in areas that other firms cannot compete in, it is expected that the company will pick up more than its share of new subscribers.
Financially, the company is in good shape. While there is a respectable amount of long-term debt, the business produces about $40m of free cash flow each year which is more than enough to service the debt. In fact, CIBC believes the company would be much more efficient on a higher leverage ratio.
Currency issues should be a concern to any international investor. As a US investor, currency rates should actually work in my favor as a weaker dollar simply means that every Israeli shekel earned equates to a larger dollar earnings figure. While depreciation of the dollar is not guaranteed, it appears the FOMC has made it very clear that they will support economic growth at the expense of the dollar and in the face of inflation.
Valuation on SMLC is very attractive with the stock at roughly $13 and earnings for next year expected to exceed $1.00 per share. Even with no future growth from that level, the cash flow of the business would still imply that this is an attractive valuation for which to buy the stock. I currently have no position but into January I expect to seriously consider buying this name.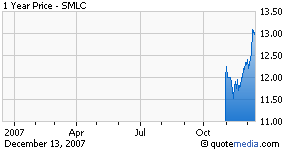 Disclosure: Author does not have a position in SMLC