For most of the quarter, analysts' checks for Cisco Systems (NASDAQ:CSCO) were tracking below expectations, and this showed up last month when Cisco's peers reported earnings. Shares of Polycom (NASDAQ:PLCM), Digi International (NASDAQ:DGII) and Juniper Networks (NYSE:JNPR) all provided disappointing results, though Juniper reported in-line with the below-consensus Earnings Whisper ® number. The weak news from these peers is often a bearish sign for Cisco and confirmation of the checks seen to start the quarter.
However, the results from Polycom, Digi, and Juniper were for the quarters ended March 31, 2012 and Cisco's results will be for the three months ended in April and the same analysts checks that were weak to start the quarter improved during April. As a result, expectations are now for Cisco to report revenue at the high-end of its guidance range with a modest upside earnings surprise. The company's guidance was for earnings of $0.45 to $0.47 per share on revenue of $11.41 billion to $11.63 billion while the consensus estimates are for earnings of $0.47 per share on revenue of $11.57 billion. The Earnings Whisper ® number is $0.49 per share with revenue whispers closer to the $11.63 billion level.
In addition, while negative results from Polycom, Digi, and Juniper are all telling for Cisco, over the past 14 years there has only been two other times that they all three gapped lower on negative results during the same reporting period, and both times shares of Cisco gapped higher by more than 3% after its earnings release.
When you combine this with the fact that Cisco has historically traded at 17.5 times forward estimates and has never traded below 9.0 times forward estimates, you get a very undervalued stock with much more upside than downside risk, as long as estimates hold up. As of the close on Friday, shares of Cisco were trading at 10.9 times next year's estimates, which suggests the odds are the stock will remain above $15.80 and there is upside room to $30 - a favorable long-term risk/reward.
Still, while Cisco gapped higher the previous two times Polycom, Digi, and Juniper all gapped lower on disappointing earnings together, the stock gave back the gains in the days following and the chart for Cisco is quite bearish.
Click to enlarge.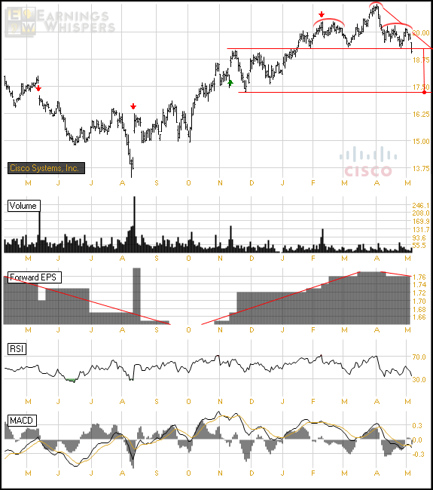 Last quarter the stock traded down on earnings forming a left shoulder on the chart with a pickup in volume. Estimates were revised higher and the stock then moved to a new high before CEO John Chambers gave cautious commentary about public-sector tech spending. This reversed some upwardly revised earnings estimates for next year, and the stock rolled over to first form a right shoulder of a head and shoulders pattern before breaking through the neckline on Friday.
The technical target for this move is around $17.25, which means that the short-term trade is to be on the short side unless the stock can get above $19.25 or until the stock falls to the $17.25 level.
Cisco is scheduled to report earnings after the market closes on Wednesday, May 9, 2012 with a conference call at 4:30 PM ET. The company typically reports about five minutes after the close of trading and provides guidance during its conference call.
Disclosure: I have no positions in any stocks mentioned, but may initiate a short position in CSCO over the next 72 hours. I may also consider a long position if earnings exceed $0.49 per share, guidance is solid, and either a move in the stock to the $17.25 area or above $19.25.