A groundswell of pervasive selling dropped markets more than 1% to the lowest levels in months Tuesday. Nonetheless a steady stream of buyers came in throughout the afternoon picking up potential bargains on their shopping lists. Earnings announcement disasters from Fossil (NASDAQ:FOSL), Mako Surgical (NASDAQ:MAKO) and Rackspace Hosting (NYSE:RAX) coupled with growing fears Europe is once again on the precipice of destruction caused panic selling in the am session marking the low point for the day. From there, value investors stepped in and the markets rose with the Dow recovering over 100 points. The DOW was down over 70 points for the day.
The five stocks in this article caught my attention by displaying strong relative performance. These stocks are some of the top performing large caps in the S&P 500. This can often be a sign these specific stocks are poised to move higher. On down days, I identify the stocks in the green and take a closer look to see if there is good reason for the strength in the stock. I will perform a brief review of the fundamental and technical state of each company. Additionally, we will discern if any upside potential exists based on sector, industry or company specific catalyst. The following table depicts summary and performance statistics for the stocks for Tuesday.
(Click to enlarge)

Cognizant Technology Solutions Corporation (CTSH)
(Click to enlarge)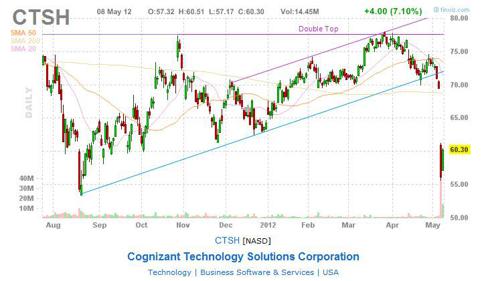 CTSH was up over 7%. The stock is trading down 23% from its 52 week high and approximately 17% from its recent high. The company has many fundamental positives. CTSH has a forward P/E ratio of 14.97 and an EPS growth rate of 20% for the next five years. CTSH has a PEG ratio of 1.09, an ROE of 23.45% and a net profit margin of 15%.
The company is moving higher after being shellacked and driven 13% below its 200 day SMA for cutting its outlook on Monday. Cognizant lowered its full-year forecast for the first time in nearly four years, citing weak demand from financial services clients in North America. However, analysts believe Cognizant will continue to outperform rivals and beat its full-year targets. Tuesday Robert W. Baird upgraded the company from Neutral to Outperform with a price target of $76. I believe this stock was oversold. I like the stock at this level, but would definitely layer in to a position.
Monsanto Co. (MON)
(Click to enlarge)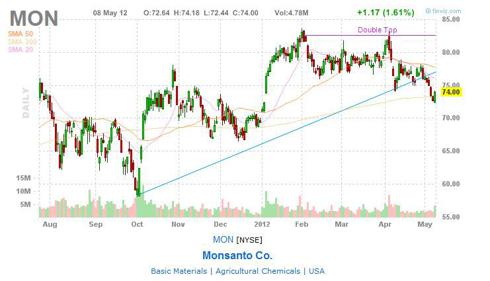 MON was up almost 2%. The stock is trading down 12% from its 52 week high and approximately 7% from its recent high. The company has decent fundamentals. MON has a forward P/E ratio of 18 and an EPS growth rate of 15.45% for next year. MON has a PEG ratio of 1.86, a ROE of 16.64% and a net profit margin of 15%. The company pays a dividend yielding 1.62%. MON bounced off its 200 day SMA support line Tuesday which is bullish.
The continued bullishness is a big positive for MON. A 4.3M ton reduction in world ending stocks thanks to higher-than-expected feed use demand out of China spurred prices higher. Monsanto recently upped its earnings per share estimates for 2012 from $3.34 - $3.44 to $3.49 - $3.54. Monsanto exceeded earnings estimates for the last five quarters. Things look up for the company and stock. This is an excellent opportunity to start a position.
QUALCOMM Incorporated (QCOM)
(Click to enlarge)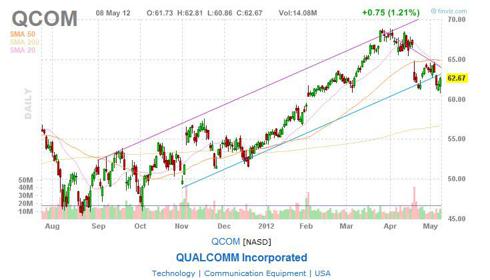 QCOM was up over 1%. The stock is trading down 9% from its recent 52-week high and approximately 7% from its recent high. The company has strong fundamentals. QCOM has a forward P/E ratio of 14.96 and an EPS growth rate of 14.85% for next five years. QCOM has a PEG ratio of 1.48, an ROE of 17.34% and a net profit margin of 28.09%. The company pays a dividend yielding 1.6%. QCOM has broken below its 50 day SMA and is currently bouncing along the bottom of its upward trend channel.
Two positive developments occurred for QCOM. First, the Indian government has finally offered to grant Qualcomm 4G spectrum licenses it paid $1B for in a 2010 auction, eight months after a rejected application put the future of the licenses in jeopardy. However, Qualcomm only has three 1/2 years to deploy a network using the spectrum, compared with five years for other license winners. Past reports claimed Qualcomm is looking to sell the spectrum. Second, Clearwire (CLWR) struck a deal with Qualcomm in which QCOM agrees to develop 4G baseband chips that will support Clearwire's pending TD-LTE network. TD-LTE is less popular than FDD-LTE, used by AT&T (NYSE:T), Verizon (NYSE:VZ) and others for 4G deployments, but promises higher download capacity. Yesterday, Clearwire announced a similar deal with struggling 4G chipmaker Sequans (NYSE:SQNS). CEO Erik Prusch says the Qualcomm deal could pave the way for carrier partnerships. QCOM is a dominant player in the mobile industry. With a strong foothold in this secular growth industry, I see this as a chance to buy QCOM on the dip. I like the stock here.
Southwestern Energy Co. (SWN)
(Click to enlarge)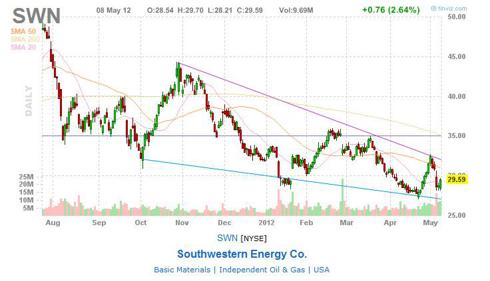 SWN was up almost 3% Tuesday. The stock has a robust net profit margin of 20.76%. The stock is trading down 39.92% from its 52 week high. The company has many fundamental positives. SWN has an EPS growth rate of 25.20% for next year. SWN has a price to book ratio of 2.49 and a PEG ratio of 1.10. The stock is down sharply since the beginning of March dropping from $35 to $29 and trading just 8% above, its 52 week low.
Southwestern has been hit hard by the glut of natural gas on the market. Natural gas prices spiked midday and ended the session up 1.64%. Southwestern is the S&P 500's biggest loser, as Q1 profit fell 21% with margins weakened by softer realized natural gas prices and higher expenses. Sterne Agee still sees some positives stating, "SWN showed "strong expense control" even as it had to spend more money on new projects, and some new wells look promising."
An old adage regarding commodity prices comes to mind. The cure to low commodity prices is low commodity prices. With the glut of natural gas on the market more and more utilities are switching from coal to gas, increasing the demand for natural gas electrical generation. This is a speculative contrarian play.
Range Resources Corporation (RRC)
(Click to enlarge)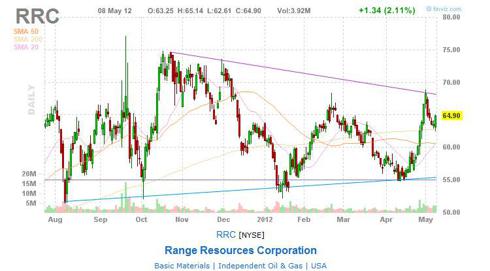 RRC is most likely up based on the spike in natural gas prices. RRC appears overbought and fundamentally overvalued. With a PEG ratio of 11.26 and a forward PE of 40, the stock is priced for perfection which I don't see coming. There are plenty of other natural gas turnaround plays with much more impressive fundamentals. RRC's profit margin is 2.74% and earnings per share are down 24% quarter over quarter. The stock is in a long-term downtrend. I suggest you avoid this stock for now.
Conclusion
Down days are good for identifying prospective investing opportunities. It makes it slightly easier to find the needles in the haystack as it were. Four of the five stocks appear to be up for good reason and merit further due diligence. I would avoid RRC. There are better prospects to choose from to play the potential natural gas recovery story.
Use this information as a starting point for your own due diligence and research methods before determining whether or not to buy or sell a security. If you choose to start a position in any stock, I suggest layering in a quarter at a time on a weekly basis to reduce risk and setting a 5% trailing stop loss order to minimize losses.
Disclosure: I have no positions in any stocks mentioned, but may initiate a long position in CTSH, MON, QCOM, SWN over the next 72 hours.