After recently announcing that their Q1 2012 sales rose 16% to a record $30.8 million and notching the highest sales quarter in their firm's history, this specialty pharmaceutical company that develops, markets and sells proprietary skin care systems is rumored to be getting attention from some of the leading consumer cosmetic firms in the world.
Shortly after our initial report about a possible buyout offer developments for Obagi Medical Products (NASDAQ:OMPI) in early March, we told readers that Cantor Fitzgerald had increased its price target on Obagi to $14 after the company reported stronger than expected Q4 results. The stock ran to a 52-week high of 13.75 and now trades -10.91 % below that mark.
Within the last few days, the Cantor analyst put out another note to his firm's clients saying that OMPI management "was evasive on the call about solicitations of interest from potential acquirers" but that offline the firm's management team indicated that "it cannot comment on discussions with suitors and will only make an announcement if a deal is underway." Cantor noted that the most recent dermatology acquisition of privately held Fougera was at a 3.55x multiple of sales, which, if applied to Obagi, would value the company at $23/share.
Almost simultaneously, Roth Capital just raised Obagi Medical Products' price target to $16 and Canaccord Genuity maintained a 'Buy' on the company with their price target lowered from $22.50 to $21.00.
Clearly, we also continue to hear offer rumors from reputable sources. As we understand it, the firm is and has been weighing several buy-out offers and one major cosmetics space player may be prepared to offer $20+ per share of the company. There are no guarantees that OMPI will take the offer, of course, but it is obvious that someone thinks this is a business worth snatching at a nice premium.
Shares of Obagi Medical Products traded down 4.82% on their good news last Friday, hitting $12.23. OMPI shares have a 52-week low of $8.61 and a 52-week high of $13.75. The company has a market cap of $228.6 million and a price-to-earnings ratio of 23.80.
Obagi Medical Products sells topical aesthetic and therapeutic prescription-strength skin care systems in the physician-dispensed market. As far as risk is concerned here, we point to a March note to investors from Cantor Fitzgerald in which they said the firm had two important positive developments: (1) Obagi had resolved its TX dispute and could reinstate HQ sales in the state. They expected a gradual ramp as TX physicians work down existing arbutin (non-HQ) inventories and begin stocking HQ products. Second, the company expects to launch its e-pharmacy in 3Q:12, and management believes that the initiative will result in a 5-year CAGR of 15-20%.
"Management believes that it can recoup its ~$11M initial investment within 12 months and thinks that the site will require approximately $2-3M in incremental costs to the business, which is viewed as a low-risk investment," wrote Cantor's analyst.
On the flip side, Elliot Wilbur of Needham & Company recenty wrote that, "OMPI kicked off its 2012 financials with the largest positive revenue surprise vs. consensus in over two years, even more impressive considering the company derived essentially no benefit from new physician account additions and only a modest contribution from new product introductions in the period. Despite the strong start, management stuck to its guns, reiterating prior year revenue guidance though with resumption of shipments into the Texas market (~8% of historical sales) just yesterday, we suspect top-line trends will at least track toward the higher end of current guidance range."
For now, Needham maintains a 'Hold' on Obagi. The stock has made strong moves the past two sessions and is now once again trading above the 50-day moving average.
Here is a look at the score card for Obagi Medical Products' analysts: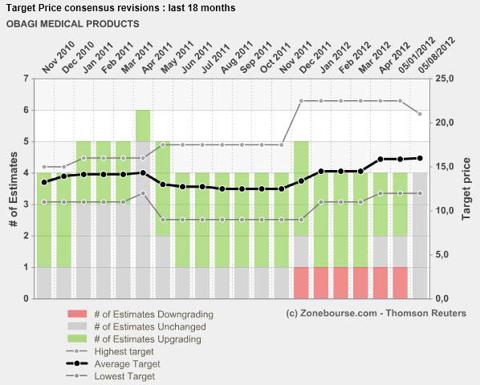 Disclosure: I have no positions in any stocks mentioned, and no plans to initiate any positions within the next 72 hours.