U.S. MARKETS/HOUSING
Mixed Economic News Leads to Mixed Session
Mixed economic data weighed on stocks early Thursday, but a late rally brought the market back to where it started. The Dow Jones Industrial Average climbed 44.1 points (+0.3%), Standard & Poor's 500 index increased 1.8 points (+0.1%), and the Nasdaq fell 2.7 points (-0.1%). Volume on the NYSE fell from Wednesday to 1.23 billion shares, and advancers beat decliners by a ratio of about 2:1.
Most sectors lost ground, with utilities (+0.6%) gaining the most. Crude, which jumped more than $4.00 Wednesday, fell $2.14 to close at $92.25/barrel.
The CPI (8:30AM) and Industrial Production (9:15 AM) will both be released Friday to end a volatile week in trading.

Central Banks Working to Cut Liquidity Risk - Geithner
Central banks around the world are coordinating the ways they craft policies and supervisory practices in order to mitigage the effects the credit crisis will have on the global economy, said Timothy Geithner, President of the New York Fed, on Thursday. Geithner is also vice-chairman of the FOMC, which sets interest rates. On Wednesday, the Fed, the European Central Bank and the British, Swiss and Canadian central banks unveiled new tools designed to increase liquidity. "They're all facing the same sort of panic-driven tightness in the money markets," said Lehman Brothers economist Ethan Harris. "They're all in the same boat on this. You can't pretend the markets are unconnected."
On Tuesday, the Fed cut short term interest rates, bringing the fed-funds rate down a percentage point from September (full story). The Fed is also setting up a "Temporary Auction Facility" that will inject up to $40 billion in the form of two offerings of up to $20 billion each by the end of December (full story). More auctions will take place in January. The facility will be accessible to all institutions that are eligible to approach the discount window. The LIBOR responded positively to the announcement of the facility, dropping to 4.99% from 5.06% Wednesday. The WSJ notes, however, that the LIBOR remains well above the Fed's overnight rate of 4.25%, indicating that banks are still reluctant to lend even to one another.

Inflation Surges; Retail Sales Beat Expectations
The Labor Department said Thursday the Producer Price Index [PPI] increased 3.2% in November, the highest one-month reading since 1973. Economists were expecting a 1.7% rise. The main catalyst for the jump was energy prices, which increased 14.1% versus the October figure. Wholesale gasoline prices rocketed 34.8%, a new record. Food prices were unchanged. Core PPI, which excludes volatile food and energy prices, climbed 0.4%, doubling economist forecasts of a 0.2% increase. "Inflation isn't in complete remission yet," Chris Rupkey, a senior financial economist at Bank of Tokyo-Mitsubishi UFJ, said. "It looks as if the Fed was right to keep its eye on inflation and say the risks of inflation are still out there." The Fed said in its statement Tuesday it would "continue to monitor inflation developments."
Meanwhile, the Commerce Department announced U.S. retail sales rose 1.2% in November. The figure was easily better than the 0.6% growth economists were forecasting, and gave hope the economy is not as weak as many perceived. "The numbers should help put to rest some of the fears of the economy sliding into recession," said Mark Vitner, a senior economist at Wachovia. Automobile and auto-parts sales sank 1%. Excluding auto and parts dealers, sales increased 1.8%, the most since January 2006. Economists were anticipating a 0.7% rise. October retail sales was also revised higher to 0.4% from 0.2%. Not including gas and auto sector sales, the rest of the retailers managed a solid 1.1% increase in sales.

WSB Sponsor
TECHNOLOGY
AMD Promises a Better 2008; Market Skeptical
Microprocessor manufacturer Advanced Micro Devices (NYSE:AMD) said Thursday at an analyst meeting that it will return to profitability in 2008 and promised not to repeat the errors of 2007. Investors, unimpressed by the lack of strategic detail in the presentation, sent the company's shares down 5% to a 52-week low in midday trading. They closed down 1.45% at $8.84. CEO Hector Ruiz conceded the company "blew it" by failing to stick to production schedules in 2007. Still, he described himself as "ticked off" by the battering AMD stock has taken. "How in the hell could anyone conclude that our company is worth 40% less than just a few weeks ago?" he asked.
AMD forecasts it will return to operating profitability in Q3 2008 and show positive operating income for full-year 2008, ahead of analyst expectations of an operating loss of $124.7 million in 2008.

The company declined to estimate when it would post positive net income. It has lost $1.6 billion so far in 2007. AMD confirmed it is adopting a so-called "asset lite" strategy, which is believed to involve outsourcing more of its manufacturing to third parties -- a strategy that would cut costs but could result in inferior products. Ruiz refused to elaborate on it. "I don't think it's prudent, and I think it would be absolutely silly for us to talk about something that could potentially be harmful to our plan," he said. Third parties, or "foundries," who could benefit from asset lite include Taiwan Semiconductor Manufacturing (NYSE:TSM), United Microelectronics (NYSE:UMC), and Chartered Semiconductor Manufacturing (CHRT). AMD's main competitor is Intel (NASDAQ:INTC), with whom it has been locked in debilitating price wars.

Novell Beats, But Guidance Disappoints
Shares of Novell (NASDAQ:NOVL) ended 9.6% lower to $6.42 in late trading, following its report of a swing to a quarterly loss of $0.05/share (including -$0.03 for the sale of its Switzerland-based consulting division) and a disappointing 2008 outlook. Novell's fiscal Q4 net loss totaled $17.9M, versus a profit of $19.9M last year, however its adjusted EPS of $0.06 topped analyst expectations of $0.04.

Revenues were also better than expected, rising 4.7% to $245M vs. analyst estimates of $242.2M. Novell's fiscal 2008 revenue guidance of $920M to $945M was well below the Street's average forecast of $982.2M, and reflects zero growth at the mid-range compared to its fiscal 2007 revenue of $932M. Its strategy in 2008 is to focus on driving higher-margin product revenue and shift lower-margin services revenue to partners. The company said it expects restructuring costs of $15M to $25M in fiscal 2008 after incurring related expenses of $47M during the past year.
"With expectations of flattish full-year 2008 revenue and 8% operating margins, we see little near-term for investors to get excited about. We note about $50M of our estimated FY-08 revenue will come from Microsoft (NASDAQ:MSFT) payments amortized from Novell's balance sheet," Citigroup analyst Brent Thill said in a post-earnings note.

Ciena Beats; Shares Slide on Weak Outlook
Networking gear maker Ciena (NASDAQ:CIEN) reported Thursday a more than doubling of fiscal Q4 net income to $30.4 million, or $0.30/share, with adjusted EPS of $0.48 easily beating Street estimates of $0.42/share. Revenues climbed 35% to $216.2M, compared to analyst expectations of $211.3M. "By all accounts, 2007 was a momentous year for Ciena. In addition to achieving 38% annual revenue growth and delivering strong financial performance, we established ourselves as a leader in the emerging converged Ethernet infrastructure space,"

CEO Gary Smith said in a statement. Ciena's quarterly gross margin improved to 56.3% vs. 51.4% last year. Despite estimate-beating numbers, shares dropped sharply after the company issued weak guidance. Looking ahead to 2008, CIEN expects 20% revenue growth; consensus estimates were for 22% revenue growth. "We view the outlook as disappointing," said Raymond James analyst Todd Koffman. "That said, it appears the company is being conservative." Even more disconcerting, Ciena forecast 5% Q1 revenue growth, vs. Street estimates of 2.4%, implying the company is particularly concerned about the latter part of the year. Smith addressed the issue in the company's conference call. "We've got better visibility in (the first and second quarters), and I think it's a function of the further out you go, you have less visibility to it," he said (transcript). In a subsequent interview, Smith noted Ciena's 38% revenue growth in 2007 far exceeded the company's initial 20% guidance. Ciena said it suffered $13M in SIV-related losses. It also named James E. Moylan to succeed outgoing CFO Joseph Chinnici. Shares of Ciena were down 11.8% in midday trading. Ciena competes with Alcatel-Lucent (ALU), Cisco (NASDAQ:CSCO) and Nortel (NT).

Leap Jumps as Wireless Discounter Tops Estimates
Discount wireless company Leap Wireless International, Inc. (LEAP) saw its shares climb nearly 10% in after-hours action Thursday following better-than-expected earnings results.

Despite a net loss of $43.3 million, or $0.64/share, versus a year-ago's loss of less than $1 million, most of the per-share loss was the result of increases in net interest and income tax expenses. On an adjusted basis, EPS was -$0.09; analysts were expecting adjusted EPS of -$0.15. Revenue was robust climbing 40% to $409.7 million, versus consensus estimates of $405.6 million. Leap also topped its service revenue growth projections from a month ago, with a 47% increase to $354.5 million Y/Y, while projected monthly revenue-per-user will climb to $46 in Q4 from the recent quarter's $44.51. The company did miss its subscriber growth projection of 40,000, adding just 36,484 new customers in the period. Leap shares have fallen from nearly $80 in early November to just below $30, as discount wireless competitor MetroPCS withdrew its bid for the company (full story).

Initial Ruling Says Nokia Didn't Violate Qualcomm Patents
Shares of both Qualcomm (NASDAQ:QCOM) and Nokia (NYSE:NOK) were lower Thursday after an administrative law judge released his initial determination [ID] in a patent infringement case filed by Qualcomm against Nokia in June 2006 with the International Trade Commission [ITC] in favor of Nokia. Judge Paul Luckern found "inter alia that there is jurisdiction and that there is no violation" on the part of Nokia with regards to its GSM/GPRS/EDGE-only handsets.


Qualcomm's latest legal setback gives Nokia the upper hand in negotiations over the rights to use Qualcomm's technology for advanced, third-generation [3G] phones, though it didn't address 3G patent technologies directly. Talks broke off several months ago with the two sides far from a resolution. While Wednesday's legal decision is unlikely to restart talks immediately – Qualcomm has stated it will appeal the ID – it puts the two companies on the road to an eventual settlement. The ITC's final decision is scheduled for no later than April 14. Qualcomm said its latest legal setback was a minor one since it doesn't address Qualcomm's '3G' products, which it also contends Nokia is using unlawfully.

ON Semi to Acquire AMIS with Stock; Expands Buyback
ON Semiconductor (ONNN) has entered a definitive merger agreement to acquire AMIS Holdings (AMIS) in an all-stock deal with an equity value of approximately $915 million. AMIS shareholders will receive 1.15 shares of ON Semi per common stock owned of AMIS, which as of ON's close of $8.82 on Wednesday, equals $10.14/share, a 38% premium. The Boards of both companies have approved the deal; it is expected to close in the first half of 2008. The transaction is projected to be accretive to 2008


EPS ex-amortization expenses and is expected to result in pre-tax cost savings of up to $50M by 2009.
"AMIS will immediately contribute exciting new products and capabilities in the medical and military/aerospace markets and will complement our existing automotive and industrial businesses," commented ON Semi CEO Keith Jackson. Separately, ON said it expanded its share repurchase authorization to 50M shares, from 30M previously. Over the next three years, ON plans to repurchase up to half of the 104M shares it will issue to acquire AMIS. The acquisition is the third semiconductor acquisition this week, following Lam Research's (NASDAQ:LRCX) deal for SEZ (full story) and STMicro's (NYSE:STM) agreement to acquire Genesis Microchip (GNSS, full story). Shares of ON Semi fell almost 5% Thursday. AMIS shares gained 29% to $9.47.

MEDIA
Sirius/XM Rise After Lawmakers Lend Support to Merger
Shares of Sirius Satellite Radio (NASDAQ:SIRI) and XM Satellite Radio (XMSR) recorded solid gains Thursday after the companies announced three U.S. lawmakers have publicly supported their proposed merger. On Wednesday, both companies' shares tumbled after it was reported two congressman had written a letter to the Department of Justice stating they were not in approval of the merger being rushed. The news

brought into question whether the two satellite radio providers would be able to garner the support needed in Washington to get the necessary approval from the Department of Justice and Federal Communications Commission. However on Thursday Sirius and XM said representatives Joe Baca of California, Bob Filner of California, and Connie Mack of Florida had all expressed that they were in favor of the deal. Stifel Nicolaus analyst Blair Levin also said the letter from two congressmen will not stop the deal from being approved in the near future: "We continue to believe it is more likely than not that the Department

of Justice will clear the deal, and that if it does, the Federal Communications Commission will follow suit, albeit with conditions… A Department of Justice decision could come any day."
Ahead of the any decision by Department of Justice, many speculators have placed a bet that the merger will go through. In the last ten trading days, about 76,000 calls have traded on the ISE compared to just 4,000 puts, a surprising put/call ratio of 18.9. Shares of Sirius traded 3.6% higher to $3.41, while XM climbed 5.9% to finish at $13.99.

TRANSPORT/AEROSPACE
Lufthansa Takes 19% Stake in JetBlue
The German airline Deutsche Lufthansa (OTCQX:DLAKY) is taking a 19% stake in American low-cost carrier JetBlue Airways (NASDAQ:JBLU), the companies announced Thursday. U.S. rules on ownership of domestic carriers limit foreign purchasers to a 25% maximum stake. The transaction is a private placement of approximately 42 million new shares for about $300 million, or $7.27 per share, representing a 16% premium to Wednesday's close. The deal is expected to close in Q1, at which time Lufthansa will place one director on JetBlue's board.
The German carrier was able to take advantage of both JetBlue's depressed stock price -- it has dropped by more than half this year -- and the weak dollar versus the euro.

"Our investment reflects the confidence we have in JetBlue's quality, growth potential and management team," said Wolfgang Mayrhuber, CEO of Lufthansa. "[It] presents Lufthansa with a compelling opportunity to invest in the U.S. point-to-point carrier market as the industry continues to evolve."
Betsy Snyder, an S&P director who follows the airline industry, called the alliance "somewhat of a strange combination. Lufthansa already has the relationship with United Airlines (UAUA), which is a competitor to JetBlue on several routes." The purchase will take place ahead of the "open skies" air agreement between the U.S. and the E.U., which will go into effect in the spring (implications). That agreement will allow carriers to cross the Atlantic to and from any point in either market. JetBlue shares closed up 14.24% at $7.14.

Chrysler, Nissan in Talks of Building Cars, But No Equity at Stake
Chrysler and Nissan (OTCPK:NSANY) are reported to be in private preliminary discussions about cooperating in auto production and supply, although sources say there is no plan to take equity stakes in each other. Respective corporate spokespersons declined to comment. The two automakers have similar development cost-saving OEM deals with industry peers. The focus of the Chrysler-Nissan talks is on pickups, small cars and


engines, according to the anonymous sources. Nissan is interested in Chrysler's truck expertise, while Chrysler wants to access Nissan's strength in smaller cars.
Nissan-Renault CEO Carlos Ghosn failed to reach a three-way alliance with General Motors (NYSE:GM) earlier this year, but has not ruled out seeking a North American partner. Nevertheless, sources say the talks with Chrysler are smaller scale on a product-by-product level. Ordinary shares of Nissan lost 1.1% to ¥1,190 on Friday. Nissan's ADRs lost 2.5% to $21.46 on Thursday. Daimler AG (DAI), which sold 80% of Chrysler to Cerberus Capital Management over summer, lost 3.3% to $98.34.

Boeing Announces $4.5 Billion Order From GE
Boeing Co. (NYSE:BA) announced Thursday General Electric's (NYSE:GE) plane leasing unit made a $4.5 billion order for 55 planes. GE Commercial Aviation Services placed orders for 53 Next-Generation 737-800s and two 777-300ER (Extended Range) passenger jets. The deal's value is

based on the planes' lists prices, and includes an exercise of existing options. Usually, Boeing will give a discount to large customers like GE, but details of any such discount were not disclosed. "Today's order by GECAS reaffirms the Boeing Next-Generation 737 as a highly successful asset, both in operation with our airline customers and in the financial community," said Boeing CEO Scott Carson. The 737 is Boeing's most widely sold plane; it has an order backlog of more than 1,800 planes worth more than $130 billion. Shares of Boeing traded 1.5% higher to $88.25, while GE was down 0.5% to $37.07 in early afternoon trading Thursday.

ENERGY/MATERIALS/INDUSTRIAL
Honeywell's Cheery 2008 Outlook
Honeywell (NYSE:HON) said Thursday it expects profits to grow 16%-21% in 2008, pushing shares of the conglomerate higher. The upper end of the range is nearly twice what is expected out of other blue chip conglomerates like GE (GE) and United Technologies (NYSE:UTX). The company anticipates earnings to fall between $3.65-$3.80/share next year, surprising some analysts. Consensus estimates were for $3.67/share. Honeywell sees sales coming in the range of $36.1 billion to $36.7

billion -- a mid-range of $36.4 billion. Analysts had expected $36.3 billion in revenue. "Overall, we're planning for a softening global economy, and we expect some spillover of the weakening in the U.S. residential and credit markets," CFO David Anderson said. "But on the other hand, we expect that to be offset by the relative strength that we're experiencing in emerging regions." The company said margins would increase to 14.0%-14.3% next year, up from the 13.5% expected this year. In a note to clients, Citigroup analyst Jeffrey Sprague called the guidance "bullish... and realistic" given that it assumes only 1-2% GDP growth in the U.S. "Honeywell has what we call DIY earnings power given its potential to improve margins through operational initiatives and attractively redeploy its much stronger free cash flow," he said. Sprague noted the firm's aerospace, automation and energy exposure should give it a buffer against weak commercial and residential housing markets. Honeywell shares are up 32% YTD. It extended its rally Thursday, jumping another 4% to $59.72 in midday trading.

FINANCIAL
Citi Bails Out SIVs; Moody's Cuts Rating
Citigroup (NYSE:C), in a dramatic shift of course, will bail out seven affiliated SIVs and take $49 billion in assets onto its balance sheet to avoid fire sales of the SIVs' assets. Moody's responded by lowering Citigroup's credit rating to Aa3, the fourth-highest level, late Thursday. "Citigroup's weak earnings should prohibit the bank from rapidly restoring weak capital ratios," which could imply further downgrades, said Moody's SVP Sean Jones. As recently as November 5, Citi said it "will not take actions that will require the company to consolidate the SIVs." But Vikram Pandit, who became CEO on Tuesday (full story), switched gears. "It speaks to a change in leadership," said Joshua Rosner, MD at Graham Fisher. "It speaks to a new management who can wipe away the sins, call them someone else's and start to heal."
Others were less impressed.

"This is just a ding to credibility that they didn't need," said Jeffery Harte, an analyst with Sandler O'Neill. "[T]his makes you question how well they understand some of the exposure on their balance sheet." Other banks, including HSBC Holdings (HBC), Societe Generale (OTCPK:SCGLY) and WestLB AG, have also elected to take responsibility for the assets of their troubled SIVs. The Citi bailout slashes the amount of senior debt still owed by SIVs to $140 billion from $340 billion in August, suggesting there may no longer be a need for the "superfund" set up by Citi, JPMorgan Chase (NYSE:JPM) and Bank of America (NYSE:BAC) to rescue SIVs. "The need now has completely gone away," said Joseph Mason, associate professor of business at Drexel University.

Ambac, Assured Guaranty Strike $29 Billion Reinsurance Deal
The monoline bond insurer Ambac Financial Group (ABK) announced late Thursday that a unit of Assured Guaranty (NYSE:AGO) will reinsure $29 billion worth of its financial guaranty contracts, improving Ambac's capital position and easing the immediate threat of a rating downgrade. In exchange, Ambac will give the Assured Guaranty unit, AG Re, more reinsurance business over the next three years. The WSJ notes that Assured Guaranty has "the least exposure to subprime-mortgage-related loans in the form of collateralized debt obligations" of all financial guarantors, and its own AAA rating is not in question. On Wednesday, Fitch said it will cut its rating on Security Capital Assurance (SCA) to AA if it fails to come up with $2 billion in capital over the next four to six weeks (full story).


"It is clear that these entities now have every incentive to keep their rating," said Greg Peters, head of credit strategy at Morgan Stanley. "Today they have begrudgingly moved from the denial stage into the recognition and partial acceptance phase... Two weeks ago, they were... outwardly complaining that the markets didn't understand their business." Billionaire investor Wilbur Ross is considering investing in distressed monolines. "They all need capital," he said. "It seems that if you can find one make it through without losing its triple-A rating, that could be a very good investment." Ambac shares closed down 4% at $23.84 prior to the announcement.

Lehman Tops Targets on Smaller Than Expected Decline
Shares of Lehman Brothers (LEH) were down almost 2% Thursday despite reporting EPS and revenue that beat Street estimates. "There's a lot of skepticism about the numbers. People are concerned about possible skeletons in the closet," analyst Tom Jalics told Bloomberg in an interview. The number-four U.S. investment bank said Q4 earnings were $886 million ($1.54/share), down from $1 billion ($1.72) a year ago, in the face of what CEO Richard Fuld called a "difficult operating environment," (full earnings call transcript later today). Total revenue was $4.39 billion, down from $4.53 billion last year; revenue from fixed-income sales and trading plunged to $860 million from $2.135 billion. Analysts

surveyed by Reuters had expected EPS of $1.42 on revenue of $4.22 billion. It marks the first time in five years Lehman has reported two consecutive quarters of declining profits.
Lehman advised on 45 takeovers with a value of $296.3 billion during the quarter, more than triple last year's figure. Lehman did not take any asset writedowns; its Q3 writedown of about $700 million was low compared to those of other Wall Street banks. Lehman has said all of its CDOs are fully hedged. "Lehman's loss experience will ultimately fall below market expectations due to its effective risk-mitigation tactics," Fox-Pitt Kelton analyst Caronia Waller said. On Dec. 4, the firm agreed to acquired Van der Moolen's (VDM) NYSE specialist business for zero consideration, making it the sixth NYSE market-maker. There is speculation the NYSE is looking at rule changes to enhance specialist profitability (full story). Lehman shares are down 20% YTD, worse than the Amex Securities Broker Dealer index (-13%).

Countrywide Loan Funding Drops 40%; Subpoenaed by Illinois AG
Shares of Countrywide Financial (CFC) about 4% Thursday after the number-one U.S. mortgage lender said mortgage applications fell 32% in November. Mortgage loan fundings for the month saw an even steeper 40% drop year-over-year, to $23 billion. Conversely, applications and fundings were up 6% and 5% respectively from a month ago, a trend mortgage lenders hope will continue. COO David Sambol had praise for the Bush administration's Hope Now initiative, aimed at saving homeowners with adjustable-rate mortgages

from foreclosure. "Countrywide is pleased with the Bush administration's endorsement of the industry's HOPE NOW initiative," Sambol concluded. "As a founding member and strong advocate of the HOPE NOW Alliance, we commend all those involved for seeking ways to work together on a solution to assist borrowers facing challenges in today's marketplace."
Separately, the New York Times reported Thursday CFC's home loan unit is under investigation by Illinois' attorney general for dubious lending practices. State attorney general Lisa Madigan has subpoenaed documents from Countrywide on its loan operations, a source says. Madigan recently sued One Source Mortgage, contending it promised borrowers low-rate mortgages without making it clear rates would jump in the near future. Countrywide was One Source's primary lender. Countrywide has faced heavy criticism from Senator Charles Schumer (D-NY) for pushing homeowners to borrow more money than they could afford. The company had no comment.

HEALTHCARE/BIOTECH
Dendreon Soars on Alleged FDA Foul-Play
Shares of Dendreon (NASDAQ:DNDN) soared Thursday after a congressional trio sought an investigation of an FDA panel that voted against the company's prostate cancer drug, Provenge. Shares jumped more than 23% after CNBC reported the probe request. There has been no word yet from Rep. John Dingell (D-Mich.), chairman of House Energy and Commerce Committee, as to whether he

will launch an investigation. The trio alleges at least two of the FDA advisory members had conflicts of interest. According to a letter they wrote to Dingell, Howard Scher, a FDA panel member, is a lead investigator for a cancer drug made by Novacea Inc. (NOVC), and is also an advisor to a large VC firm that is a major Novacea investor.
Provenge is the first cancer drug to seek FDA approval that attempts to fight cancer through the body's immune system; other drugs attack the cancer cells directly. The debate surrounding Provenge focused on the fact that it failed to meet its primary goal of reducing the advancement of cancer, although it lengthened survival rates. Unusually small trial samples was another criticism.

GLOBAL MARKETS
Asia Friday: Japan, Hong Kong Fall; Shanghai Gains
Asian indexes were a mixed bag Friday.
The Nikkei fell 0.14%. Nikon (OTCPK:NINOY) gained 5%. Mizuho Financial (NYSE:MFG) fell 4.9%.
The Hang Seng fell 0.65%. China Netcom (NYSEARCA:CN) gained 2.8%. China Petroleum (NYSE:SNP) lost 2.45%. China Life (NYSE:CHL) fell 1.9%.
The Shanghai Composite rose 1.01%.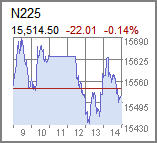 The Bank of Japan's closely watched tankan survey showed corporate sentiment in Japan is waning, with sentiment among large manufacturers at a two-year low. Sentiment among property companies was also weak; Tokyo's real estate index fell 4.5% Friday, the worst sector. Banks were down as Japanese traders fretted the possibility Japanese banks may be obliged to contribute about $5 billion each to a fund to support subprime losses.

Europe Flat Friday; Banks Fall
European markets were flat as of 6:00 a.m. EST.
The FTSE was down 0.02%. Northern Rock jumped 9.3%. Rentokil Initial (OTCPK:RTOKY +2.6%) made back some of yesterday's losses. Anglo American (AAUK) fell 3.5%. BHP Billiton (NYSE:BHP) and Rio Tinto (RTP) fell 1.9% and 1.6% respectively.
The CAC fell 0.3%. Vivendi gained 1%. Air France-KLM (AKH) was down almost 2%.
The Dax gained 0.01%. E.On (OTCPK:EONGY) gained 0.9%. SAP (NYSE:SAP) lost a point.
Bank stocks were lower in Europe as traders failed to perceive a noteworthy change in credit-market liquidity, despite a joint effort of central banks in North American and Europe to open up additional sources of credit (full story). "Even after the central banks injected funds, there's reluctance between banks to lend," one fund manager remarked.

SEEKING ALPHA MUST-READS
Have Wall Street Breakfast emailed to you every morning before the market opens.