The Brazilian economy is now over $2.5 trillion in size, the largest in Latin America, and is set to surpass France this year as the world's fifth largest economy. Its annual GDP is in excess of 5%, far exceeding most countries with similar sized or larger economies with the exception of China and Russia. It is part of the trading block MERCOSUR, a block comprised of Argentina, Brazil, Paraguay, and Uruguay. Since the 1990s it has adopted a liberal, free market approach to its economy with limited government involvement.
Opportunity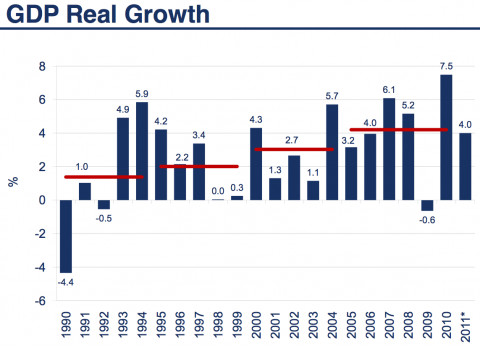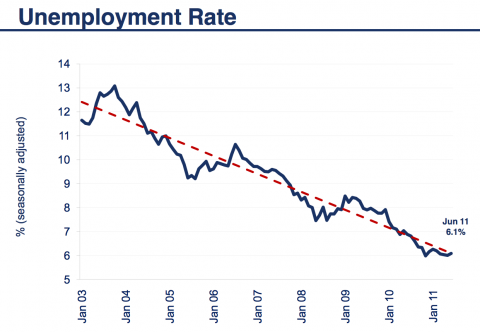 Both graphs are from clearonmoney.com.
GDP growth has been positive every single year with only one period of negative growth in 2009, during the global slump. Furthermore, GDP growth has been rising and GDP is expected to rise by 5% in 2012. Brazilian growth has been fueled by large growth in the consumer goods, electronics, telecommunications, and energy sectors. Growth in these sectors have led to rapidly decreasing levels of unemployment in recent years as more people enter the rapidly expanding domestic economy as shown by the graph below. Even during the global recession, unemployment dropped by roughly 3%, a remarkable tribute to the power of the growing Brazilian economy.
Furthermore, this growth has been stimulated by a very healthy government approach towards the economy. Growing liberalization, lessening of regulation, and adopting a free market approach are just a couple of the steps the government is taking to allow business to expand and prosper. This is a good sign for future growth if the positive government approach continues. This is especially important due to recent developments in Latin America where the Bolivian and Argentinean governments have nationalized foreign Spanish companies in "the interests of the people." This will drive companies out of these countries, and possibly into Brazil, where their interests are likely to be protected. This development, if it occurs would fuel further growth.
Investing in companies which trade in Brazilian reals is also very tempting currently due to its recent depreciation against other currencies in 2011. It is currently trading at around 1.8 reals per dollar. This is attractive because companies in Brazil have been able to import their raw materials at cheaper prices and reduce their overall operating expense significantly. Furthermore, companies which export products or services have seen rising demand due to lower relative prices brought about by the depreciation of the real.
Industry Breakdown
Brazil's population is growing rapidly, requiring more food. Since the 1950s, the population has grown on average by more than 2% annually. This has done wonders for the agricultural sector as it has rapidly expanded to meet the needs of the growing populace. This expansion has been facilitated by government support programs to encourage rural agriculture and create a more green friendly country.
Consumer goods and electronics have thrived as average incomes have continued to reach new high in recent years. Rising disposable incomes in Brazil have played a key part in the growth of this sector and as more and more people continue to rise into the middle class, this sector will become more and more prominent. Pao de Acucar (NYSE:CBD), the country's main retailer, has and will continue to gain from this growth.
The energy sector in Brazil is booming due to the government's focus on trying to stop Brazilian dependence on imports of oil. This has led to a rise in nuclear and hydroelectric electricity. Hydroelectric energy has become especially important as the government have adopted an environmental-friendly approach to energy consumption. Furthermore, in 2006, Brazil became self-sufficient in oil due to government efforts. This has hugely benefited Petrobras (NYSE:PBR) and OGX (OTC:OGXPF), the two main oil and gas providers in Brazil, as well as many other smaller companies. The energy sector is likely to continue to grow rapidly as median incomes rise and people increasingly use electronic products.
The telecom industry represents 5% of the GDP of Brazil and the industry is expected to grow in excess of 30% over the next four years. Also, smartphone sales in Brazil were up more than two thirds in Q4 2011 compared to Q4 2010. This bodes well for telecommunications companies already in the Brazilian market, such as Telefonica Brasil (NYSE:VIV) and Oi S.A.
Mercosur
Brazil's involvement in Mercosur and the wider Latin American economy should not be downplayed. Brazil's close involvement in the trading bloc, allows for significant exposure to the phenomenal growth of Argentina, Chile, and other Latin American countries without the risk of expropriation.
Risks Involved in Brazil
There are some risks associated with entering Brazil. After two expropriations of Spanish companies in Latin America, investors are bound to be worried that this is a possibility in Brazil. Nationalization of companies is a very unlikely scenario in Brazil due to the pro-international approach of the government. The government have been very welcoming of foreign direct investment, as well as other forms of international involvement, breaking down trade barriers and other such preventative measures.
As the world economy collapsed during the recession years, Brazil had its first year of negative growth since 1992. 2009 was a year of negative growth, with GDP shrinking by 0.6%. However, since then it has sped up rapidly, growing by a huge 7% in 2010, and by 4% in 2011. There is still room for companies to take advantage of a rapidly modernizing company which will continue to experience high levels of growth in the coming decade.
Conclusion
Brazil continued strong growth is an opportunity for the skilled investor. There is a wealth of fast growing, strong companies which exist in the market already that present an attractive investment for the keen eye. Many companies offer very high dividends while offering high growth and great value. These three qualities can rarely be found together in one company in America these days, but are increasingly seen in a number of companies in Brazil. Out of the rapidly growing economies, you will not find a better or safer country to invest in currently and be sure of good returns.
Disclosure: I am long VIV.