The past few earnings seasons have shown that several American-based firms are being burned due to weakness outside of America. This should not be surprising because America's economy is one of the few that is actually growing in the world. Even if this growth is extremely slow, it is still growth. Despite this investors should expect weak revenue and income growth outside of America.
Before delving into four companies that are being hindered by weak international growth, it is important to make a few notes regarding why there is international weakness. For starters, Europe is on the wall of a recession. It is sort of like a Humpty Dumpty situation. Any negative wind will blow the region, and thus Humpty, into a recession just as if Humpty falls off his wall. This economic cycle has been compounded by extraordinary debt issues. These issues are nowhere near resolved and investors should expect to see continued weak sales in Europe.
Asia is also causing problems for many companies that have been doing business in the region. As China and India's economies deflate at a quicker rate than expected, we are seeing Asian consumers spend less. Chinese officials have began to loosen the economy with minor monetary policy changes, but nothing extreme yet. Similar to Europe, China will continue to slow and investors should prepare for losses in the Asian region.
Ford (NYSE:F) is a perfect example of this. From Ford's first-quarter earnings report North American car sales, revenue, and operating margin are up 5.8%, 4%, and 11.6% respectively on a year-over-year basis. On the other hand European car sales, revenue, and operating margin decreased 13.9%, 17.2%, and 158.8% respectively on a year-over-year basis. Similarly, the Asia Pacific Africa region saw car sales and operating margin decrease 10.3% and 362% while revenue increased 9.5% on a year-over-year basis.
This slew of numbers is important because they are similar to Ford's fourth quarter. Prior to Ford's fourth quarter we see mismatched trends in these categories. Nevertheless, Ford stated operations in Asia were hindered due to the Thailand floods. These floods are another reason why Asia is burning American-based companies. However, I think Ford's interpretation on the Thailand floods is overblown. According to Seagate (NASDAQ:STX) and Western Digital (NYSE:WDC), the Thailand floods did not cause as much damage to operations as initially thought.
This indicates that Ford may have put the blame on weakness in Asia on the wrong reason. Nevertheless, as Asia continues to cool off we will see car sales and margins decrease. Thus causing the firm's earnings to weaken. This does not however correlate to a declining share price because investors base investment decisions on whether Ford beats or misses "the expert" expectations.
Ford, rightfully so, also blamed the struggling European economy and debt crisis for the sluggish sales results. Large-scale goods such as cars will continue to struggle to sell in a volatile economy because if consumers are concerned about losing their jobs, then they will not make big-ticket purchases. And, a vehicle is certainly a big-ticket item. Therefore until Europe's economy turns around, Ford's European operations will struggle.
Combining the high probability of future international weakness, Ford's share price is hazy to predict. Under ideal market laws Ford's share price should fall as income, margins, and/or cash flows decrease, but since the markets are moved by analysts' predictions over the short term, then we may see Ford's share price simply stay range bound between 10 and 12 until global weakness improves.
(Source: Stockcharts.com)
America's largest automotive producer General Motors (NYSE:GM) has been producing similar results as Ford. According to GM's first-quarter earnings on a year-over-year basis, GM improved EBIT adjusted earnings, revenue, production and vehicle sales in North America. Europe however provided negative growth for GM in all four categories. GM's IO unit's weakest point is EBIT earnings; which declined 9.7% year over year.
It is apparent that GM's international operations are weakening since the transition from late 2010 to early 2011. Some time in that period GM began to feel a weakening economic environment. This corresponds with a disastrous 2011 for Europe as well as evidence that Asia, and particularly China's economy, is weakening. In fact, GM has been contemplating cutting jobs and closing factories in Europe. This would obviously decrease European production and overall car sales, but it may improve margins.
Similarly to Ford, a new vehicle purchase will not be the first thing on the mind of consumers in a region where economic uncertainty is high. This will play a part in GM's share price. Unsurprisingly, GM's and Ford's charts are very similar over the past year. This indicates that, as I discussed above, both companies will face the same weakness going forward. And as I wrote about in an article in September, auto stocks are not the best choices to buy during economic uncertainty. However GM's North American production is improving very well. Therefore, investors should expect to see GM tout this fact in order to overshadow weakness in Europe and Asia.
(Source: Stockcharts.com)
Jumping to a different sector, Domino's Pizza (NYSE:DPZ) presented a dismal global slowdown in its most recent earnings report. This contrasts with the firm's fourth-quarter report that indicated global growth was strong. Domino's has presented investors with strong global growth with regards to new stores. And over the past few years Domino's growth has been extraordinary.
This all came to a screeching halt after Domino's reported a slight chink in the pizza giant's armor. While Domino's did not report terrible earnings excluding the recapitalization expenses, the reported EPS of 47 cents missed expectations and the high-flying stock sank. Other negative news came from a substantial slowdown in the international sales growth rate.
Looking at the data, all of Domino's regions were profitable but the decrease in the growth rate is concerning. Even though Domino's is expanding internationally, the firm's sales growth and same-store growth is not as impressive is it has been. On a year-over-year basis, Domino's international retail sales growth rate has declined sequentially over the past four quarters. Also, the international same-store sales growth has been in a downtrend over the past five quarters. This trend is concerning.
Up until Domino's first-quarter results the growth rate slow down was concerning, but now it is apparent international sales will not grow at rates we have seen the past 12-16 months. It appears Domino's operations are effected by a slowing international economy. This in turn has thrown Domino's stock into a tailspin.
With the global economy continuing to weaken, Domino's investors should expect to see less impressive growth numbers. And, if Europe's or China's economy dramatically falter then we may see negative growth on a year-over-year basis in 2012 because 2011 was an incredibly strong year for Domino's. This scenario will cause Domino's stock to test its resolve and move lower.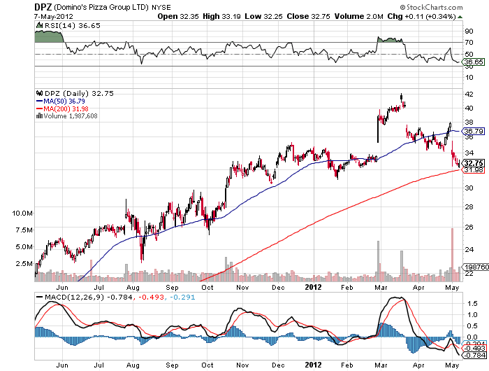 (Source: Stockcharts.com)
Moving yet again to a new sector Caterpillar's (NYSE:CAT) stock has been punished due to global weakness. The two culprits for Caterpillar are Brazil and China. The problem with these regions weakening is that, as I outlined in a March 27th article, Caterpillar has focused on expanding in Brazil and China. Therefore if these regions face economic weakness then Caterpillar will not be able to perform as well as we have seen the past couple years and the firm's investments will take longer to pay off.
Fortunately for the bigger picture, Caterpillar's North American operations are strong. In fact, Caterpillar's CEO stated several times in the April earnings report that Chinese and Brazilian economies were a hindrance on Caterpillar's operations, while North America was strong. If this trend does not reverse then Caterpillar's operations and share price will suffer.
Unfortunately, as I mentioned with the three firms prior to Caterpillar, the Chinese economy will continue to deflate. While Asia and the European region, which includes Africa and the Middle East, grew at 33% and 25% respectively, this growth rate is down substantially from prior quarters. It should be expected that growth rates will decrease over time, but if the growth rate decreases nearly 100% in a short period then investors should be concerned.
This is one of the primary reasons Caterpillar's stock has not found any traction since the April 25th earnings report. I suspect the share price will continue to slide as other firms echo economic weakness in China. Another weight on the stock will be the ongoing issues with labor unions. In the end these negotiations will not cause the stock to depreciate considerably, but it will provide negative sentiment.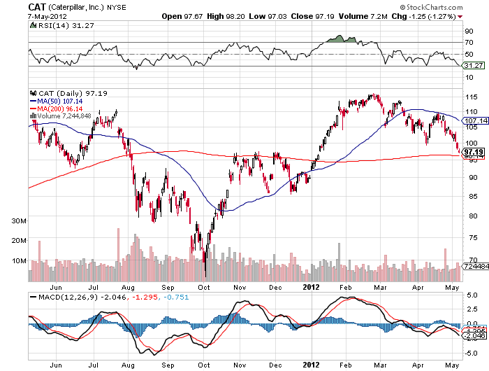 (Source: Stockcharts.com)
What To Expect
Investors should not expect a systematic slide in equities due to global economic weakness. For instance, American healthcare firms are in the clear because medicine and healthcare are needed regardless of the economy. Similarly, dozens of technology companies will continue to prosper. On the other hand, many more technology firms are dependent upon a strong Asian economy.
More importantly many American-based stocks are and will in the future be negatively effected due to a weaker global economy. The big ticket regions that will effect American firms are Europe and Asia; especially China. Contrary to intuition, this does not mean that all stocks should be sold. Even the four stocks above that are suffering weak global growth are not destined to fall to new 52-week lows.
In fact, the opposite may happen. At some point investors and/or traders will forget or neglect to remember that global weakness is causing these particular firms to grow at slower rates. But as the next few earnings reports come out for these stocks I expect to see lackluster European and Asian growth. If analysts take a slowing economy into consideration then we may see these stocks surge by beating downgraded earnings and revenue expectations.
There are several actions that may happen, but what is certain is that American firms, and their corresponding stocks, will continue to be weighed down by weak global economic activity.
Disclosure: I am long CAT.