The Thesis
Linn Energy (LINN) is a gas-weighted LLC-structure oil & gas producer. Since their IPO in early 2006 they have been very acquisitive & their original asset base in Appalachia now represents less than 15% of total reserves. Since these acquisitions were funded primarily via PIPEs, there is a large overhang of unregistered units that are just starting to come to market. As large acquisitions start to drive distribution growth, sales of newly registered PIPE shares are depressing unit price, leading to a great opportunity to purchase tax-advantaged cash flows. LINE will pay distributions of at least $2.52 in 2008 & trade at a 9% yield forward by 3q08 generating an IRR in excess of 40%.
The Company
LINE is an LLC-structured oil & gas company that employs about 600 people. They IPOed in early 2006 with an asset base of 99% gas reserves in Appalachia. Later, the company acquired assets in California's Brea Olinda field, which are primarily (89%) oil weighted & roughly doubled reserves. In the latter part of 3q07, the LINE gold fish swallowed a Dominion whale by purchasing Dominion's Mid-Continent assets, which now represent 74% of the company's reserves. See below for more details about each of these asset bases.
In case you're keeping track, those are some kind of largish acquisitions for a newish kind of company. Since their IPO the company has done $3B+ of acquisitions. A large chunk of those acquisition dollars have been crammed into the August 2007 acquisition of Dominion's Mid-Continent assets. $2.7B of that $3B+ acquisition price tag was funded with equity & most of that equity was distributed via PIPE offerings.
To understand the scale, consider that LINE came public with a headline offering of 11.75MM units. Before their last registration became effective on 20nov07 the company had 114MM units outstanding & 86MM of them were unregistered. After the 20nov07 registration LINE still has 48MM unregistered units, or about 42% of all outstanding units. That's a big overhang of PIPE units that have been looking for a home.
LINE management have said several times they would like their unitholder base to be about 70% retail & 30% institutional. Based on the unit price behavior in the months prior to LINE registration of the first batch of PIPE units most institutional investors that participated are doing their best to help LINE meet that 70/30 objective. The units have fallen from just a shade below 40 to the mid $23 range & short interest has gone fro 650k units in the middle of July to about 2.5MM units in the middle of November.
Tax Advantaged, Secure Yield
LINE is an LLC so it enjoys some profound tax benefits. In 2006, LINE distributions were 100% tax shielded. During their 3q07 conference call, LINE management indicated 2007 distributions were likely to be 100% tax shielded once again.
Also, 95% of 2008 production is hedged via swaps & puts at a blended price of $8.35 per mcf equivalent. Similar volumes are hedged through 2011 at $8.17+ ($8.27 in 2009, $8.19 in 2010, $8.17 in 2011) per mcfe. Part of Linn Energy's acquisition strategy has been to lock in acquisition financial returns via hedges at the time of purchase. That means if they say they can support a distribution of 63 cents per quarter they have tremendous visibility into 2008 cashflow to back that up.
Consider Jane Investor who resides in the 25% tax bracket & holds securities in a taxable account. To achieve after tax yield equivalence Jane would have to find a qualified dividend security yielding 12.5%. To achieve after tax yield equivalence with a BDC or REIT, Jane would have to find a security yielding in excess of 14%. It might be possible to find those yields but not at the risk profile that LINE provides. So, good luck Jane!
Finally, notice that LINE is an LLC, not an MLP. There are no incentive distribution rights, or IDRs. With MLPs that have IDR, once total distributable cash meets or exceeds certain target amounts the General Partner gets an increasing share of incremental cash flows. Typically the GP starts out getting 2% of distributable cash & ends up getting 50% of incremental distributable cash. Often after very nominal 25% to 35% increases in absolute distributions to the limited partners. Not so at Linn Energy. Management participates exactly like unitholders do. Obviously, that means more money in unitholder's pockets but for a roll-up vehicle like LLC/MLPs it also means faster distribution growth, which means a higher stock price, which means more accretive acquisitions.
The Properties
Linn Energy has about 1.6tcf of proved reserves spread out over three asset bases. The company operates over 7500 oil & gas wells & operates or participates in over 8500 oil & gas wells. In aggregate, their assets have a reserve life index of 20 years. LINE have over 5000 drilling locations, or about a decade of drilling inventory, that they believe will drive 7% organic growth for many years to come.
The original asset LINE came public with is Appalachia. This region currently represents 14% of reserves & 12% of production. Production here is almost all gas & characterized by a very long reserve life index of 25+ years. So it's no surprise that there are scads of drilling opportunities in inventory...over 1100.
To offset nearly-all-gas Appalachia, LINE acquired nearly-all-oil Brea-Olinda in the LA Basin. This asset represents 12% of total reserves & 7% of total production. Production here is 89% oil & has a reserve life index in excess of 40 years. As you might guess, oil here is so heavy it barely qualifies as liquid. However, LINE separates liquids from gas production & uses it to upgrade crude from 21 API to 24 or 25 API. In other words, they can upgrade product from 'heavy crude' to 'medium crude'. There is not a tremendous drilling inventory in Brea-Olinda but Linn is drilling a few wells there in 2007. Given the very low decline rate heavy oil exhibits they won't have to drill much to maintain production in California.
The crown jewels are the Mid Continent assets, representing 74% of total reserves & 81% of total production. This great gob of acreage & production was purchased from Dominion in August of 2007 for a couple billion dollars. LINE had already purchased over 500MM of assets in the Texas Panhandle earlier in the year, so they are really reaching critical mass in that region of the country. LINE have interests in over 4700 wells in the mid continent region. The region has a production profile that is about 90% gas & reserve life indices vary from 11 years in the Granite Wash to 17 years in the Anadarko Basin to 18 years in the OK-KS shallow gas.
Most of Linn Energy's capital budget will be dedicated to the mid continent assets in 2008. Currently, 11 of the 14 rigs LINE employs are working in the mid continent region. Doing the math, LINE have over 3500 drilling locations in their mid continent asset, so 11 rigs can stay busy a long time in the area.
But there is some hidden production in the mid continent asset that won't require one red cent of capital to develop. Dominion had retained a volumetric production payment contract associated with the property. This contract transferred with the sale of the asset, but it expires in April of 2008. What it boils down to is 16mmcfe of production that LINE does NOT get. After the VPP contract expires in April they will get that production. The company entered 4q07 producing about 200mmcfe per day so that represents an 8% production increase free & clear.
Valuation
LINE BOD will meet the second week of December & at that meeting management will recommend to the board that they approve a quarterly distribution of 63 cents per unit. That's $2.52 annually, or about 10.5% yield based on a $20.68 unit price. Given Linn Energy's hedged position for the next 5 years & the tax-advantaged nature of their distribution that is a very attractive yield.
Since 1996, the Alerian Master Limited Partnership index has traded at a mean yield of 7.77% with standard deviation of about 1.24%. In other words, in 84% of all trading days since January of 1996 MLPs in aggregate traded at 9% yield or better. At the same time the Alerian MLP index yield had a decent linear correlation with the 10 year yield (pearson=0.652, rsq=0.426). Given recent fed action, long rates are likely to be under pressure as fed fund rates go lower in coming months.
Based on TTM yield, LINE is an outlier within it's own peer group: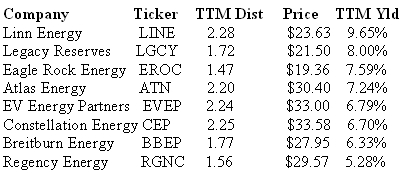 In December, the LINE BOD will approve an increase in the distribution to 63 cents. After the overhang of PIPE units wears off, LINE will trade within one standard deviation of historic MLP yields, or 9%. Further, they will meet their organic growth target of 7% in 2008, leading to a distribution increase of two cents by 3q08.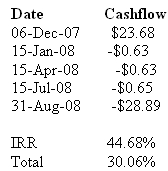 If you don't like relative valuation models, take a look at a simple dividend discount model. Assume a current distribution rate of $2.52, discount rate of 11%, and constant growth rate of 2%.
IV = $2.52/(11%-2%) = $31.50
Or more than 30% above today's price. We already know from LINE management that they have the drilling inventory to grow 7% every year organically. So here is what a two-stage DDM looks like, using a 5% organic growth rate over the next decade and 2% thereafter.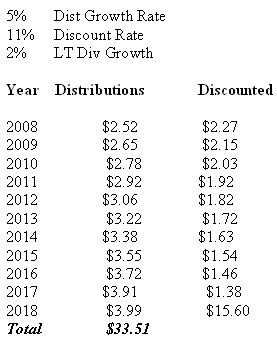 Or more than 40% above today's price. All these models assume no further acquisitions, which is almost certainly a bad assumption. There will be additional acquisitions and they will be accretive to unit holders. In fact, LINE said on their quarterly call they could do an additional $500MM of acquisitions without tapping the equity markets. Such acquisitions would be accretive to the tune of 5 cents distributed per $100k acquired.
Of course, we're not dealing with an asset that can operate in perpetuity. Even an acquisitive oil & gas company like LINE can't grow production per share forever. Eventually suitable acquisitions run out, decline sets in, and production reaches a level that is no longer economic. Any decent model should contemplate this. Linn Energy claim to have a drilling inventory that will allow them to grow production organically at 7% for the next decade. Let's assume they are able to do 6% distributable cash flow growth per unit, either by the bit or by acquisition, over the next 10 years. After that they are able to scratch and claw to maintain level distributable cash flow growth for another decade. Finally, production declines 6% per year over the next 15 years & unitholders get nothing in the end.
Using those assumptions & discounting at 11%, present value is ">$30.50. Or more than 29% over a $23.68 unit price. Here are the numbers:

Bottom line, LINE is anywhere from well to fantastically undervalued at current levels, especially given its growth prospects, tax-advantaged nature, and unit holder friendly structure.
Disclosure: Author has a long position in LINE