By Nathan Slaughter
Williams-Sonoma (NYSE: WSM, $27.33) operates five different retail concepts, including the highly popular Pottery Barn and Pottery Barn Kids units. Women in particular are big fans of these stores, and some estimates suggest that it is women who are responsible for approximately 85% of all spending on luxury goods. The firm's merchandise -- primarily cookware and home furnishings -- is sold through a variety of distribution channels, including catalogs, websites, and approximately 600 retail outlets in 44 states.
The company has delivered nothing but growth over the past decade, and sales have quadrupled from $933 million to $3.8 billion since 1996. More importantly, net income has raced ahead at a +17% annual clip over that same span.
Given the weakness in the housing market, demand for home furnishing has been lukewarm at best lately. However, as a best-in-class retailer with a predominately high-income customer base, the firm has weathered this cyclical downturn far better than many of its rivals. Pier One is down nearly -50% in the last 6 months and other peers like Cost Plus World Market and Bombay have had their struggles as well.
Yet, while many have been posting negative same-store sales figures recently, Williams-Sonoma managed to deliver a respectable +1.1% gain last quarter. However, with forecasts calling for soft store traffic and flat comps for the fourth quarter, the shares have been pounded recently -- sliding from $35 to below $30.
Still, these pressures will moderate in time, and Williams-Sonoma is well-positioned for future growth. Because the firm has a nationwide catalog business, it can use this channel as a testing ground for new merchandise. By contrast, other retailers have to stockpile inventory in their stores, only to mark it down later if it doesn't sell.
And looking ahead, the company is rapidly transitioning its direct-marketing platform online -- where overhead costs are much lower. The company operates six e-commerce websites, and last quarter those sites generated sales of $266 million, up +17% from the prior year.
Overall, this efficiently managed company has very little debt, delivers consistent revenue growth, and has churned out healthy average annual free cash flows of $150 million over the past few years. In time, the shares should be able to bounce back toward our fair value of $37 per share.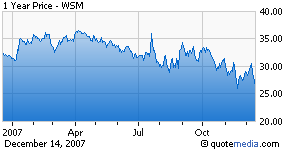 Disclosure: none