Leading gold miners ETFs, GDX and GDXJ, are bouncing off strong losses on Tuesday and an over two month long downtrend. At mid day Wednesday both GDX and GDXJ have gained over 2% for the day. Here's the daily chart from Yahoo Finance.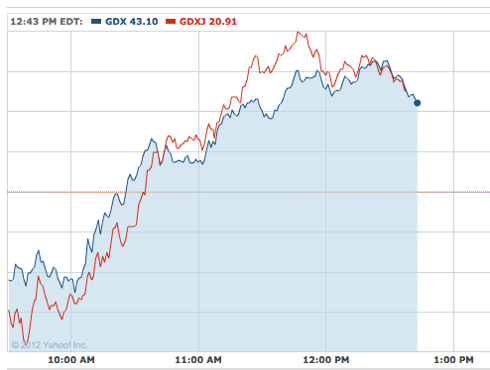 Gold stock ETFs suffered a particularly serious decline Tuesday and were off between 3% - 6%. Here's the snapshot from the GoldETFs.biz performance grid showing all gold stock ETFs over the last one day period and week.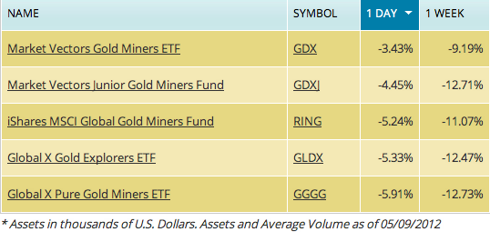 Gold mining ETFs are outpacing physical gold today as the largest physical gold ETF, GLD, is in negative territory in mid day trading. Here's the Yahoo Finance chart showing GLD, GDX and GDXJ.
All gold ETFs had been sinking over the last week as European elections created enough chaos to strengthen the U.S. Dollar, weakening gold.
Today's apparent bounce for gold stocks seems to be a short term aberration and perhaps a reaction to the double digit selloff in the last week. In the immediate future, gold investors appear likely to bear more pain due to a flight to the relative safety of the U.S. Dollar.
Disclosure: I have no positions in any stocks mentioned, and no plans to initiate any positions within the next 72 hours.
Additional disclosure: Christian Magoon publishes GoldETFs.biz.