Gamestop (NYSE:GME) is a retailer of video game products and personal computer [PC] entertainment software. This is that red hot electronic game market. Look at the price chart below (courtesy of Yahoo) and you will notice that, like its industry, it has a red hot run too….from $4 to $60 in five years. That is an average annual return of 55%!! It has been toying with setting its all time high in recent weeks.
Another plus is it trades with an average daily volume of over three million shares per day. I cannot call that "thinly traded". I have seen recent comments that this industry is "recession proof" and there is a lot of talk out there about the impending recession.
Okay, so here is a strategy to add some recession-proofing to your portfolio. Wait for a pullback to the $50 level and then snap some up. But let me warn you that GME may be eyed by many investors/traders for the same reason and might not ever return to that level. If you are as impatient as I often am, buy half now and the other half on a dip. Just a suggestion. Above all do your homework and dig into the company. Could there be some disappointments that could spook investors? We don't want another Biogen Idec (NASDAQ:BIIB) do we? FYI- RSI picked GME on 11/30/07 & 12/3/07, so maybe third charm is charm?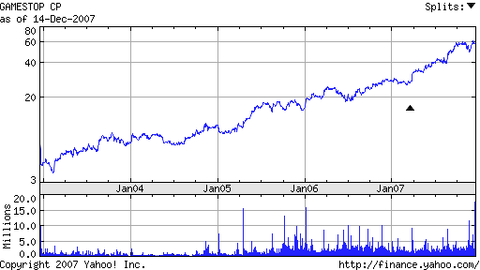 Disclosure: none