Income investors are usually easy creatures to understand in the financial jungle that we operate in. The name of the game for these people is often times summed up in two concepts, cash flow and asset preservation. All income investors want that competitive cash flow to finance their needs. Of course they also want to preserve their overall fund balance, as what good is a great cash flow if your net worth is being eroded away.
For year's income investor found that investments in the energy sector as an easy way to address their needs. These companies distributed great dividends, and being associated with gas and oil gave them the protection against asset decay. This method of investing was a clear winner, but like the saying goes all good things must come to an end. Although there are still several high quality companies left, more than a few top notch entities seem to have fallen from their perch. One of the major reasons seems to be the level of exposure to natural gas prices. With natural gas prices trading around $2.19 per 1,000 cubic feet on the New York Mercantile Exchange, it makes it a rather tough time financially for those companies who are so dependent of the stuff. Of course this is not the lowest price seen. In early April prices hit the lowest level in more than a decade at $1.907 per 1,000 cubic feet.
As a result of this, income investors in some instances, have taken on the role of speculator hoping for either a rebound in gas prices or a reinvention of the companies themselves. The companies in question have had their stock price increase dramatically in volatility. It is an interesting dynamic as I am also a speculator in the world of biotech investments. For example consider a small company like Galena Biopharma (NASDAQ:GALE) trying to bring their cancer drugs to the market. I would expect to see their stock price be volatile. In turn I would not expect similar movements in larger energy companies, but in that I am being prove wrong. Let's take a look and see what companies currently fall into this speculative category and how they might mitigate their circumstance.
Penn West (NYSE:PWE)
Penn West is one of the largest conventional oil and natural gas producers in Canada. Penn West operates a significant portfolio of opportunities with a dominant position in light oil in Canada. Based in Calgary, Alberta, Penn West operates throughout western Canada on a land base encompassing over six million acres. A look at PWE's stock chart over the last two year shows quite a wide ride.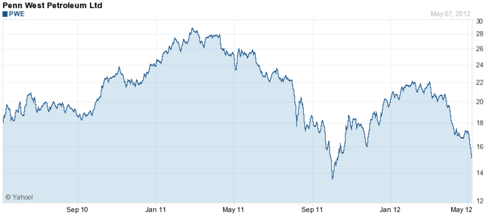 So while there are lots of issues that might be highlighted, one major concern is PWE's exposure to natural gas. PWE states that despite the increases in demand in the industrial and power generation sectors, North American natural gas markets continue to be over-supplied. It also seems that the drilling activities in liquids-rich shale gas plays are still going at a strong pace, which results in increasing natural gas production despite weak natural gas pricing. To add to this, the 2011 winter was rather mild which also increased the supply to record levels of inventory.
Some other concerns with PWE was that certain Western Canadian gas streams are drier than many of the U.S. shale gas plays, thus price realizations are lower due to lower liquids content. Also the longer distance to end markets means that Western Canadian gas producers incur higher transportation costs. Of course none of this is good news for PWE. Penn West's average natural gas price for 2011 was $3.78 per mcf. Looking at 2012 we see that Penn West currently has 50,000 mcf per day of natural gas production hedged for 2012 at an average price of $4.30 per mcf. The issue is not hard to spot as prices are currently trading under this hedge and time is running out.
PWE knows that a shift must take place into the oil side of the house because that is where the money is. Here is where the speculation for many income investors comes into play. With new technologies and a well-disciplined capital spending plan, can PWE make the transition and protect their financial position and shareholder distribution? This is the question that keeps investors on edge. In 2011, crude oil prices averaged US$95.14 per barrel compared to US$79.55 in 2010. PWE, like many other Canadian producers, experienced delays delivering their production to market due to increasing supply and pipeline interruptions. In 2012 the transportation issues continued due to increased repair and maintenance programs and reduced capacity on some pipelines. As a result many companies have started the use of rail transportation but once again this adds more cost to the mix.
PWE's average crude oil price for 2011 was $83.22 per barrel. Currently Penn West has 60,000 barrels per day of its 2012 crude oil production hedged between US$85.53 and US$101.16 per barrel and 41,000 barrels per day of its forecast 2013 production hedged between US$93.57 and US$107.91 per barrel. Also PWE's 2012 capital spending guidance is estimated to be $1.3 - $1.4 billion and 85% of the capital is to be spent on the four main light oil development projects.
So the race is on. Can PWE make its transition deeper into the oil and liquid side of the house in time? Will natural gas prices rebound and provide that cushion that PWE needs? Will the distribution that is done on a quarterly basis have to be reduced? Obviously there are lots of questions with no definitive answer as of yet. This can easily explain the more recent volatility that investor have faced. Looking at the figures for 2011 we see the funds flow increased 30% to $1,537 million compared to $1,185 million in 2010. This increase was from higher revenues as a result of higher liquids production and stronger crude oil prices. The net income was $638 million in 2011 compared to $1,110 million in 2010. The prior year figures did include a $572 million after-tax gain on the formation of the Peace River Oil Partnership and a $368 million gain on the formation of the Cordova Joint Venture. The annual 2011 production averaged 163,094 boe per day and the 2012 estimates are said to be 168,500 - 172,500 boe per day (65% liquids).
Turning our attention to the latest filing we see the following. The average production in the first quarter of 2012 was 167,420 boe, compared to 168,801 boe per day for the fourth quarter of 2011. First quarter average liquids production was in excess of 107,000 boe per day, of which approximately 90 percent was oil. The capital expenditures for the first quarter of 2012, including net property dispositions, totaled $338 million compared to $436 million for the first quarter of 2011. It seems the capital guidance for 2012 remains $1.3 billion to $1.4 billion, net of acquisition and disposition activity in the first quarter of 2012.
Funds flow was $337 million in the first quarter of 2012 compared to $356 million reported in the first quarter of 2011 primarily due to lower natural gas prices. The net income for the first quarter of 2012 was $59 million. Finally, the proceeds on net property dispositions in the first quarter of 2012 were $322 million.
Speculators in PWE might just get that reward they are looking for. As energy prices are always volatile, it will be very interesting to see how well PWE can execute their plan and once again become a more stable income play.
Enerplus Corporation (NYSE:ERF)
Another popular choice in the past for income investors was ERF. Enerplus Corporation, together with subsidiaries, engages in the exploration and development of crude oil and natural gas in United States and Canada. As of December 31, 2011 it had 322 MMBOE of proved plus probable reserves. The company also held a portfolio of approximately 380,000 net acres of land. Looking at the companies two year stock chart though is not a pretty picture.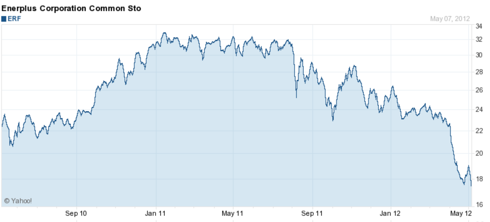 The question is what made this stock so desirable. The answer is the dividend and distributions that the company has paid out. Since inception ERF has paid $91.89 per share and that is over $6 billion in cumulative dividends. So needless to say ERF has been an income investors dream in the past, but now that dream is not as friendly as it once was. Once again low gas prices are making it very challenging for ERF. Natural gas production runs at about 50% of total production, and needless to say that gas production is flat. With prices as low as they are, no natural gas price hedges are in place at this time making the cash flow somewhat volatile as the prices have continued to erode.
Much like PWE above, ERF knows that they must concentrate their assets on the oil and liquids to survive. To make this critical change over ERF has crude oil hedge protection on 62% of their net production in 2012 at an average price of US$96.22/bbl, and 22% of their net production in 2013 at an average price of US$102.97/bbl. On top of this the company has an $800 million capital spending plan, but that is where the problems start to manifest themselves.
The $800 million plan is pretty large and ambitious. Roughly 70% of the plan is weighted to crude oil and the liquid rich gas plays. About 24% is going to be directed to the Marcellus dry gas, principally to retain leases.
The problem, and where income investors have turned into quasi speculators, is that the 2012 funds flow is estimated to be approximately $650 million. That number should start to raise lots of red flags and set off warning bells. With funds flow of $650 million, capital spending of $800 million and dividends of $425 million, the cash shortfall in 2012 would be approximately $630 million. The company has stated that in February they had an equity issue of $331 million and also introduction a stock dividend program that will help moderate the cash shortfall. This might help, but it will not completely address this shortfall. In response the company also has agreed to complete the following steps:
• Monetize equity portfolio
• Sale or JV of undeveloped land
• Extend credit capacity through term debt markets
• Moderate capital spending and accept lower growth targets
Anyway one looks at it, ERF is not as safe as it once was for income investors. The dividend is no longer as dependable as it once was. It is easy to see how any income investor still long shares could now easily be viewed as more of a speculator.
Pengrowth Energy Corporation (NYSE:PGH)
Moving on to the next company, we find PGH. Pengrowth Energy Corporation engages in the acquisition, exploration, development, and production of oil and natural gas reserves in the Western Canadian Sedimentary Basin. It primarily explores for crude oil, natural gas, and natural gas liquids in the provinces of Alberta, British Columbia, Saskatchewan, and Nova Scotia. PGH was once another company that conservative income investors could constantly count on for that steady stream of income.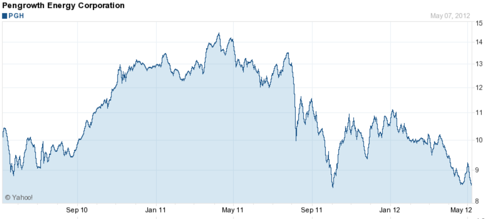 If one were to step back and take a look, PGH is like a much smaller version of PWE. The production profile is evenly balanced between crude oil and liquids with a reserve life of over 10 years on a proved plus probable basis. PGH has a substantial inventory of current well locations and an undeveloped land base of approximately 960,000 net acres, which is approximately 41 percent of their total net lands. As of December 31, 2010, Pengrowth's reserves on a proved plus probable basis were approximately 318 million barrels of oil equivalent.
Unfortunately PGH is also sharing the same issues that are facing PWE. The current production mix is actually 50% liquids and 50% gas, and the gas part of the equation is hurting PGH as well. The funds flow from operating activities during the first quarter was approximately $114 million when compared to $147 million in the first quarter of 2011 and $171 million during the fourth quarter 2011. The declines was said to be primarily attributable to weakness in realized natural gas prices, as well as a decline in realized crude oil prices in the first quarter of 2012. Focusing on the oil side of the equation we find that pipeline capacity constraints into major refining hubs in the United States and the growing Bakken light oil production in North Dakota resulted in a substantial discount for Canadian crude oil.
In the first quarter Pengrowth's total capital spending, excluding acquisitions, was $153.7 million versus $140.7 million in the first quarter of 2011 and $142.1 million in the fourth quarter of 2011. PGH, much like ERF and PWE, knows that survival means a shift into the oil side of the business and this cost money. What is interesting though is that PGH has decided to take a little different approach as well. In a big step the company decided to enter into an arrangement that provided for the strategic combination with NAL Energy Corporation. Under the terms of the arrangement, NAL shareholders would receive 0.86 of a Pengrowth share for each NAL share held.
This was an interesting concept strategy. PGH has the idea that the expanded asset base of the conventional and unconventional opportunities will be over 100,000 boe per day of current production and 434 million boe of proved plus probable reserves if both Pengrowth and NAL's year-end 2011 reserves are used. This should represent an approximate 12 year reserve life index. Prior to the combination PGH has reported total production during the first quarter of 75,618 boe per day, which is a three percent increase from first quarter 2011 production of 73,634 boe per day.
So once again the question is if PGH can achieve their goal and keep their heads above water. It will be interesting to see if the combination with NAL plus the push to the oil side of the house will be enough to guarantee future success. Until that time there will definitely be a certain level of risk that must be addressed while all the pieces of the equation come into play.
Pembina Pipeline (NYSE:PBA)
To take a look at the first three names and their graphs, it is easy to see the volatility and risk in being an owner. Our last name though is a unique entity that brings its own set of challenges to the table. Pembina (PBA) become a publicly traded company in 1997 and traded on the Canadian exchanges for years. The company is a well known player in the energy transportation sector, and income investors have been following PBA for years. The company has owned and operated crude oil and NGL pipelines which form a 7,500 kilometer network that extends across much of Alberta and British Columbia. The pipelines transport approximately half of Alberta's conventional crude oil production and about 20% of the NGL produced in western Canada.
At this point many will argue that PBA really does not fall into the same category as the other names above. At first glance I would agree as pipeline companies do not have the same exposure to the rapidly changing prices in the commodities they transport. They are usually paid a set rate no matter what the price may be. If this was PBA's complete business plan then this would definitely take them out of the speculation arena, but recent events have changed all that.
In a major shakeup for the company, PBA decided to be listed and trade the New York Stock Exchange. If that was not enough, the company also completed an acquisition of Provident Energy. Pembina acquired all of the issued and outstanding common shares of Provident in a transaction valued at $3.8 billion. In the final transaction, Provident shareholders received 0.425 of a Pembina share for each Provident share. As a result of the acquisition, Pembina has agreed to take on all of the rights and obligations of Provident. Most notable is the 5.75% convertible unsecured subordinated debentures maturing Dec. 31, 2017, and the 5.75% convertible unsecured subordinated debentures maturing Dec. 31, 2018.
This is a major move for PBA, but the question is why? The company stated that the transaction is expected to provide Pembina shareholders with an increase in cash flow per share, which will increase dividends and reduce the payout ratio. Also PBA has stated that they believe that the combination of the two entities will make a complete value chain. This chain is defined as a highly integrated suite of services being offered to customers through the combination of Pembina's liquids transportation, gas services, and midstream and marketing segments and Provident's capabilities in NGL extraction, fractionation, storage, transportation and logistics. This will permit both entities to have a diversification of business plus it will strengthen the value proposition for the shareholders and customers.
The real question is if it will work. Pembina thinks so and is going to increase its monthly dividend rate by 3.8%, from $0.13 per share per month to $0.135 per share per month. At first glance that does not seem like much, but it does show that management is confident in the changes. So PBA does now have some risks in play and therefore could be considered a bit speculative as the company reinvents itself.
In conclusion, it will be interesting to see if these companies can withstand the storm they find themselves. As each tries to employee their specific strategies, it will prove very interesting to see if they can keep their heads and balance sheets above water. Until such time speculation will be the name of the game.