Sterlite Industries (SLT) engages in the production of copper products in India. It also engages in the mining of bauxite and the production of aluminum products as well as the mining of zinc and the production of zinc ingots. It's also involved in Gold trading and the paper business.
It was formerly a subsidiary of Vedanta Resourdes, a London based diversified metal and mining company. The company recently entered the commercial energy generation business and is in the process of setting up a 2,400MW independent power plant through its wholly owned subsidiary, Sterlite Energy Limited.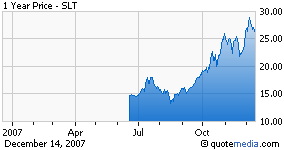 I can't think of a better situated, low priced stock that will benefit more from the booming Indian economy. Infrastructure demand will be on the forefront of this growth and cosequently, everything the company produces or will produce, i.e electrical energy.
On top of it all, due to its recent IPO in the United States, it has filled its coffers with cash. Since the IPO the price of the company is up approximately 75%. Its highest closing price was $28.87 reached on December 6. Presently, SLT is trading in the 26 area and seemingly unaffected by the market turbulence and recent selloffs.
A buy between $24 and $26 is a bargain.
Disclosure: none