As the economic expansion in China marches on, new beneficiaries are being uncovered and opportunities to invest in the growth have become more diverse. The Chinese banking system has grown quite rapidly as evidenced by the 17% increase in total assets held by Chinese banks in 2006. That number now comes in at over $5 trillion and 2007 looks to compound that growth with another eye-popping number.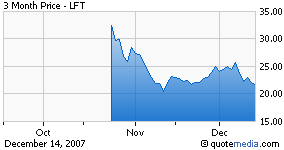 The China banking system is roughly divided into 3 different categories. The largest portion is made up of the four state owned national banks:
Industrial and Commercial Bank of China [ICBC]
Bank of China
Agricultural Bank of China
China Construction Bank
The "big four" make up over half of the industry's assets and are primarily controlled by the Chinese government. The next category are National commercial banks which are partly owned by local governments. There are 12 of these institutions and they make up 12% of the banking assets. Finally there are city and rural commercial banks which are very fragmented and are only allowed to operate locally within the geographic area of their charter.
Longtop Financial (NYSE:LFT) is a technology company that primarily provides software to the banking industry in China. While it has some ancillary services and generates some revenue servicing ATM's, the primary business is consulting with banks to develop their IT infrastructure. The company operates in a sweet spot of the market right now as the banking growth has far outpaced its technology spend, and many financial institutions are finding it necessary and critical that they update and properly manage their technology backbone.
While Longtop is ranked number three as far as IT providers to Chinese banks, it is the largest provider that is actually based in China which should give the company a competitive advantage. Not only does management have a better understanding of the culture and better relationships with key industry personnel, but LFT should also benefit from the fact that regulators look more positively on Chinese companies than on foreign operators in the area.
LFT has a large concentration of its revenue with its two primary customers (Agricultural Bank of China and China Construction Bank). In 2006, the two clients made up 75% of software development revenue which is a bit concerning. However, during the last earnings release, management noted that both of these clients grew in revenue, but that new client sales growth was so strong that revenue from these 2 clients now only accounts for 44% of revenue year to date. The company should be proud of the fact that they can count three of the top four banking institutions as their clients and that credibility should continue to help the sales team land new clients as LFT's reputation is stellar.
The IPO transaction occurred in late October and the underwriters were able to price the stock above the expected range which is often a very good sign of demand. The company raised $143 million and had a good bit of flexibility as to how it would spend the capital. Since there is currently no long-term debt to speak of and the balance sheet shows ample cash, management has a lot of flexibility in growing the company. Since the technology industry is so fragmented, it is likely that LFT will purchase some of its competitors to pick up on niche products offered and expand their geographic footprint. These acquisitions would likely be accretive as many transactions in the industry have been done at low multiples. LFT enjoys a premium valuation due to its growth prospects and the quality of its financial position.
The tax situation in China may be somewhat of an overhang in the stock. Up to this point the stock has been taxed at a low rate, but sweeping changes will cause most corporations to be charged 25% as a flat rate. There are exceptions for "qualifying high technology enterprises" which LFT may have an outside chance of being considered for. But most analysts expect the tax rate to be higher which will cut into earnings somewhat.
Regardless of tax situations, it appears Longtop is situated to benefit from increasing expansion in the industry. Its local ties will most likely keep it in the good graces of an evolving government and its ties to state owned banks solidify its competitive position.
Disclosure: Author does not have a position in LFT