Avita Medical (OTCQX:AVMXF) has come up with a revolutionary answer to painful skin grafts that are commonly used to treat patients with burns, chronic wounds and scars: spray-on skin.
"Our ReCell Spray-On Skin product represents a true paradigm shift, because we can harness a patient's own skin to regenerate and expedite wound healing," Business Development Officer, Stella Sung, says in an interview with BioTuesdays.com. "And we've packaged it into an easy-to-use bedside kit for the clinician."
ReCell has obtained regulatory clearance in Europe, Australia and most recently, in China. The Australian-based company generated sales, mainly in Europe and Australia, of $4.54 million and gross profit of $3.5 million for the fiscal year ended June 30, 2011. Over 4,500 patients have been successfully treated with ReCell, with the kit selling for about €1,250 in Europe.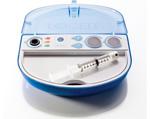 ReCell
"We are currently focused on achieving adoption with key opinion leaders in order to get a footprint in select markets," Dr. Sung says, adding that ReCell has already been embraced by key influential surgeons and Centers of Excellence in the U.K., France and Germany. "We are taking a rifle approach rather than a shotgun to commercializing the product."
In the U.S., Avita is conducting a pivotal trial with ReCell for the treatment of partial-thickness burns. It also plans to begin a pilot study in scar remodeling in several weeks, with a pivotal trial targeted to start in the first quarter of 2013. Feasibility studies treating chronic wounds with ReCell are likely to begin in the second half this year.
The U.S. Department of Defense is funding the burn and scar studies through two grants of $1.85 million and $1.8 million, respectively. "We are running the studies with the help of DOD reimbursements," Dr. Sung acknowledges. "This is the best of all worlds; having DOD grants really validates the potential importance of ReCell in treating burns, scars and other conditions incurred from combat."
The pivotal burn study has enrolled more than two-thirds of the required 96 patients, with enrollment expected to be completed in December 2012. Dr. Sung says that if all goes well, the company hopes to submit a marketing application to the FDA in mid-2013 and could launch ReCell by the end of 2013.
"ReCell is a platform technology with immense market potential in regenerative medicine," she says. Citing a wide range of immediate applications, she says ReCell has the ability to treat chronic wounds such as: diabetic, venous, arterial or pressure ulcers; burns, scalds and donor sites associated with skin grafts; scar revisions to improve color, texture and function; pigmentation disorders such as vitiligo; epidermal defects such as naevi, acne and discolorations; and prophylactic aesthetic rejuvenation.
Facial Burn
Surgical Scar
Acne Scarring
"This can represent a fundamental change to the practice of medicine," she declares.
Dr. Sung explains that the preparation of the ReCell suspension begins with a clinician taking a postage-sized skin biopsy of about 2 cm by 2 cm by 0.2 cm. The skin sample is then incubated in a proprietary enzyme cocktail for about 20 minutes.
The biopsy is removed from the incubator and mechanically agitated to separate the cells, which are rinsed and filtered. The suspension is then sprayed on a wound and covered with a dressing-all within approximately 30-to-40 minutes from taking the biopsy and all performed at the point of care. After five-to-seven days, new skin starts to grow and the dressing falls off naturally.
"With a postage-sized skin sample, we can cover a wound or burn the size of an 8-inch by 11-inch sheet of paper, which is an 80-fold amplification," she contends. "The result of this enhanced and accelerated healing is healthy, normal new skin, with a full complement of constituent cell types, including melanocytes, keratinocytes, fibroblasts and basal cells in the proper proportion."
ReCell: Using the Body's Natural Regenerative Capability to Enhance and Accelerate Healing
On the other hand, burns now treated with skin grafts often require patients to be hospitalized for over a week in order to assess healing before a grafting decision can be made. The skin graft, which is typically large and nearly the size of the wound, is either stapled or glued on the actual wound, and the dressing is changed daily, often resulting in pain and discomfort.
"ReCell addresses the needs of all stakeholders," Dr. Sung suggests. For patients, it can provide improved outcomes; for surgeons and clinicians, it is easy, fast and effective, with reduced morbidity; and for the health care system, it can reduce patient care costs, she adds.
While wounds normally heal from the outer edges inwards, Dr. Sung says ReCell effectively reprograms the body's healing process. "The wound bed is seeded with many of what we call, islets of regenerative clusters, and the cells in each cluster proliferate, differentiate and heal outwards from a lot of different places," she explains.
Avita has nine patents in the U.S., Australia, Japan and the EU, with seven applications pending. The IP relates to dissociation of epithelial tissue, preparation of a stem-cell-rich suspension and the immediate spray-on application. The company also has more than 15 peer-reviewed publications related to the technology. "We haven't come across a company that does anything similar," she adds.
Beyond burns, Dr. Sung says the company is particularly interested in healing chronic lower limb ulcers. "Venous, pressure and diabetic ulcers are a significant health problem and a major healthcare burden in OECD countries, afflicting 1.5% of the general population and over 3% of people over the age of 70."
Moreover, current treatments have a low success rate, and approximately 70% of lower limb ulcers remain unresolved after 20 weeks of treatment, she adds.
Avita has presented preliminary results from a marketing study in Europe to treat lower limb ulcers with ReCell in 20 patients, aged 58 to 79, which were treated through eight weeks. Prior to treatment with ReCell, patients had open ulcers for more than six weeks that were non-responsive to standard treatments such as compression and grafts.
ReCell in the Treatment of Leg Ulcers
Dr. Sung says more than 60% of patients were healed within five weeks. In addition, almost all patients reported an immediate reduction in pain within 24 hours of treatment with ReCell, "which is huge," she says. "This is an area we plan to focus on after we submit our application to the FDA on the burn indication."
With its initial focus on wound care, the company figures there is a total addressable market potential for 12 million lower limb ulcer procedures and 650,000 burns, requiring medical intervention, annually. Dr. Sung says the company plans to follow wound care with market introductions in scar remodeling and other reconstructive procedures and, finally, aesthetics.
Avita currently uses a model of direct sales in Germany, France, England and Australia; distributors in Turkey, Russia and China; and joint ventures in Italy and the Middle East.
Dr. Sung says the company will likely use a marketing partner to distribute ReCell in the U.S. "We've been approached by several parties, but any deal is a matter of timing."
Disclosure: I have no positions in any stocks mentioned, and no plans to initiate any positions within the next 72 hours.