Last week American Dairy (NYSE:ADY) dismissed its auditor, Murrell Hall McIntosh, and announced it has been under informal SEC investigation since Q3 2007. The SEC has apparently been probing Murrell Hall and its Hong Kong accountant Henny Wee as far back as 2005 about dubious ties to consultants and investors that would compromise Wee's independent auditing of the Chinese maker of milk and soy powder for infant formula.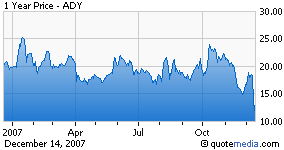 ADY will now have to restate earnings from 2004-2006, during which the company's earnings grew 143% and revenues 228%. ADY also scrapped its rosy annual sales and operating income guidance. This follows a November restatement of preliminary Q3 results: Gross profits were down to $19 million from an originally projected $24.6M. Distribution expenses were down 17%, while capital expenditures doubled to $25M. ADY chalks it up to cyclicality.
Citadel Investment Group's $80M loan to ADY last summer was to pay off debt and expand in China's bigger cities as birth rates rise, provided it found a new auditor. However, Barron's says deeper-pocketed rivals like Nestle and Wyeth (WYE) will likely prevail in big cities, and ADY's regulatory issues will make it hard to raise funds elsewhere. ADY shares fell 12% last week to $14. Barron's thinks they're likely to fall further.
Additional Reading: 100 Stocks to Offset Rising Food Prices • The Outlook For American Dairy: Get Milk
Seeking Alpha's news briefs are combined into a pre-market summary called Wall Street Breakfast. Get Wall Street Breakfast by email -- it's free and takes only seconds to sign up.