By Larry Gellar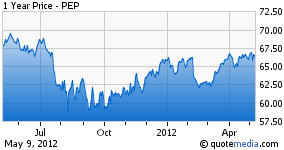 PepsiCo (NYSE:PEP) has been making headlines lately, and it appears that the family of the inventor of Pepsi-Cola is suing the beverage giant. Indeed, Richard Ritchie's daughter and son are attempting to prevent PepsiCo from releasing documents surrounding the invention of Pepsi-Cola. Specifically, this release would interfere with the heirs' ability to market or sell the fascinating story. In fact, according to Joan Ritchie Silleck and Robert Ritchie, PepsiCo may have already committed alleged acts that would require damages to be paid. PepsiCo does not comment on lawsuits, but it seems that this situation will only be a minor distraction for the company. With that in mind, I'm still bullish on PepsiCo, and this is an especially good stock for dividend investors.
The statistics for PepsiCo's stock are in great shape. Its price to earnings ratio (16.54), price to book ratio (5.05) and price to sales ratio (1.57) are about at the middle of the pack compared to the Coca-Cola Company (NYSE:KO), Dr Pepper Snapple (NYSE:DPS), Coca-Cola Enterprises (NYSE:CCE) and Monster Beverage (NASDAQ:MNST). For instance, the price to earnings ratios for those companies are 20.53, 14.60, 12.48 and 44.36, respectively. PepsiCo's margins are decent too - those numbers are 9.72% net profit, 52.49% gross, 18.41% EBITD, and 14.48% operating. Coca-Cola and Dr Pepper Snapple actually do have better numbers in those categories, but I would not consider the difference to be very significant.
In some ways, it may not matter which beverage company you choose because analysts are predicting a rebound for the sector as a whole. One such analyst is Morgan Stanley Dara Mohsenian, who has upgraded his rating on the industry from "in-line" to "attractive." Additionally, Mr. Mohsenian upgraded his rating on PepsiCo from "equal-weight" to "overweight," noting that the company may benefit from its current fork in the road. PepsiCo is embarking on a new policy of higher marketing spending, which could result in strong performance or backfire. But if it does backfire, Mr. Mohsenian believes that management and strategy changes will take place that improve value for shareholders. For instance, one such change would be splitting up its beverage and Frito-Lay businesses. These segments have lower costs when combined but could ultimately be more valuable when separate.
PepsiCo, along with the rest of the beverage industry, has also been fighting against campaigns that attempt to link obesity with soda and other sugary drinks. While many states, cities and health organizations have been running these campaigns, the American Beverage Association (an important lobbying group for the beverage industry) is now starting its own "Delivering Choices" campaign. I have a feeling that public opinion will remain on the side of PepsiCo on this issue because the campaign brings up a great point - consumers can often choose diet and zero-calorie versions of the drinks they enjoy. This effort on the part of the American Beverage Association should help fend off future attacks and may even serve to promote PepsiCo's business.
Speaking of promotion, PepsiCo is also embarking on an interesting new campaign that will use a cartoon version of Michael Jackson on its cans. I admit this is a risky move, but I think it could improve PepsiCo's sales slightly. At the end of the day, I suspect that consumers have more positive feelings about Michael Jackson than negative ones, and these feel-good emotions are crucial for consumers to prefer Pepsi to Coca-Cola and other popular drinks. PepsiCo is also planning a Michael Jackson commercial in China as well as a Nicki Minaj commercial in the United States. These moves too should help boost PepsiCo's market share.
Even before signing deals with Michael Jackson's estate and Nicki Minaj, PepsiCo was doing pretty well. The company is increasing its dividend by 4.4% on an annual basis, and this comes after reporting solid first-quarter results. Revenue increased by 4.1%, and Latin America Foods did particularly well, with that unit seeing a revenue increase of 11%. On the other hand, net income fell 1.4%, but much of that is due to rising costs outside of PepsiCo's control. Additionally, the company is planning on cutting 8,700 jobs this year, so that should help curb expenses going forward.
Specific plans announced at the shareholder/analyst call were also encouraging, and CEO Indra Nooyi outlined five steps the company is taking to strengthen itself. The first of these is the increase in marketing that I discussed earlier, and the global Live For Now campaign is particularly exciting. Next, PepsiCo wants to double the revenue it gets from its new products. This is certainly a bold projection, but the newest products such as Pepsi NEXT and Doritos Locos Tacos should be able to fulfill that goal in my opinion. Pepsi NEXT is important because it has significantly less sugar than traditional Pepsi and Doritos Locos Tacos will benefit from being sold by Taco Bell (owned by Yum Brands (NYSE:YUM). PepsiCo has also been working to get its products sold in more locations such as Family Dollar (NYSE:FDO) and Papa John's (NASDAQ:PZZA). This is crucial because PepsiCo relies on these partners to get product to its consumers. Finally, the fourth and fifth steps outlined by Ms. Nooyi mostly involved being more wise about capital spending and operating expenses, and it will be interesting to see how that pans out going forward.
With its dividend yield currently at 3.1%, PepsiCo is clearly a stock that investors should consider buying. Net income for the first quarter was over $1.1 billion, and PepsiCo has a number of things going for it that should keep these profits coming. Most importantly, I expect that the company will benefit from its increased marketing efforts and diverse product line. And as mentioned by Morgan Stanley analyst Dara Mohsenian, the company has a number of strategic options it can employ if things don't turn out as planned.
Disclosure: I have no positions in any stocks mentioned, and no plans to initiate any positions within the next 72 hours.