If it had been a smooth ride to 3.5%, it might not be so frustrating. Yet we've seen 3 corrections of more than 8% in 2007. (And that's assuming that November/December's fall from grace isn't a retest of the Thanksgiving lows!)
Here's another fact that'll make you ponder: Each pullback in the S&P 500 in 2007 has been more pronounced than the one that preceded it. The March selloff fell roughly 8%. July/August dropped 9.5% and November plunged 10%+.
Two steps forward... two-and-a-quarter-steps back?
The S&P 500 closed at 1467.95 on Friday, exactly 3.5% higher than it began the year (1418.30). It would appear that the bear market in financials vis-a-vis the S&P Select Financials SPDR (XLF) and the 13% correction in Consumer Discretionary (XLY) are extraordinary obstacles for the market at large.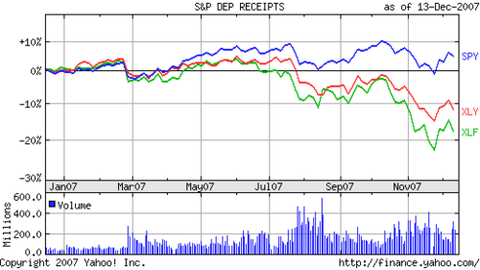 So what reason would anyone have to be optimistic? Isn't this credit crisis going to take down the U.S.? And won't the world follow our lead... right into the recessionary doldrums?
Maybe not. Investor sentiment is so gloomy, the 60-day put-call ratio remains very high at 1.00. And as any good contrarian will tell you, the high level of pessimism is an extremely positive sign for stocks.
(What did Warren say? "I try to be a little fearful when everyone else is greedy. I try to be a little greedy when everyone else is fearful.")
Of course, there are plenty of other reasons to deviate from the gloom-bearers. Moderate job growth, low unemployment, a Fed that is cutting rates (even if that is slower than some would like), a stabilizing U.S. dollar and a reasonably attractive current P/E ratio for the S&P 500 of 15.
Clearly, there's a combination of bad and good news out there -- news that has kept the broader markets from charting a clear direction. It follows that one will not be able to pad his/her portfolio with easy index gains in the near-term.
So what can you do? The only thing that has ever worked in times of turbulence and uncertainty... diversify. Use different asset classes with little correlation, different sectors of the economy as well as different regions of the globe.
Take a look at the Vanguard All World excluding the U.S. (VEU) for worldwide exposure. Consider a total commodity index like the Dow Jones AIG Commodity Index (DJP). Tap recession-proof industries like Global Consumer Staples (KXI).
And one of my favorite diversifiers: foreign fixed income. You have two solid choices in the exchange-traded universe. First, the SPDR Lehman International Treasury Bond ETF (BWX). It yields 4.35%, much like owning intermediate U.S. treasuries might yield. However, if the developed world flocks to safety, and/or if the dollar were to fall further against the Euro, you'd get capital appreciation as well.
Second, the Emerging Markets Sovereign Debt Portfolio (PCY) tracks an emerging bond index with a phenomenal back-tested track record of 15% since 1999. The yield is north of 8% due to the high country risk of default. (But hey, right now, which seems scarier, an emerging country defaulting on its obligation or a mortgage-backed investment going belly-up?)