Avian Securities is out with a somewhat out-of-consensus call saying companies relying on capex spending by the hard disk industry have struggled over the past year as production caught up to a surge in capex that began in '04 and continued into early '07. They see this trend reversing as early as mid 2008.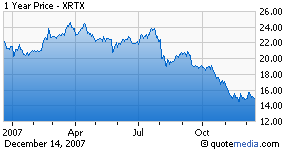 With the drive industry hitting capacity limitations in the back half of 2007, additional production will have to come on-line in CQ2'08/CQ3'08 to support next year's build. The firm sees Xyratex (NASDAQ:XRTX) as best positioned to benefit from this shift in spending, contributing to an already compelling systems story driven by a rebound at Network Appliance as well as significant growth at Xyratex's emerging customers.

Xyratex results have suffered over the past year from Seagate's lower spend (historically Seagate has represented >10% of Xyratex's revenues) as old Maxtor equipment has been reutilized. This situation looks set to reverse in mid 2008 as the percentage of Seagate capex sales lifts back towards the 8% - 9% range where Seagate had been averaging since FY'02. With WD (Xyratex's other large drive customer) continuing to show steady growth in capex, they see the potential for our Xyratex numbers (which currently assume limited contribution from Xyratex's HDD related capital equipment business through CY 2008) to lift meaningfully.
The firm believes the grow prospects for Xyratex's systems business remain excellent. While Netapp is still showing 20% Y/Y growth, Xyratex's smaller customers (~20% of sales) are experiencing significantly higher growth levels driven by the penetration of networked storage into smaller accounts.
As such, they see Xyratex potentially benefiting from two major trends in 2008, one secular and one cyclical, both of which could push Street numbers higher. With the stock trading at under 10x next year's consensus earnings estimates, Avian is reiterating their positive outlook for the name.
Notablecalls:
XRTX has been a controversial HDD Equipment name for quite some time. The stock has been called cheap for as long as I remember. Avian's call is out-of-consensus one and may attract some interest in XRTX over the next couple of days.