Institutional investment capital is rapidly moving into solar technology companies, specifically those that utilize compound semiconductor materials rather than silicon for their arrays. Most notably, First Solar (Nasdaq: FSLR) and, very recently, Emcore (Nasdaq: EMKR) have seen rapid price appreciation. In particular, EMKR recently announced a large contract to provide Canada with solar arrays made with a material which contains gallium arsenide GaAs and germanium Ge. In the past 12 months, the cost of 4N gallium metal has risen from about $350 per kg to $680 per kg. Additionally, germanium metal prices have risen substantially to $1000-$1200 per kg this year.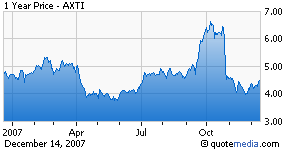 We believe that AXT Inc. (Nasdaq: AXTI) is in an excellent position to rise on this solar cell materials supply/cost situation. AXT Inc. runs one of the largest III-V semiconductor substrate manufacturing facilities in the world located just 15 miles southeast of Beijing, China. The key is that AXT is the only substrate maker to have significant in-house capacity to supply "its own" internal requirements for arsenic, gallium and germanium and, in addition, to offer such raw materials as products to the merchant market. The company is forecasting an important uptrend in demand for these materials with the widespread adoption of solar technologies as was discussed in a recent article in Compound Semiconductor Magazine:
"Shortages in gallium raw material and an increasing interest in photovoltaics are illuminating the unique competitive advantage positioning that AXT is likely to benefit from over the next several years," said Phil Yin, the company's CEO. Guinness Atkinson Global Innovators fund writes, "The solar industry is growing at 35% a year currently, and we don't expect that to slow down..."
Disclosure: Author has a long position in AXTI