Cytori Therapeutics (NASDAQ:CYTX) is successfully implementing the early stages of a multifaceted strategy to make the hope, hype, and promise of stem/regenerative cell therapies and banking applications a commercial success for investors and a medical reality for patients. Over the weekend, the Company presented results at the San Antonio Breast Cancer Symposium which demonstrated the clinical utility of adult adipose (fat)-derived stem/regenerative cell therapy processed by the Celution System for breast reconstruction after partial mastectomy (due to breast cancer).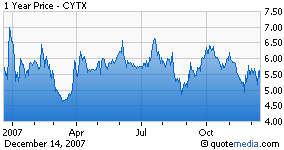 The procedure was safe with no immune response or rejection of fat tissue grafts, well tolerated, and the results demonstrated statistical significance for average breast tissue thickness after one month and at final follow-up evaluations. In this study, 79% of women reported satisfaction with the results at an average follow-up period of about eight months. The Company also reported positive preclinical results in rodents demonstrating that adipose-derived stem and regenerative cells improved the long-term retention of fat grafts and had no effect on the promotion of tumor growth, representing a potential new approach in reconstructive surgery.
The positive results in breast reconstruction procedures presented over the weekend closely followed an announcement earlier last week of 510(k) regulatory clearance from the FDA for the Cytori Autologous Fat Transfer System. This system may be used to harvest, filter, and transfer a patient's own fat tissue from one part of the body to another at the point-of-care on a real-time basis during the same surgical procedure. The 510(k) clearance is in-line with the Company's strategy for regulatory approval in the US as a device-based strategy for individual components of the Celution System rather than the more expensive and time-consuming route of new drug applications for each therapeutic application of adipose-derived stem cells.
Based on the positive results achieved in breast reconstruction, Cytori plans to initiate the RESTORE II and VENUS post-marketing trials to support future reimbursement and marketing efforts as the Company prepares for an early 2008 commercial launch in Europe with expected pricing of about $2,500 per procedure. This launch is supported by EU approval (CE Mark) last month for the second generation Celution System with plans for a 2009 ramp-up in marketing activities and insurance reimbursement as the results of post-marketing breast reconstruction studies are reported and the joint venture with Olympus Corporation for commercial-scale manufacturing comes on-line at that time. Earlier last month, the Company also announced an investigator-led study in Japan to examine the effect of adipose-derived stem/regenerative cells in breast augmentation cosmetic procedures with a nine month follow-up period planned. The worldwide market for breast reconstruction and cosmetic procedures is estimated at over $500 million based on data from Allergan (NYSE:AGN) and Mentor (MNT) with expected annual growth of 10% through 2010.
Another near-term commercial launch is anticipated in early 2008 for the Cytori's StemSource Cell Banking in Japan in a 50:50 revenue-sharing collaboration with Green Hospital Supply. Hospitals are expected to charge around $4,000 per banking procedure while cell banking consumables will be priced around $2,500 per procedure and cell bank installations should command about $2 million per placement. The Japanese market is seen as an ideal commercial opportunity for stem cell banking with a health-conscious, aging population in a high-resource country. As of 3Q07 operating results, Cytori guided for adequate liquidity for about one year until 3Q08. However, expected non-dilutive cash infusions should extend this estimate by the Company until sustained profitability is reached in 2010. The sale of the Company's legacy MacroPore Biosurgery business, the Japan Thin Film product line, should occur by mid-2008 with an expected cash infusion of at least $15 – $20 million based on annualized sales over $100 million of Genzyme (GENZ) Biosurgery's related Sepra line of products (up 19% at $74.6 million for the first nine months of 2007). Pending MHLW regulatory approval in Japan for Thin Film would trigger a $0.25M payment and the recognition of $1.1M deferred revenues as income from Japanese partner Senko, but the unit will likely be sold before approval is obtained.
I have also modeled for an additional $15 – $20 million in non-dilutive cash infusions from multiple research collaborations through 2010. In early 2006, Olympus paid $1.5 million (non-refundable) for the exclusive right to collaborate with Cytori on a therapeutic area outside of cardiovascular disease to conduct market research and clinical studies over a 12 – 18 month period. I expect a $10 million upfront payment will be received as part of a licensing and development deal to be signed with Olympus and a pivotal trial will be initiated by mid-2008 for the treatment and repair of perianal fistulas using adipose-derived stem/regenerative cell therapies processed by the Celution System. Axcan (AXCA) believes the treatment of fistulas represents a $250 million market opportunity in the US alone, signing a $40 million exclusive licensing and development deal (including $10 million in upfront cash) in October with Cellerix of Spain for their adipose-derived stem cell treatment for this condition. Other areas for research collaborations include orthopedic/bone repair, spinal cord, and cosmetic applications of Cytori's Celution System as additional preclinical and clinical data validates these strategies.
Cytori plans to develop the significant longer-term market opportunity for cardiovascular and heart disease on its own, supported by development and product revenue over the next few years. Cardiovascular procedures are expected to be priced at about $10,000 per procedure, reflecting the more invasive, acute nature of these procedures. In the US alone, 1.2 million heart attacks occur each year and over 5 million people are estimated to have some form of chronic heart disease, representing a tremendous market opportunity for the Company. Key six-month data will be reported during 2008 for both the APOLLO (heart attacks) and PRECISE (chronic heart disease/ischemia) clinical trials in human subjects.
My financial model for Cytori includes an expected 2010 price range of $45 – $60 per share based on earning power of $1/share on product revenue of $80 million at that time. This valuation reflects a PE ratio of 45X – 60X for a PEG ratio of 1.5 based on sustainable 30% – 40% annual sales growth beyond 2010. Product revenue should ramp-up from initial 2008 levels of $14 million to $39 million in 2009 as post-marketing studies support wider adoption and reimbursement of the Company's disruptive technology in the medical community. The sale of non-core assets and development revenues should allow Cytori to reach sustained profitability in 2010 and provide the Company with sufficient non-dilutive sources of cash to maintain a low share count, which currently stands at just 24 million. At a market cap of just $125 million and share price around $5, Cytori represents a compelling long-term investment story as the Company embarks on the early stages of a multi-part strategy to make the hope, hype, and promise of stem cells a commercial success for investors and a medical reality for patients.
Disclosure: Author has a long position in CYTX