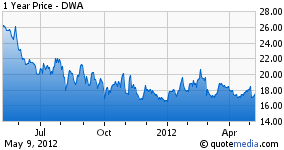 Last week, Dreamworks Animation (NASDAQ:DWA) reported earnings that beat analysts' targets, but still sent shares down in after hours trading.
For the first quarter, Dreamworks reported revenue of $136 million. Net income came in at $9 million for the quarter. Earnings per share were $0.11, which easily beat analysts' targeted $0.09.
In the first quarter, Dreamworks had no new releases on the big screen domestically. The company's results came from home video and international box office releases.
Puss in Boots contributed $74 million in the quarter, from home video and international box office results.
Kung Fu Panda 2 contributed $14 million from television rights.
Megamind contributed $5 million from international television rights and home video.
Shrek Forever After contributed $3 million from home video.
The company's library titles contributed $27 million.
The company's "Other" category contributed $13 million, mostly from the Shrek live musical in London, England.
Dreamworks Animation had $89 million in cash at the end of the quarter and remains debt free on its balance sheet.
The second quarter for Dreamworks will include the release of Madagascar 3 in the United States, and several other countries. Several analysts asked about the release schedule during the question and answer segment of the conference call. The big worry is that Dreamworks is delaying the release of Madagascar 3 in several European countries due to the 2012 London Summer Olympics. The movie will be released in England and Germany in the fourth quarter, which leads to worries of piracy. Here is how England and Germany performed for the previous two movies:
Madagascar - $339 million international box office, 64% of total box office
Germany - $42.6 million (No. 1 behind United States), England - $40.7 million (#2 behind U.S.)
Madagascar 2- $424 million international box office, 70% of total box office
Germany - $45.9 million (#1 behind U.S.), England - $35.5 million (#4 behind U.S.)
Dreamworks Animation will also release Rise of the Guardians on November 21st. The movie will have a more normalized release schedule internationally. An online trailer for the movie has been viewed 11 million times since its April 5th premiere. Rise of the Guardians will be an original movie that will hopefully turn into a series of films for the company. The movie marks the first of five movies in a row that are all originals. How to Train Your Dragon 2, with a release date of June 2014, will be the first new movie after Madagascar 3 with a built in audience from a previous release.
Dreamworks Animation was selected as one of my top 10 stocks for 2012. Shares started the year at $16.60 and are up 3.5% at the time of writing, on the year. The top three reasons I gave in that article for buying shares were:
New distribution deal
Licensing power
Shares at all time low
Dreamworks has listed Labor Day as a tentative deadline for a new distribution deal. The company has talked to a couple of companies and is also considering distributing on its own. Licensing power continues to be strong. The company announced a recent video game partnership with E3. A deal is already in place with Mattel's (NASDAQ:MAT) Fisher Price unit to produce toys for Madagascar 3 and Rise of the Guardians. Shares trade close to an all time low still and represent a great value play.
The company's lineup after 2012 includes:
The Croods - March 2013
Turbo - July 2013
Me and My Shadow - November 2013
Mr. Peabody and Sherman - March 2014
How to Train Your Dragon 2 - June 2014
My last article discussed the company's fourth quarter and the possibility of a strong 2012. The first quarter results were about where I expected them, with a slight earnings beat. In that article I recommended shares again, while they were trading at $18.46. I have a target price of $30 on the shares of Dreamworks Animation.
Disclosure: I have no positions in any stocks mentioned, and no plans to initiate any positions within the next 72 hours.