I display quite a bit of patience with most of my long-term investments. If I have put in the hard work to develop a solid understanding of a company and the spaces it runs in, I can set near-term weakness aside. In fact, I almost welcome weakness so that I may accumulate a greater number of shares.
In this article, I discuss a stock that has tried my patience. It requires a change of course, even if you're in for the long haul.
Ford (NYSE:F). Believe me, I wanted to Ford to do well. I still want Ford to do well. I had some skin in the game. I just sold to close several out-of-the-money F calls that had become almost worthless. There was no reason to sit around and wait any longer.
I got into the trades last year. They represent the end of my days going OTM on options, except on a select few high-flying momentum stocks. In one respect, the misguided moves on F paid off because I learned, yet again, one of the most difficult lessons for options traders and investors - do not go long OTM calls and puts.
Fellow Seeking Alpha contributor Bret Kenwell wrote an excellent article that helps summarize my view on Ford stock:
Is Ford the deal of a decade? No, Ford was the deal of the decade when shares traded at $1.01 in late 2008. I also won't say that it will five-fold in the next five to ten years. I will say that if one is investing for the next decade or so, Ford has a nice story, will grow over time, and has a small dividend to boot. That being said, I would expect shares to sputter at or below $10 for the next 6-9 months, perhaps longer, all pending on how the European situations effect the U.S. equity markets.
Investors who continue to call F a bargain and a value have fallen victim to the same psychological spell that hypnotizes and brainwashes Sirius XM (NASDAQ:SIRI) longs.
As the following five-year chart shows, both stocks came back from the dead and made many people who bought the bottom very wealthy. There's a tendency for this to trigger two types of reactions:
Longs who took a chance and won the lottery develop a sense of loyalty to the stock and pump it hard.
That pumping fuels the dream for late-to-the-party investors who expect the now-legendary meteoric rise they missed to repeat itself.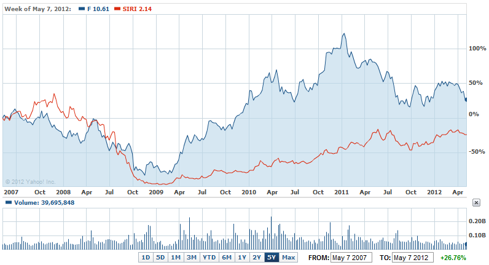 (Courtesy of Yahoo Finance)
Like Kenwell says, you would be lucky to see F turn around in 6-9 months. I am not sure if it will even happen inside the next five years.
We live in a society where the economic setup is clear and becoming more clear - there are the haves and the have nots. The have nots cannot afford a Ford and the haves would not be caught dead in one. That bodes well for companies on the low-end and on the high-end, but not ones in the middle.
In a nutshell, sell F and buy Tesla (NASDAQ:TSLA), a company perfectly positioned to super-serve upper-echelon customers. Ford needs volume that it simply will not get. Tesla does not sell cars on the basis of quantity. It offers the forthcoming Model S on a limited basis to buyers who do not have to ask how much it costs.
Tesla just missed on earnings, but is up after hours, likely because the Model S is ahead of schedule.
Disclosure: I have no positions in any stocks mentioned, and no plans to initiate any positions within the next 72 hours.