It's certainly buying season for those who are convinced that gold and select gold mining shares are going much, much higher. The bears are in control for now, and it will take a close above $1,650 to shift the upper hand to the bulls. For those who want momentum on their side, waiting for such a close may be advantageous - but if you're already convinced the market is going to go higher and are willing to hold your position for years, then buying at the lowest price possible is where it's at.
The chart below of gold (NYSEARCA:GLD) offers some perspective.
(Click to enlarge)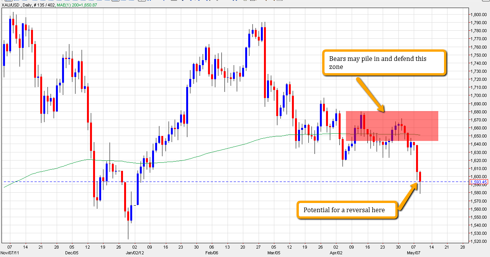 The recent sell-off in gold and gold shares has me eagerly accumulating, as a number of my recent articles on Seeking Alpha can attest. And the latest stock I've added to my portfolio is Kaminak Gold Corporation (OTCPK:KMKGF).
Here's the rationale:
1. Investing in natural resource exploration stocks is a lot like investing in real estate of any kind in that it's all about location. I've written before about how I've focused on investing in places like the Carlin Trend in Nevada for gold and the Athabasca Basin for uranium. Another place that I think warrants investing is in Canada's Yukon Territory. As gold prospector Shawn Ryan can attest, there are signs of extremely lucrative gold deposits that could turn into a gold rush could emerge there.
2. When one looks for companies to invest in in the Yukon, Kaminak quickly comes up - indeed, I think it is the most promising explorer there. Kaminak has 100% ownership of the Coffee Project - a 150,000 acre property in the Yukon Territory. Some drilling has been done, and the results are quite impressive. Ore grade is consistently well above 2 grams per ton, which I think will make gold mining very economically feasible. The image below, from Kaminak's investor presentation, illustrates.
(Click to enlarge)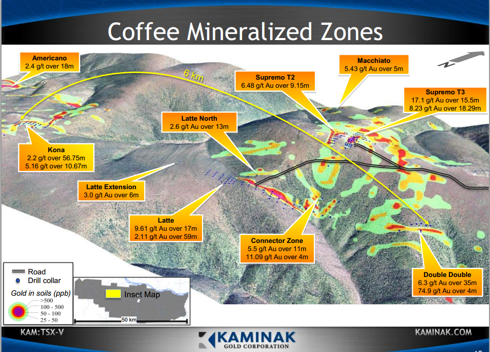 3. Kaminak has over $20 million in cash, no debt, and a book value of just over 59 million. With a current market cap of around $143 million, that leads to a price/book ratio of 2.4. I love to see price/book under 3, as well as companies with sufficient cash and no debt - so Kaminak is very appealing in this regard.
4. In terms of price, Kaminak has traded above $4.50 and is now trading at under $2 - I find this type of price action to be very favorable for promising companies, as it shows they already have the potential to go higher. As the chart below illustrates, I think there is a great opportunity for those who buy now to sell half when the highs above $4.50 are reached.
(Click to enlarge)
It should be noted that there are options and warrants outstanding at a strike price range of $2.80 - $3.20.
5. Last but certainly not least is management, which I think is sufficiently capable of leading this project. Robert Carpenter is the founder and CEO of the company, which I find delighting. As I've noted previously, I always like to see founders who are still CEOs. The rest of the management team is stacked with geologists possessing advanced degrees and an average of 20-plus years experience in resource exploration. This is pretty much exactly the kind of management team I'd like for an exploration company to have.
In summation, I've bought Kaminak at $1.90, plan to sell half at approximately $4.50, and hold the remaining until I think the top is in. Alternatively, I think there is a good chance Kaminak gets bought out by a major. If that happens, I would expect the acquisition price to be above the company's all-time high share price.
Disclosure: I have no positions in any stocks mentioned, and no plans to initiate any positions within the next 72 hours.
Additional disclosure: I am long Kaminak on the TSX Venture exchange.