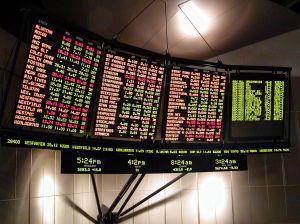 Apple (NASDAQ:AAPL) appears to be changing from a buy-and-hold investment to a speculative trading vehicle. The cause is twofold: Larger fundamental uncertainty and weakened investor psychology.
1. Fundamental Uncertainty Expands
Starting with the recent AAPL sell-off from its $644 high, fundamental concerns began to be raised again. That occurrence is healthy because it puts the stock back on a more realistically valued foundation.
However, Apple's fundamental uncertainties also have started growing, and they are aimed at the company's two critical earnings factors: Sales growth and pricing profitability. Competition, after previously struggling to keep up with Steve Jobs' "catch-me-if-you-can" creativity, appears to be introducing sound strategies.
iPhone - Leading the competition is Samsung, with its different playbook that is working well. Additionally, carriers are expanding efforts to reduce the high subsidies for smartphones. (See this WSJ article.)
iPad and Mac - These two go together because competitors' new Ultrabooks will tackle both markets simultaneously. Both sales and pricing are at risk for Apple. (See my article.)
iPod - Even in this declining sales area, Apple is getting new competition. Samsung is introducing new media players with different features and prices. (See this WSJ article.)
iCloud - All the heavies are weighing in along with new, smaller firms, competing aggressively on product and pricing. This activity has the earmarks of a service quickly becoming a commodity with low profitability.
New products - The unknown can always seem exciting, but until it's known, it simply remains an uncertainty.
2. Long-Term Investor Psychology Weakened
Once Apple entered its rapid rise period from $380 to $644, investor psychology shifted from objectivity to optimism. Fulsome analyses morphed into simple mantras: Apple is the best company ever, plus it's cheap and headed much higher. Institutional investors joined the enthusiasm, with analysts pushing price targets ever higher and portfolio managers holding large positions, some even in funds that would normally not hold an Apple-type stock.
Compounding this weakening shift in the shareholder base were the new, latecomer investors attracted by the mantras and the prospect of easy money. As they invested, they replaced long-term shareholders who felt the stock was getting into a risky position.
Now that Apple's rising trend line has bent, the stock has two significant problems based on investor psychology:
Stock overhang - No longer is everyone a winner. Now, all those who bought above $600 are looking at losses from their "sure thing." Chances are some (many?) now have regrets and would happily sell if they could just break even. How large is that overhang? Judging by the high trading volume, it could be sizable. Therefore, for the stock to reach new price highs, it must plow through that overhanging supply.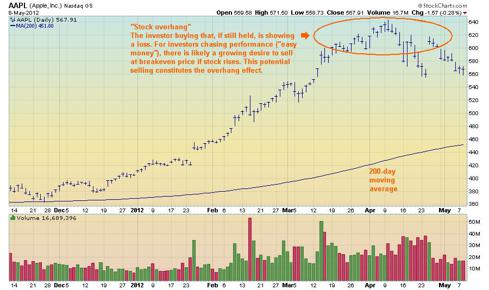 (Stock charts courtesy of StockCharts.com)
Weak price support - Having run up without a pause, it is hard to find support levels that most investors would agree on and, most importantly, be willing to buy at. Here is the graph highlighting the problem from a previous article, updated for the subsequent price action.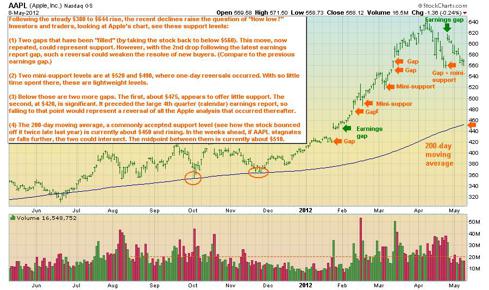 The Bottom Line
Apple's stock trend has shifted from steadily up to wavering. If everything remained as before, the stock could consolidate, forming a foundation for a new up-trend. That could take some doing because of the latecomer investors who now have second thoughts and because of the lack of obvious support points.
However, things are not the same. The stock's break created interest in understanding what might be going wrong. With doubts returning there have been additional, negative fundamental developments as competition takes on Apple's markets and pricing with new products and strategies.
These two factors have created sizable uncertainty for Apple's shareholders, making it more difficult to gain confidence in any particular valuation or price level. Thus, it looks like AAPL has entered a trading period, where shareholders try to regain confidence while traders seek to profit from the volatility.
Disclosure: I have no positions in any stocks mentioned, and no plans to initiate any positions within the next 72 hours.
Additional disclosure: Positions held: Long U.S. stocks and cash reserves