After doing an analysis of McDonald's (NYSE:MCD) last week, there was another stock on my radar that I wanted to check out. To be honest, I didn't know much about this Dividend Aristocrat, Aflac (NYSE:AFL). I've been trading for several years, but I've only been looking into dividend stocks since 2008. The fact that Aflac (American Family Life Assurance Company) is an insurance company was enough for me to look elsewhere.
But the fact that Aflac was part of our Dividend Growth Index caught my attention. I thought that if a dividend investor such as Passive Income Earner picked Aflac, I should take a look at it. So here's my Aflac analysis.
Company Description
Aflac is mainly active in the life and health insurance industry. It operates two main businesses: Aflac U.S. and Aflac Japan. It covers most supplemental insurance products from cancer and care plans to annuities. It does not offer home insurance in Japan, so Aflac wasn't affected by the tsunami. The rise of cancer in today's society is definitely a great market for it. Most people have general insurance provided by their employer, but will look for more protection from companies such as Aflac.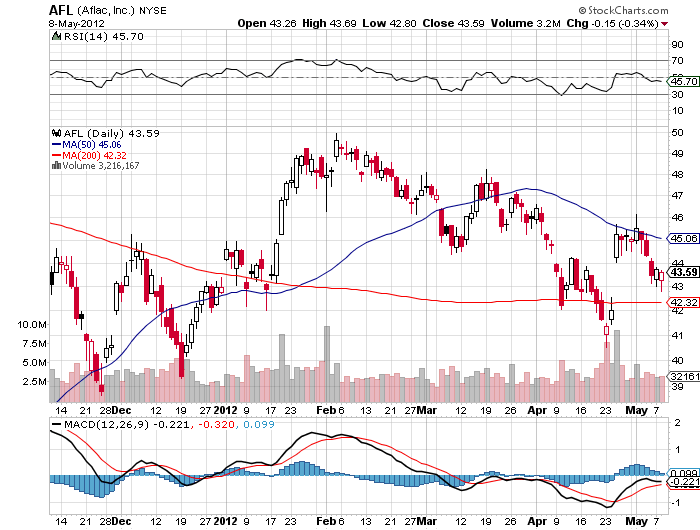 Aflac Ratio and Financial Info:

Current Dividend Yield: 2.92%
Five-year Dividend Growth: 15.11%
One-year Dividend Growth: 9.09%
Company Metrics

Sales Growth (one year): 11.97%
Sales Growth (five years): 10.21%
EPS Growth (one year): 15.61%
EPS Growth (five years): 14.37%
P/E ratio: 7.0389
PEGRatio (three-year expected): 0.5502
Payout ratio: 29.0%
Return on Equity: 15.99%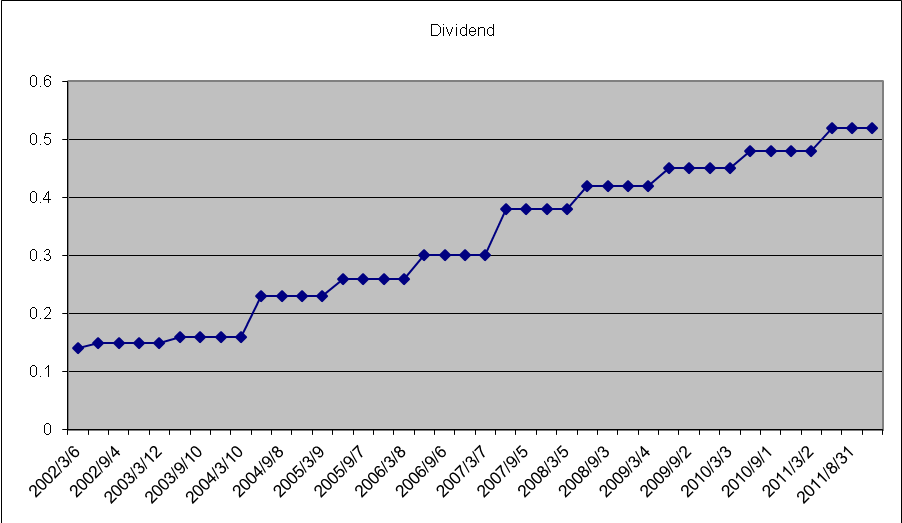 I was mostly impressed by two things when I looked at Aflac's metrics. The first thing is the fact that it kept increasing its dividend in 2008. While AIG was going bust and Aflac had lost 30% on the stock market, it sent a strong message by keeping its Aristocrat habit of raising its dividend. With a payout ratio of 29%, we can understand that even the worst economic crisis of the century was not enough to slow Aflac's dividend growth.
The second metric that impresses me is its sales growth in a relatively mature market. Since insurance products have been around for so many years, you wouldn't expect double-digit growth during a tough economy. But both sales and earnings grew significantly. This explains why the dividend growth is in the double digits as well.
Technical Analysis

Aflac is trading on a downtrend.
Upcoming Opportunities and Dangers
Back in 2009, 73% of Aflac's revenue came from Japan. While it provides a great geographical diversification, three-quarters seems a bit too concentrated. It's more like having a Japanese company operating in the U.S. The currency risk is not too important for Aflac, as it rarely converts its assets. Therefore, the company uses its yen to invest in yen and its U.S. dollars to do the same.
Aflac's presence in Japan is also an advantage when compared to its main competitors (AIG and MetLife). While they are both a lot bigger than Aflac, theJapan niche is well-guarded.
After missing Q4 estimates in January, Aflac recently increased its expectation for its Japan division for 2012.
Overall EPS should be between $6.46 and $6.65 vs. an estimate of $6.47. With a very low P/E ratio, you can't really go wrong with Aflac.
Final Thoughts
Looking at Aflac, I'm still a bit reluctant to add it to my watch list since it's an insurance company (never invest in something you don't understand, right?). I do understand how insurance works, but what I don't know is how it manages its asset portfolio to make sure the company is able to cover all claims. The success lies in how Aflac assesses its cash flow needs along with how it manages its assets in the meantime.
Aflac obviously does a great job in both cases if you look at its continuously growing numbers. The fact that its payout and P/E ratios are both very low leads me to guess that both the dividend and stock price will rise in the future. For that reason, Aflac will be added to the "stocks on my radar" list.
Disclaimer: I had no positions in AFL at the time this article was written.