The best India ETF products in 2012 have produced positive gains. All but one delivered double digit performance year to date and that laggard is the largest and most well known ETF of the undiscovered group. The leaders, in order, include:
Observations
A few quick observations on this list. First EG Shares is dominating the performance race in this space. Its approach to small caps and sectors has produced results that are impressive. Second, as we have been writing all along, India small cap ETFs continue to lead the entire India ETF group. SCIF has distanced itself from all other ETFs, with a 400bps lead over the next closest fund. Finally, the PowerShares India ETF (NYSEARCA:PIN) did not make the cut. This is significant as it is the second largest India ETF. For more details on the leaders, here are the five best India ETF products of 2012 via the IndiaETFs.com performance grid.

Click to enlarge
Who?
If you are wondering why you don't know half of these India ETFs, it is because they have been flying under the radar in AUM and volume. Here's the entire India ETF list ranked by AUM. Notice the parallel ranking of the this to the one above.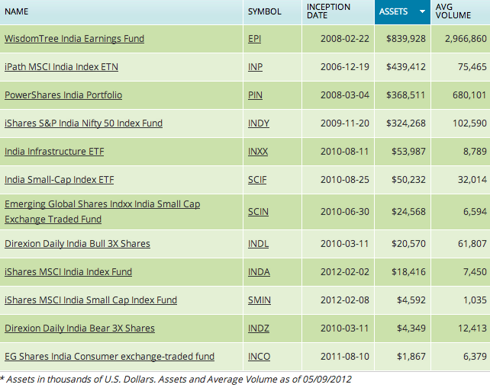 Ups And Downs
Although the leaders grid illustrates attractive overall gains in 2012, the reality is the Indian markets are in a strong slide downward of late. Investor concerns bringing the markets down include the fiscal and current account deficit in India, high inflation, new taxation and the lack of faith in the Indian government to implement much needed reforms. All these concerns, and many others, have effectively reversed the beginning of the year momentum.
To illustrate this further, take a look at the year to date chart of INDY, the ETF that tracks the S&P Nifty Fifty Index. Along with INDY's price movement, the chart also shows the 50 day moving average for INDY and notes key inflection points in the market this year. This was composed using stockcharts.com.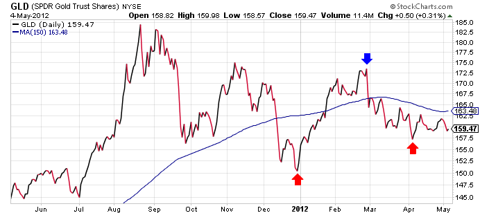 Click to enlarge
Bright Spots?
While there are immense challenges to Indian markets, a few bright spots have emerged. Oil prices are falling quickly which helps India, an importer of around 85% of total oil consumed. This price drop is big as higher oil prices were becoming a serious threat over the last few months to economic growth. In addition weakening economic data from the U.S. and EU raises the chance of more liquidity being introduced worldwide. Already China and India have made moves to bolster liquidity and if that occurs globally, a "risk on" move will take place in the markets. That would benefit India as foreign inflows have a significant impact on this marketplace.
The best India ETF products all take unique approaches to the Indian markets. Many of them are still undiscovered by most investors. While all have gains this year, now they are on a prolonged downward trend. It appears this is likely to continue for the foreseeable future, until the markets eventually become oversold as they did in 2011. At that point there will be significant bargains to be had inside a country with a strong tradition of economic growth.
Disclosure: I have no positions in any stocks mentioned, and no plans to initiate any positions within the next 72 hours.
Additional disclosure: Christian Magoon publishes IndiaETFs.com.