Citigroup (NYSE:C), victim of a recent downgrade by analysts at JPMorgan Chase (NYSE:JPM), saw an "overweight" rating drop to a "neutral" rating and a $42.50 price target placed on the stock. Citigroup failed the Fed's recent stress test and the downgrade was the result. Share price, however, remains ahead of its 200 day moving average, but barely.
At this writing, Citi trades at about $32 with a market capitalization of around $93 billion. The fundamentals play out as follows. Price to earnings stands at 8.78. The price to earnings growth ratio is pegged at 0.80, and price to book is a fractional 0.52. Return on equity is 6.24% which is about midway between that of Bank of America (NYSE:BAC) at 0.02% and Wells Fargo (NYSE:WFC) at 11.87%. JPMorgan posts a return on equity of 10.15%, second only to Wells Fargo.
Quarterly year-over-year revenue and earnings growth are reported at -1.50% and -2.30%, respectively. The 1 cent dividend continues to be the norm in the wake of the financial crisis. Citi took $99.5 billion in bailout money and shareholders have been taking a beating since. As the chart below (courtesy of Yahoo finance) shows, Citi's stock parallels the movement of its rivals but the plunge was significantly deeper. Less than a year ago the stock was trading in the $44 to $45 range. The chart begs the question: Why is Citi faring so poorly relative to Wells Fargo, JPMorgan and even Bank of America?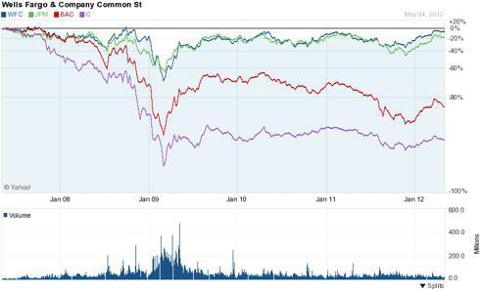 There is no single answer. Rather it is a combination of factors, some quantitative, others qualitative. Citi, like rivals Wells Fargo, Bank of America and JPMorgan, are all trading above their 200 day moving averages. I believe this has more to do with the Dow's second quarter rally than any quantitative factor. Even Citi's stress test failure did little to depress the stock's value relative to it competitors.
Citi's 1 for 10 reverse stock split a year ago alarmed many investors, who viewed the split as a signal Citi might be in serious trouble. Although the reverse split did absolutely nothing to improve or detract from Citi's financial position, it did increase share price to a level acceptable to pension and mutual fund managers. To put this into perspective, had Bank of America executed the same strategy, it might be trading at about $77 per share today!
Of these four horsemen of the financial sector, Bank of America is the runt in terms of market capitalization, followed by Citi, JPMorgan and Wells Fargo, in ascending order. In terms of cash per share, Citi leads the pack, followed closely by JPMorgan, then Bank of America and finally Wells Fargo. Earnings per share reveals JPMorgan has the lead, followed by Citi, then Wells Fargo and finally Bank of America, which is in negative territory. Institutional investors hold 76.8% of Wells Fargo, 74.4% of JP Morgan, 61.6% of Citi and 57.2% of Bank of America (the Berkshire Hathaway (BRK-A) $5 billion dollar preferred share stake is not a component of this percentage).
All in all, Citi seems to be in the middle of the pack based on some of the key fundamentals we've looked at here. So, why is the stock performing so badly in the market?
Here are some possible causes. Citi's shareholders voted against CEO, Vikram Pandit's compensation package pursuant to the "say on pay" provision of the Dodd-Frank Act. Although the vote is non-binding, it sends a clear signal that shareholders are not pleased with Citi's performance. The media has made quite an issue of the proposed compensation package and this negative press has not helped Citi with present and potential investors. Some have even gone so far as to suggest that if the vote is ignored, legal action could be taken as a result. Citi is such an attractive target, the likelihood of averting litigation is small.
Another problem for Citi was the result of Citi's minority stake in Morgan Stanley (NYSE:MS). The bank will soon begin to unwind its minority interest to Morgan Stanley. Estimates vary, but it is probable that Citi will take an almost $2 billion dollar hit on this transaction. While not a game-changing loss, it is certainly the last thing Citi needs at this point, given the already circumspect view investors hold on Citi's management team.
Also noteworthy is the fact that Citi has been penalized by the Financial Industry Regulatory Authority (FINRA) over the sale of leveraged and inverse exchange-traded funds. FINRA alleges improper or insufficient oversight on exchange traded fund sales. The fines amount to but a few million but the negative press, once again, is something Citi can do without.
In my opinion, Citi has suffered more from negative catalysts than it has from shortcomings in its fundamentals. While the fundamentals are indeed mediocre, negative press has probably had greater impact on share price. After all, none of the stocks we have touched on here today have stellar fundamentals with the exception of Wells Fargo. It would seem that Citi has been in the midst of a perfect storm recently.
As you may have guessed, I'm no fan of Citigroup. One has to marvel at the streak of avoidable misfortunes that have befallen the company. This speaks directly to the ability and leadership of its CEO, Vikram Pandit, under whose watch the stock has declined more than 80%. I suggest you take your lead from Warren Buffett and make Wells Fargo your investment of choice in the financial sector. Berkshire Hathaway has about $10.6 billion in Wells Fargo stock, and this fact speaks volumes.
Disclosure: I have no positions in any stocks mentioned, and no plans to initiate any positions within the next 72 hours.