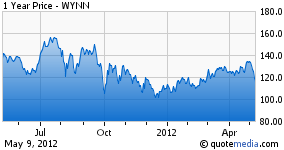 News concerning Wynn Resorts (NASDAQ:WYNN) has been a mixed bag over the last few weeks, with the majority falling on the negative side of the ledger. The stock is an attractive long-term investment due to the company's growth plans in China, but in the shorter term the news may drive the stock price down to levels which make an investment more attractive for long-term investors.
Wynn Resorts reported the company's 2012 first quarter results this week. The company reported a 3.7% drop in EBITDA on poor year-over-year results from the company's Las Vegas property. Net income for the quarter was $1.23 per share, down from $1.39 a year earlier and below the Wall Street consensus of $1.41. The Macau property reported a 6.2% increase in EBITDA but the earnings before everything were down 23.6% in Vegas compared to the first quarter of 2011.
Next on the bad news front is the company's decision to pull out of its plans for a $1 billion resort in Massachusetts near the Gillette Stadium in Foxborough. A recent election swept a couple of anti-casino town council candidates into office, eliminating any chance for approval of Wynn's planned resort.
On the good news front was the recent approval to develop the company's Macau gaming site on the in-development Cotai strip. Wynn can now begin construction on the site with the property expected to open in 2016. Las Vegas Sands (NYSE:LVS) opened the first phase of its Cotai resort last month - April 2012.
Las Vegas Sands is a great company with tremendous growth and investment potential. Wynn Resorts is playing catch up and is several years behind the Sands to expand in Macau. The potential for Wynn as an investment strengthens if a few more bad quarters out of Las Vegas drive down the share price. The recent bad news has driven the value down $20 from the recent high of $135. Investors looking to pick up shares at a bargain should wait for them to drop below $100. At that point the 50 cent dividend provides a 2% yield and does not include the one time dividend of at least $4.00 Wynn has paid each of the last three years. From $100, the stock could double over the next several years as the market bids up the shares in anticipation of the new property opening.
Disclosure: I have no positions in any stocks mentioned, and no plans to initiate any positions within the next 72 hours.